Konerko tribute to be held Sept. 27 at U.S. Cellular Field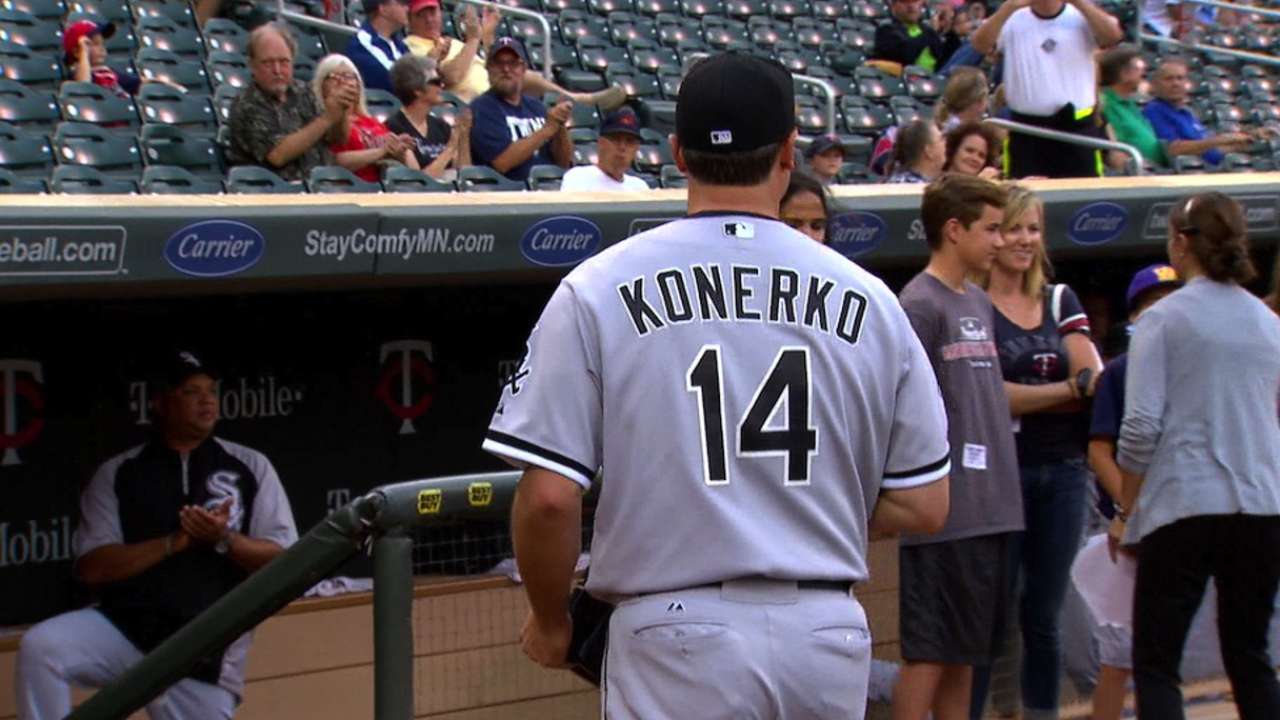 MINNEAPOLIS -- The White Sox announced Wednesday that a special pregame tribute honoring retiring captain Paul Konerko will take place on Saturday, Sept. 27 prior to a 6:10 p.m. CT first pitch against the Royals. This pregame ceremony will be a celebration of Konerko's 16-year career as a member of the White Sox, not to mention his legacy on and off the field, per the White Sox, a career coming to an end the next day.
Konerko figures to be in for a series of honors prior to that special moment in front of the home faithful, as he plays his last games at American League Central visiting ballparks in Cleveland, Kansas City and Detroit. Wednesday marked his final contest at Target Field, with the Twinsrecognizing the White Sox first baseman.
Glen Perkins and Joe Mauer presented Konerko with a large bottle of Ladera wine from 2005, in honor of the White Sox World Series championship season, and Minnesota manager Ron Gardenhire presented a $10,000 donation to Children's Home + Aid in conjunction with the Bring Me Home campaign started by Konerko, his wife, Jennifer, Jim Thome and his wife, Andrea, in 2007 to raise support for the needs of foster children. The Twins' pregame video tribute ended with the message, "Congratulations on a great career, Good luck, Paul."
"He hit so many home runs against us and so they're showing that," said Minnesota manager Ron Gardenhire of Konerko, who is the active leader with 50 homers and 136 RBIs against the Twins. "I didn't know we did that. So we get to stand up there and watch him hit 50 home runs against us.
"But he's a classy guy. He's one of those clutch hitters. When that team was playing well, you didn't want to see him come up there. Because it wasn't just hits, it was big hits. I'm talking home runs, that type of thing. He's always been the constant up there and always came up in big situations. He's done it for a long time. It's a heck of a career."
After the White Sox 11-4 loss, a genuinely touched Konerko admitted the honor meant more coming from an AL Central opponent, as well as top-notch people he has done battle against such as Mauer, Perkins and Gardenhire.
"That's not to take away from the other places, but I'll always be an American League guy and an American League Central guy," Konerko said. "Above and beyond, the $10,000 to the Children's Aid will go to good use -- and at some point the wine will go to good use -- it's really nice. And having Joe out there it's like a Derek Jeter situation. He's kind of a legend-type guy.
"I would say he and Miguel Cabrera and are the best two hitters I've seen during my career, righty, lefty. That's pretty cool for me. I'm a fan of the game as well. To go out there with those guys is good. That was a classy move. And Gardy was coaching third when I first got here and now he's been managing for a long time. Then you play against these people, but there is that camaraderie and respect there, especially within the division."
A special tribute video also was launched in honor of Konerko by the White Sox. The 60-second commercial, which can be viewed at whitesox.com/konerko, thanks the captain for his time in Chicago. It also reenacts one of the most memorable moments in Konerko's career and in club history through the imagination of a young White Sox fan.
Scott Merkin is a reporter for MLB.com. Read his blog, Merk's Works, and follow him on Twitter @scottmerkin. This story was not subject to the approval of Major League Baseball or its clubs.