Flowers learning to grind out late-game at-bats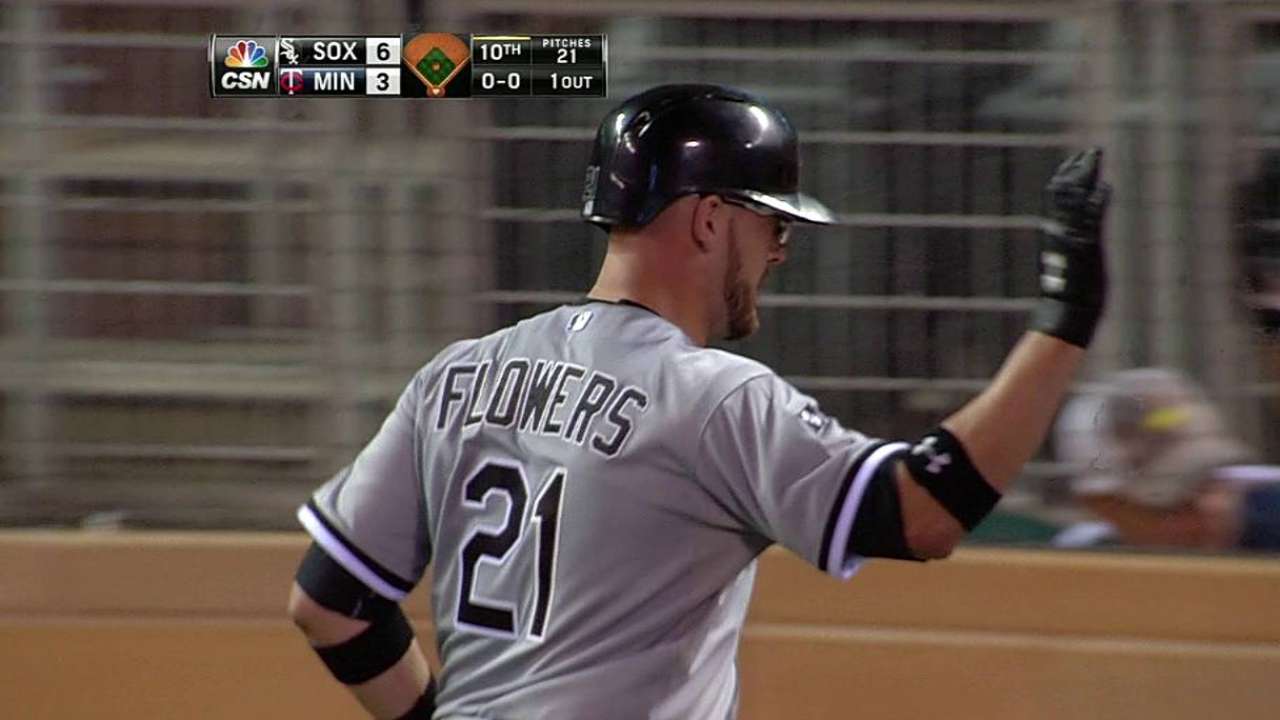 MINNEAPOLIS -- The 10th-inning home run launched by Tyler Flowers on Tuesday night finished off a three-run frame for the White Sox during a 6-3 victory at Target Field. That opposite-field long ball also showed Flowers' increased understanding of how handling the season-long grind behind the plate carries over into plate appearances, especially late in the game.
"Catching, it's a grind every day, and it's a grind those last at-bats of every game," Flowers said. "Whether it be mental or physical, those are some areas that I can improve at, just making sure you are up there competing right every at-bat.
"Not that I'm not doing that, but at this position, you really have to make that a focus, and that's something I'm starting to see out of myself a little bit more recently. I can probably lock in a little bit better late in games. It has to be a conscious effort along with the fatigue with the position. It has to be a constant effort especially late in the games and later in the season."
Flowers entered Wednesday's night off with 955 1/3 innings caught and 109 games started, both placing him fourth among Major League catchers, behind Salvador Perez, Miguel Montero and Jonathan Lucroy. With Josh Phegley added Tuesday when rosters expanded, Flowers realizes time behind the plate becomes a three-way split with Adrian Nieto. But he isn't looking for a September break.
"I'm going to try to approach it the same way," said Flowers, whose previous high for innings was 847 1/3 in 2010 between Triple-A Charlotte and the White Sox. "This is my first opportunity for a full season, so I'm just going to be as ready as I can to finish the season out."
Scott Merkin is the White Sox beat reporter for MLB.com. He has been covering baseball in Chicago since 2000.
This story was not subject to the approval of Major League Baseball or its clubs.