Mitchell not called up, but still in team's plans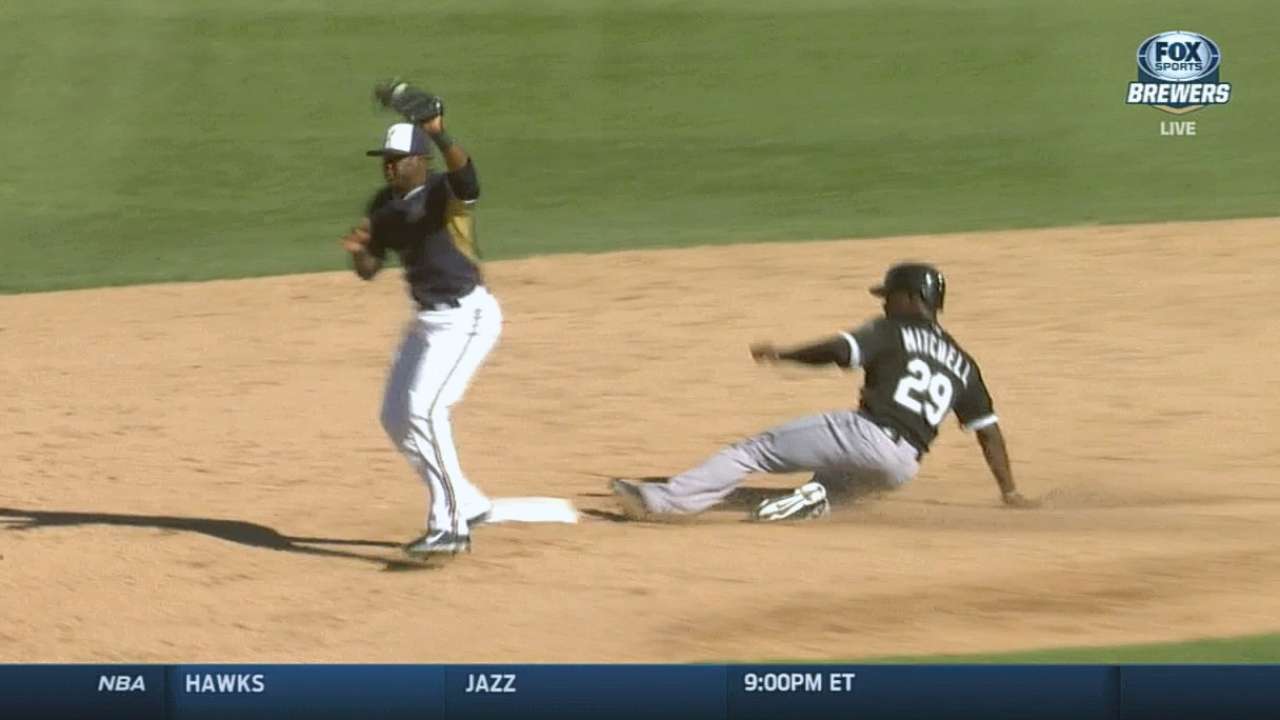 MINNEAPOLIS -- Jared Mitchell was not part of the seven players brought to the Majors by the White Sox prior to Tuesday's contest against the Twins, with September rosters expanding to include outfielders Michael Taylor and Jordan Danks, pitchers Chris Bassitt, Eric Surkamp and Scott Carroll, catcher Josh Phegley and infielder Marcus Semien.
That decision by the team doesn't mean that the left-handed-hitting outfielder has fallen completely out of the White Sox future plans.
"He's not ruled out for the future," said White Sox general manager Rick Hahn of Mitchell. "Again, there are a lot of considerations that go into who gets September playing time. Just because a player is not brought up doesn't mean he's not part of what we have going on.
"Other players might be ahead of them in terms of let's see what they can do at the big league level. Other players have different contractual timelines that have to be figured out in terms of whether they can contribute or not before others."
The White Sox have contractual control over Mitchell through 2015, whereas Taylor would have become a Minor League free agent if not added to the 40-man roster. Mitchell was the team's top pick in the 2009 First-Year Player Draft, but after losing the 2010 season to a tendon tear in his left ankle, has struggled in finding offensive consistency.
Consistency came for Mitchell, 25, upon a return to Double-A Birmingham after a dismal start with Triple-A Charlotte in 2014, where he took off with a more consistent approach at the plate. After hitting .299 with 10 homers and 20 RBIs over 39 games for the Barons, Mitchell continued his success in a return to Charlotte and finished the year with a .230 average for the Knights.
"He obviously responded very well to the demotion at Birmingham," said Hahn of Mitchell. "That could have gone one of two ways, especially at his age and the fact that he had already been to Charlotte for a while. But when he got sent back, he responded well to what was given to him and what he needed to do to improve. He then earned himself a promotion back to Charlotte and performed fairly well at Charlotte, too.
"Right now, the arrow on Jared Mitchell is pointing up. At the same time, we do have a crowded outfield. We had some other players we wanted to give the opportunity and see here in Chicago for the next few weeks, Michael Taylor being an example of that. We just felt that it was good for Jared to finish the season on a positive note, knowing exactly the progress he made."
Scott Merkin is a reporter for MLB.com. Read his blog, Merk's Works, and follow him on Twitter @scottmerkin. This story was not subject to the approval of Major League Baseball or its clubs.