Wilkins, Snodgress part of White Sox shuffle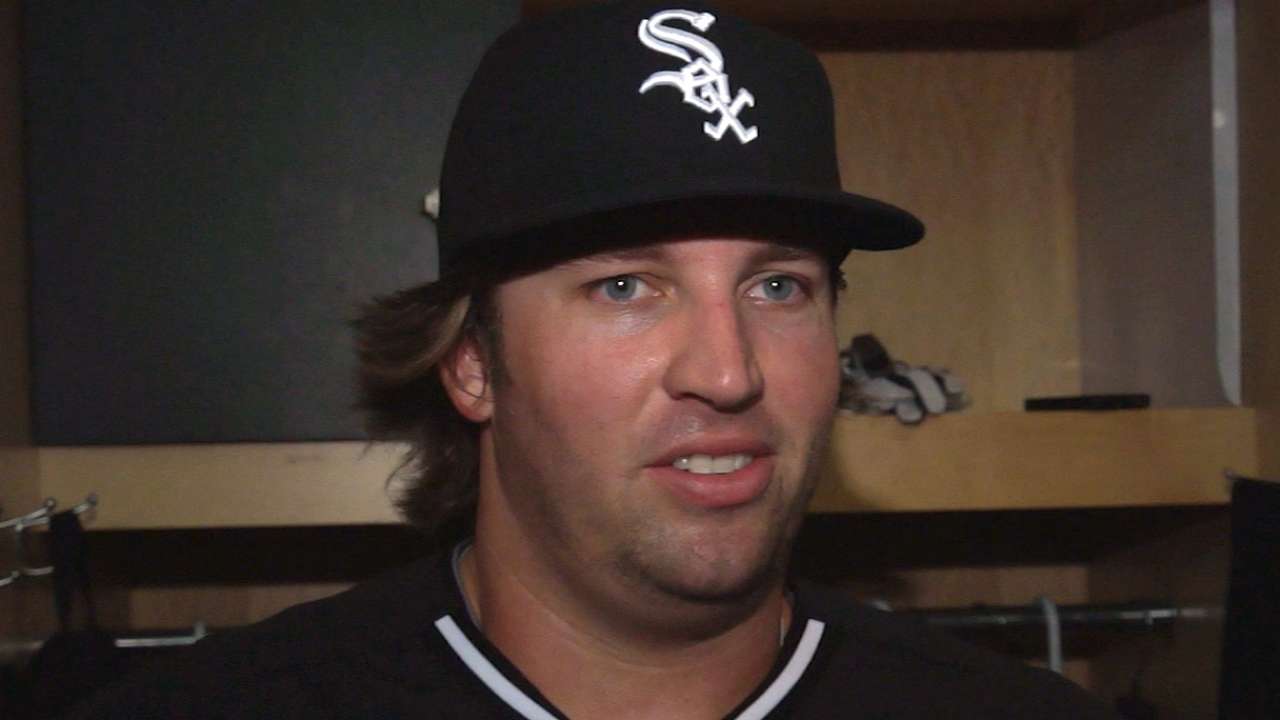 CHICAGO -- It didn't take long for Andy Wilkins to get involved in his first Major League game Sunday at U.S. Cellular Field. How about just one play in during the White Sox 6-2 victory over the Tigers, helping them split a four-game series with Detroit.
Wilkins caught Rajai Davis' popup at first base on that first play and finished 0-for-4 with three strikeouts. His one non-strikeout resulted in a long fly ball to right. The left-handed power hitter, who posted a .293 average, 38 doubles, 30 homers, 85 RBIs, 79 runs scored and an .896 OPS in 127 games with Triple-A Charlotte, replaced Adam Dunn on the 40-man and active rosters after Dunn was traded to the A's. Wilkins arrived Saturday night, so his schedule wasn't quite as set as he would have liked.
"I'll be excited to just get into a routine," Wilkins said. "Today was kind of one of those days where it was, I wasn't sure if I was going to be here or not. Sure enough, in the starting lineup. It was an interesting day, but my wife was here, so it was a great day. It's one I'll never forget."
Left-handed reliever Scott Snodgress also had his contract purchased by the White Sox from Charlotte, where the left-hander was working out of the bullpen. Snodgress will continue working in relief during the month of September.
"I'm seriously still waiting to wake up and realize this is all a dream," said Snodgress, 24, who takes the roster spot of Chris Bassitt who was optioned to Charlotte following his start in Saturday night's contest. Bassitt will return when rosters expand to 40 for the final month. "So I'm super excited and looking forward to the opportunity, looking forward to hopefully helping the White Sox win some games."
Snodgress and Wilkins, in particular, will have a chance to prove their future value during this big league September experience.
"I see him kind of sliding into where Dunner was, as far as getting the right-handed at-bats, playing some first base, getting Jose [Abreu] off his feet a few days a week," said White Sox manager Robin Ventura of Wilkins. "Him and Paulie are going to share in it."
"It's very special, and just looking forward to the next day," Wilkins said. "This one, it's good to have an off day and kind of reflect on it tomorrow."
Scott Merkin is a reporter for MLB.com. Read his blog, Merk's Works, and follow him on Twitter @scottmerkin. This story was not subject to the approval of Major League Baseball or its clubs.