Ventura uses Abreu at DH to give slugger rest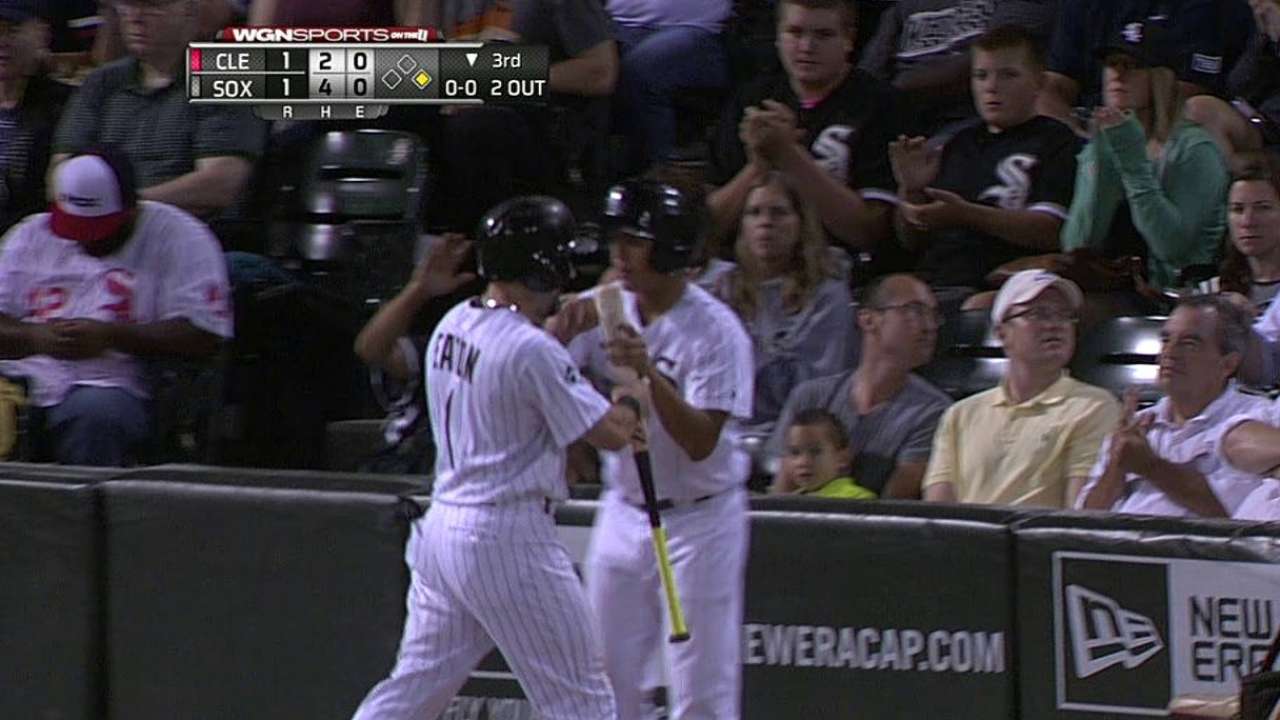 CHICAGO -- White Sox slugger Jose Abreu brushed aside any health concerns by going a combined 4-for-6 during the team's split doubleheader Saturday against the Tigers.
Abreu left Friday's 7-1 loss after seven innings because of soreness in his upper left leg, for which he's been receiving treatment.
"It's been bothering me a little bit, but I'm doing everything I can to play and just working on it," Abreu said through interpreter and White Sox director of public relations Lou Hernandez. "It isn't an injury, it's just something that's bothering me."
Abreu was the designated hitter for the twin bill, a move to limit his mobility.
"Just DH-ing him and trying to give him little breaks when you can," Ventura said on Saturday morning. "Like last night, you take him out late and give him a little breather and even today."
"You get to a point where you get into a game and point in the season where you're playing so many games. It's his first time through it, so I think he's reacting to it for the first time. Just talking to him, he understands it. He still wants to play. He's still competitive and wants to be out there and play against the best players."
The 27-year-old is 7-for-9 after three of four in the weekend series -- including two games started by a pair of Cy Young Award winners, Justin Verlander and Max Scherzer.
Ventura noted that the physical toll of the season is particularly burdensome, since Abreu consistently gets on base. He was still seen limping, however, on the basepath during Saturday's finale.
"You get a little more tired because you're always running -- and he hits a lot of doubles, so he's stretching it out," Ventura said. "That's what happens to good players. I told him: 'If you hit more home runs, you don't have to run as hard.' The good news is that he doesn't steal a lot of bases, so at least he's got that going for him."
Abreu has played in 121 games this season -- more than any season of his five-year career in Cuba.
"I had a lot of people telling me and alerting how this was going to be," Abreu said on Tuesday.
When asked if he'd scaled back his workouts, Abreu said: "Not at all. I'm actually doing a little bit more work now so I can finish strong. I feel like it's helped me do a little bit more. I'm trying to do more, and I'm feeling good about it."
A candidate for the American League Rookie of the Year and MVP awards, Abreu was asked what it would mean to win a batting title. The slugger's average stands at .321.
"You look at it, there really aren't enough games," Abreu said. "And honestly the numbers and a batting title, that really doesn't matter to me. What matters to me is doing what I can to help the team win."
Daniel Kramer is an associate reporter for MLB.com. Scott Merkin is a reporter for MLB.com. Read his blog, Merk's Works, and follow him on Twitter @scottmerkin. This story was not subject to the approval of Major League Baseball or its clubs.