Konerko makes final appearance at Yankee Stadium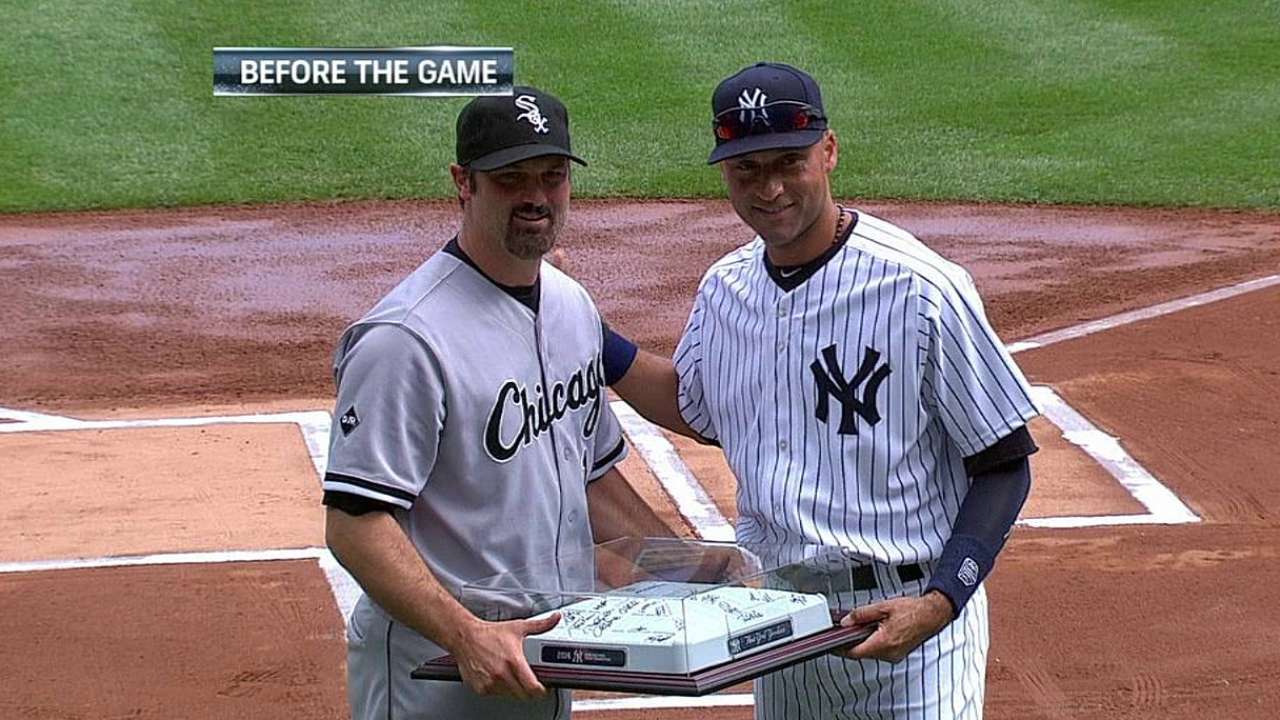 NEW YORK -- The first baseball game Paul Konerko ever attended was at Yankee Stadium back when he was 6 years old.
So when he was informed about an hour before Sunday's game that the Yankees planned to honor him before the first pitch, it made for a special moment.
Yankees captain Derek Jeter presented Konerko, the White Sox captain, with a base autographed by the Yankees as the last of the 43,366 fans were filing into their seats.
"It's the highlight of the year for me so far," said Konerko, who was born in Providence, R.I. "[Yankee Stadium's] all I ever knew as a kid. The fact that I'm getting a gift for something I did on the field in all the time between that and now is mind-boggling. You just don't think about things like that."
Both Jeter and Konerko announced before the start of the year that 2014 would be their final seasons, but their retirement tours have been drastically different.
Jeter is still the everyday shortstop for New York, praised at the All-Star Game and honored at every park he visits for the final time. Konerko is no longer an everyday player for Chicago and his final season has been much more understated, which is on par for his entire career.
"Derek's has taken on a whole different way," White Sox manager Robin Ventura said. "His is just different than everybody else's. Not surprised."
The Cubs honored Konerko before his final game at Wrigley Field earlier this season, with the No. 14 off their vintage hand-operated scoreboard. He is expected to receive more recognition once the White Sox make their final trips to play teams in the American League Central.
"Players on the other teams do realize it," Ventura said. "You see the reaction he gets in BP and things like that. But I don't know if other teams do it as much if you're not within their division."
Konerko entered Sunday as a career .309 hitter against the Yankees with 23 homers and 65 RBIs (.327 average, 15 homers and 36 RBIs in the Bronx). However, in his final game, he went 0-for-4 with three strikeouts in a 7-4, 10-inning setback.
Konerko knew he would be taking a reduced playing role before the start of the year, with pinch-hit appearances and starting usually only against lefties, and Ventura said Konerko has totally embraced it. As the veteran in the clubhouse, he has become one of the motivational guys for some of the White Sox younger players, which is especially important for a team in transition.
"He's done a lot," Ventura said. "It's different from when you're an everyday player and can let your play speak for itself. There's part of this that he lets that speak for itself, but it's more of conversations within the game, right after the game, than you'd normally have. I think he's stepped up and knows that's his responsibility."
The White Sox honored Jeter prior to his final game at U.S. Cellular Field earlier this season, and on Sunday the Yankees returned the favor.
"A classy move by them, you don't expect it, and to have Derek out there as the guy giving it to me, that's pretty cool," Konerko said. "For someone who tries not to pay attention to that stuff, because it's the Yankees and my childhood dealt with the Yankees and any game I went to was a Yankee game, all those things combined, off-the-field stuff, that's the highlight for me so far."
Jamal Collier is an associate reporter for MLB.com. This story was not subject to the approval of Major League Baseball or its clubs.