Konerko hopes Beckham blossoms with Angels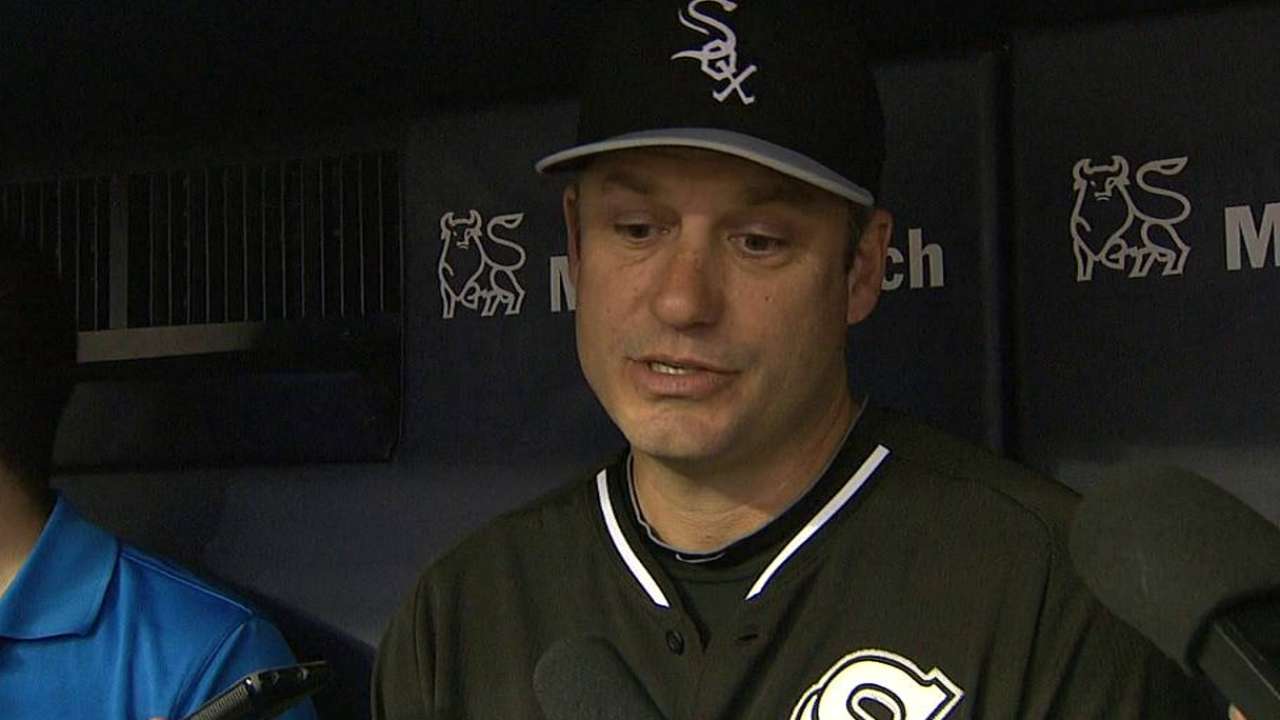 NEW YORK -- Paul Konerko had traveled ahead of the White Sox, so he was already in New York when he heard the news that second baseman Gordon Beckham had been traded to the Angels on Thursday.
Konerko exchanged a couple of texts with Beckham, to whom he was friend and mentor. Even though it felt like Beckham's days with the White Sox were numbered, this still came as a bit of a surprise.
"Usually when you get through July, you don't see it happening quite as much," Konerko said. "I think it was probably inevitable that he was going to be with another team next year anyway, so it's just kind of a jump-start to that for him. I look at it as a positive. Where he's at in his career right now, the way it had unfolded in the last couple of years, this can only be a good thing for him."
Beckham always carried the high expectations of being selected eighth overall by the White Sox in the 2008 First-Year Player Draft, expectations that were only heightened by his stellar rookie campaign in 2009, when he batted .270 with 14 homers, 28 doubles and 63 RBIs and finished fifth in the American League Rookie of the Year voting.
But after that season, Beckham never found his groove at the plate. In 101 games with the White Sox this season, he had a slash line of .221/.263/.336, with seven homers and 36 RBIs.
"It's always tough when a guy comes up right away, spent really no time in the Minor Leagues, and then he was pretty much doing everything he was in college on a Major League field," Konerko said. "It's easy to expect that's going to happen, that's going to keep happening. That's usually not the case."
The trade is expected to give the White Sox a chance to promote some of their talent in the Minors and give Beckham, who was in his sixth season with Chicago, a breath of fresh air that comes with a change of scenery
"Sometimes you play and let the baggage you have here, that consistently being with one team, your mind can play tricks on you where you're going up there trying to get 200 hits in one at-bat," manager Robin Ventura said. "Now, he's going to a place that's new. He can still be a good player. He's talented."
The White Sox are certainly going to miss Beckham's glove. He is regarded as one of the top defensive second baseman in the league, but Konerko added that he would miss having Beckham's personality around as well.
"He's a great person, great kid," Konerko said. "You want that guy to do well. You want him to succeed because he's going to do right by it."
Jamal Collier is an associate reporter for MLB.com. Teddy Cahill is a reporter for MLB.com. Follow him on Twitter at @tedcahill. This story was not subject to the approval of Major League Baseball or its clubs.