Beckham making a difference with his glove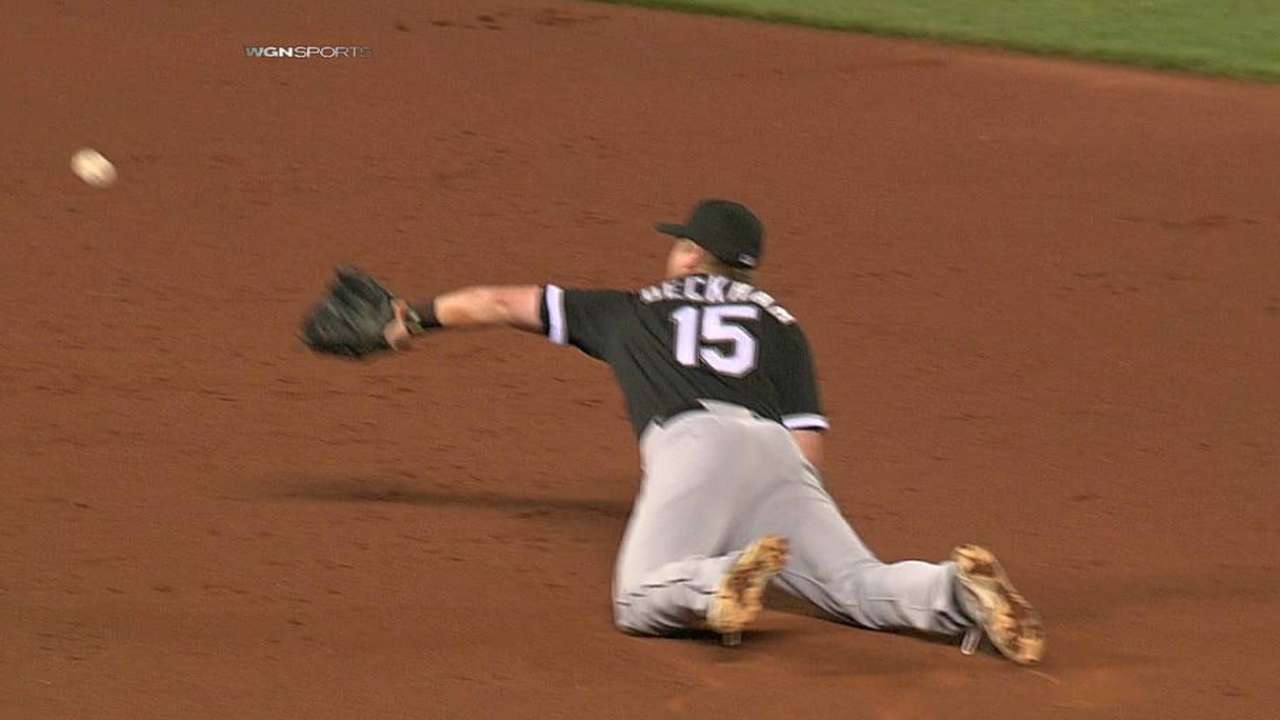 CHICAGO -- The White Sox believe that they have more than a .224 hitter in Gordon Beckham, and that he can accomplish more than his .245 career mark. But even if he never tops .250, the talented defender can make a daily difference with his glove at second base.
Beckham has a fielding percentage of .981, which ties him for 10th among American League second basemen. But his Range Factor of 5.18 tops all AL second basemen, and he has contributed to a Major League-best 131 double plays.
Through offensive doldrums that have carried through 34 games, Beckham has not let his bat get in the way of his glove.
"I don't think I would still be here if I wasn't helping the team, if I wasn't playing winning baseball," Beckham said. "Yeah, the hitting has been pretty frustrating, but I know that there's a reason I'm in there.
"So, yeah, I think I add value. And you know what? At some point the hitting will come easier. I don't know why it has been so difficult. But it will. Defensively, you go out there and save runs, and it's just the same as hitting and getting RBIs. You keep the amount of runs they score less, you have a better chance to win.
"Ultimately, whether or not I'm hitting, I know I have a chance to help the team by doing something great defensively."
Manager Robin Ventura stands as one of those who feels Beckham has it in him to do more offensively. He's just not sure where that will happen.
"I'm not saying it's here or it might be somewhere else. But I do know he's a better player than the numbers say," Ventura said. "He does make a lot of plays a lot of second basemen don't make. The hitting, I think, he probably gets in his own way a lot of the time."
Scott Merkin is a reporter for MLB.com. Read his blog, Merk's Works, and follow him on Twitter @scottmerkin. This story was not subject to the approval of Major League Baseball or its clubs.