Relaxed, mature Gillaspie finds on-field success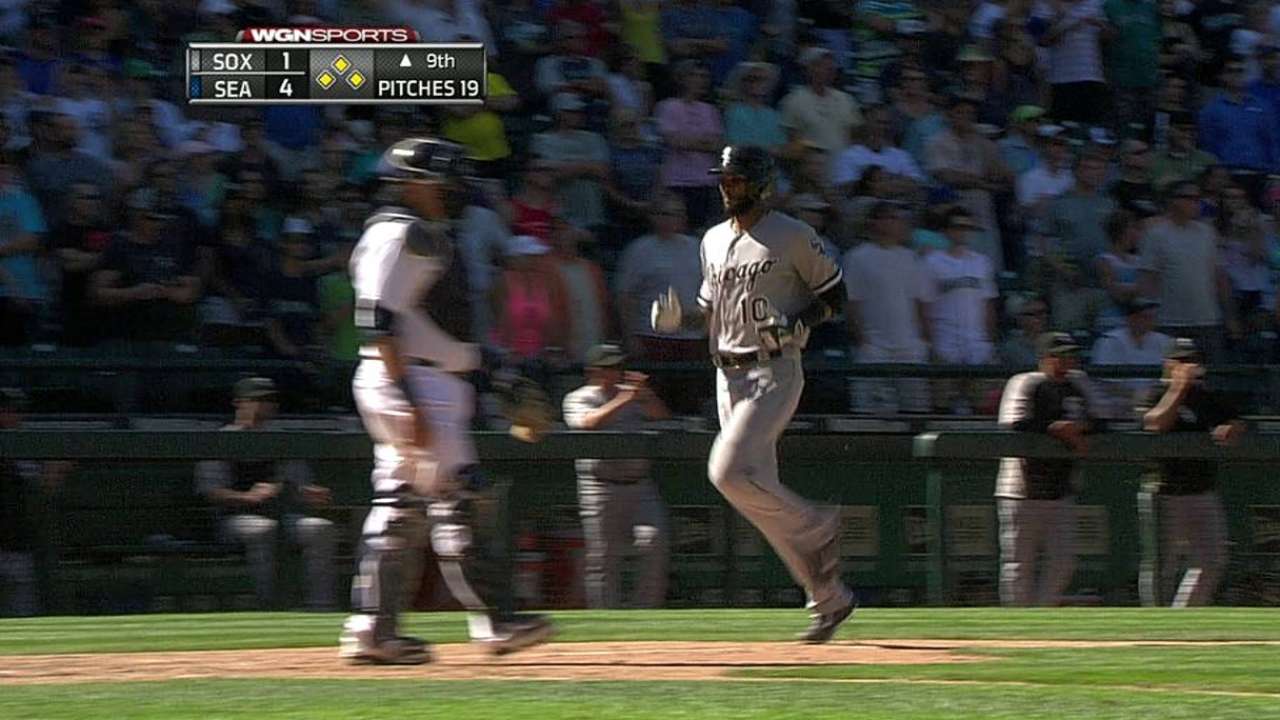 SAN FRANCISCO -- When Conor Gillaspie popped back to his feet after safely sliding in for a triple Tuesday night, he'd accomplished something he never did as a Giant: hit a triple.
Back at AT&T Park for the first time since the Giants traded him to the White Sox in February 2013, Gillaspie the White Sox resembles Gillaspie the Giant in appearance only. San Francisco's former second-round Draft pick hit .205 in his brief 29-game (2008-12) stint with the Giants. Gillaspie entered play Wednesday with a .312 average, the American League's seventh-best mark.
Thanks to Chicago's so-so record and Jose Abreu's monstrous rookie campaign, Gillaspie's breakout season has flown under the radar. He's fine with that and credits the increased on-field success to an improved off-field mindset.
"I was a younger player here, and I had a lot to learn. I made a lot of mistakes that I learned from," Gillaspie said of his time with the Giants. "Moving forward, I can honestly say that this game, while it is my job and it is very important to me, is on the backburner when it comes to my wife and my son.
"There are so many other things that I put before this game now, and I think that's somewhat helped me cope with the failures of this game and made it somewhat easier to do a better job the next day if something doesn't work out."
After an underwhelming first season with the White Sox in 2013 (he hit .245), not much hasn't worked out since for the 27-year-old whose stellar season (his average hasn't dipped below .300 once) doesn't exactly have the organization rushing top prospect and presumptive third baseman of the future Matt Davidson to the Majors.
"He's done great as far as understanding what pitchers are trying to do to him and understanding his own swing," manager Robin Ventura said. "You go through confidence sways of whether or not you belong here, but since Spring Training, he's known that he can be a Major League hitter and a good Major League hitter."
A strong rapport with first-year hitting coach Todd Steverson and an increased familiarity with AL parks and pitchers have helped, but Gillaspie said the perspective he's gained from becoming a husband and father has been the key. It's made baseball a little less important, and he's been quite a bit better for it.
"I wouldn't say I'm old by any means," Gillaspie said, "but I've matured enough to know there are certain things you give light to and there are certain things that need to be pushed aside and forgotten.
"If you put too much stock into a game, eventually you're going to be disappointed enough to where you make stupid mistakes. I try to not get to that point."
Ryan Hood is an associate reporter for MLB.com. Follow him on Twitter @ryanhood19. This story was not subject to the approval of Major League Baseball or its clubs.