Eaton placed on DL with strained oblique
Center fielder will undergo MRI when White Sox return to Chicago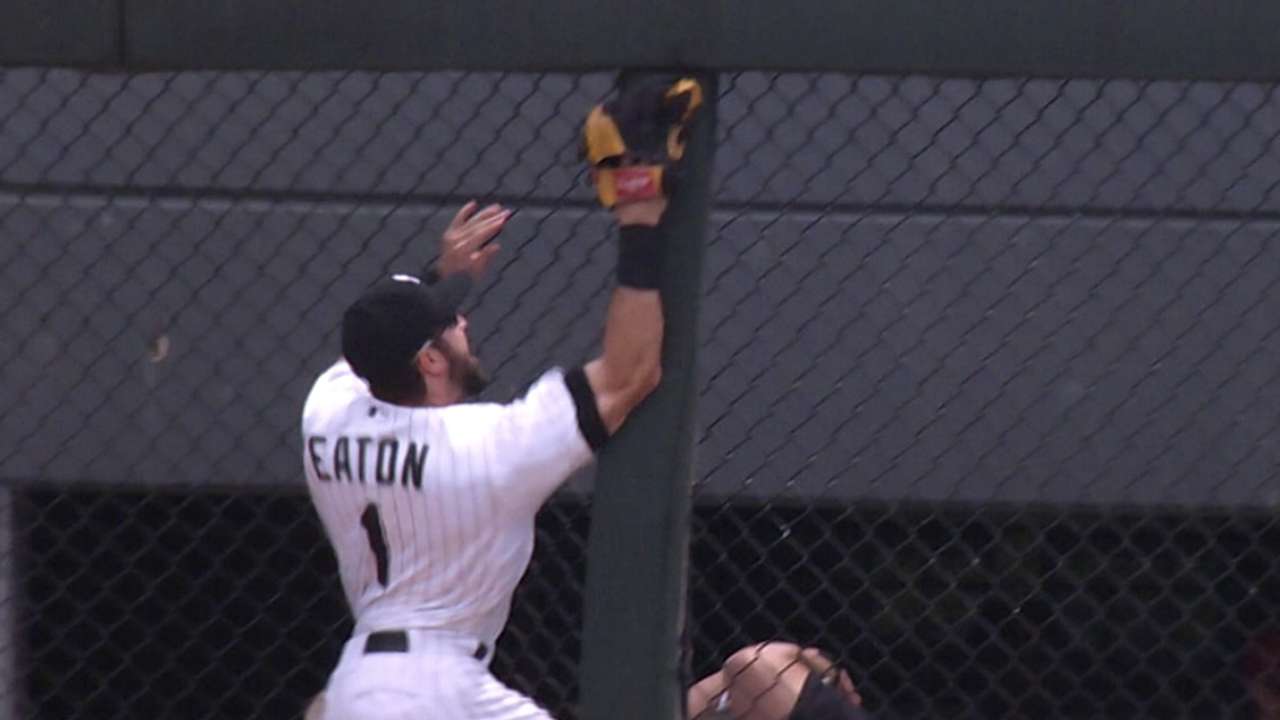 SEATTLE -- Adam Eaton's first year with the White Sox has been an unqualified success.
He has produced a .304 average, a .370 on-base percentage, has reached base in 48 of his last 53 games and has posted a .424 average over his last 23 games. He also has anchored the team's outfield defense in center.
About the only thing missing from Eaton's White Sox resume is the ablility to stay healthy during the course of the 2014 campaign. Eaton was placed on the disabled list Saturday with a strained right oblique, joining a list of injuries that include a broken right middle finger, a right hamstring strain and a bruised lower back, which have limited him to 94 games.
That bruised lower back came from Eaton crashing into a post on the U.S. Cellular Field right-center-field wall during the second inning of Wednesday's loss to the Rangers while tracking an Adam Rosales' home run. Eaton believes the oblique strain happened during a swing in his first inning and only at-bat Friday against Hisashi Iwakuma, but the wall collision was thought to be a contributing factor and another valuable lesson learned in regard to controlling his high-energy, all-out style of play.
"My wife, we had a discussion about it this morning. She says this kind of [stinks], but it's all about learning," Eaton said. "I learned a lot from Brett Butler as a Triple-A manager. He sent me a text this morning, saying you learn every day and you continue to learn.
"He always tells the story that he got picked off so many times he has the Atlanta record for being picked off, but then he comes and is one of the best base-stealers in the last 40-50 years. You learn every day, and what you learn today will help you tomorrow and help you in the long career we hope to have."
Eaton promised to be more cautious around the outfield, just as he already has stopped sliding head-first into first base, which he had done earlier this season. Eaton and the White Sox plan to have a MRI on the problem area when they return to Chicago. Despite the trickiness of oblique injuries, he hopes to be back at the end of this DL stint.
"I want to be out with these guys. I want to try and produce as well as I can and stay healthy doing that," Eaton said. "Running into the wall is not healthy. Running into the wall is playing the game hard, playing the game the right way, but it was just an error in judgment on my part and it [stinks] that's how I got hurt or how I may have gotten hurt.
"We'll take the 15 days and we'll get back and stay healthy the rest of the year. I hope the White Sox don't think this is going to be a trend. It's definitely not going to be a trend. I'm going to get back, be healthy and stay healthy hopefully for a long career with the White Sox. Hopefully we can start that trend, staying healthy and playing a whole season as a healthy baseball player and being productive at the same time."
Scott Merkin is a reporter for MLB.com. Read his blog, Merk's Works, and follow him on Twitter @scottmerkin. This story was not subject to the approval of Major League Baseball or its clubs.