Pipeline Preview: A's Robertson, Olson look to stay hot
With Russell gone, Oakland's other top infield prospects are rising to the occasion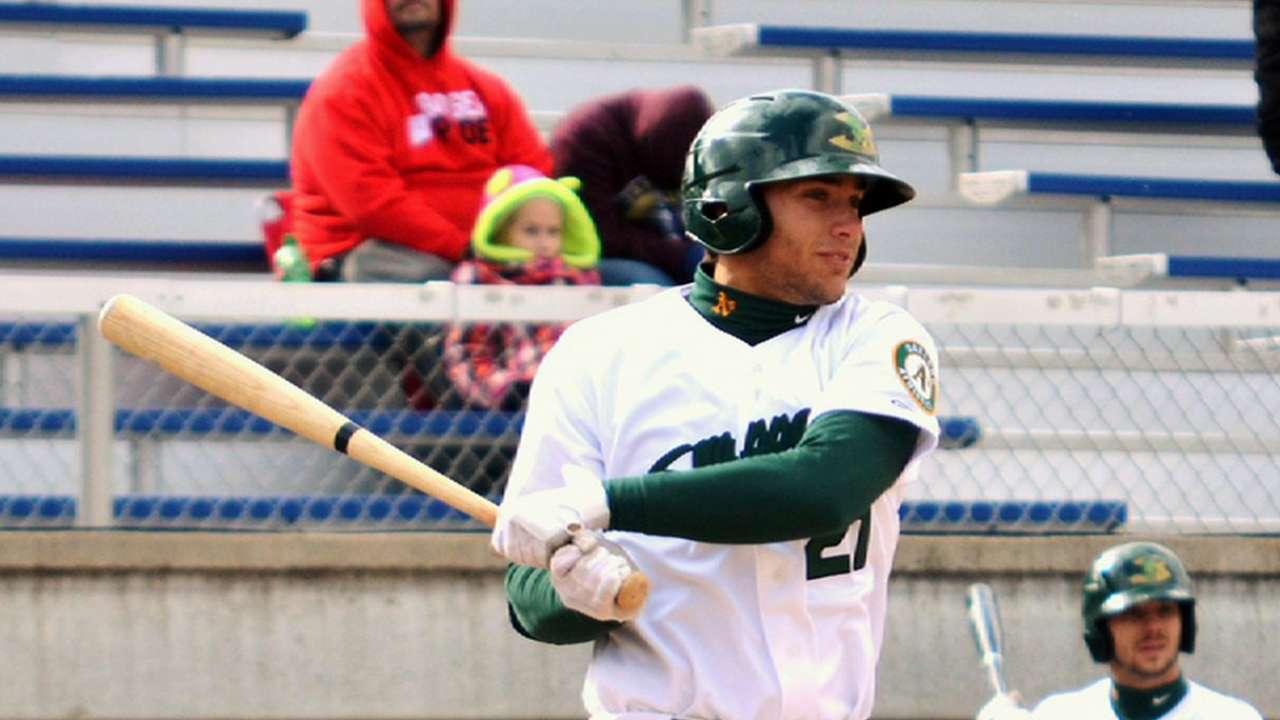 Long known for their "Moneyball" tactics that favored drafting college players, the A's broke that mold in the 2012 First-Year Player Draft, using their first three picks -- all in the top 50 -- to select high school position players.
The first of those players was shortstop Addison Russell, who was on the fast track through the Minor Leagues before he was included in the package dealt to the Cubs for Jeff Samardzija and Jason Hammel last month.
While Russell is gone, shortstop Daniel Robertson and first baseman Matt Olson, the A's next two picks that year, remain in the system. They have put together solid seasons with Class A Advanced Stockton this year and are the A's top two prospects.
This weekend, Robertson and Olson are leading Stockton against Modesto and outfielder David Dahl, another member of the high school class of 2012 who was selected 10th overall that year. The series continues Saturday at 10:05 p.m. ET.
Robertson, ranked No. 91 on MLBPipeline.com's Top 100 Prospects list, has broken out this season in Stockton. He extended his hitting streak to 14 games with two hits Friday and is hitting .300/.396/.465 with 15 home runs in 113 games.
Olson has powered his way into the Minor League home run race this year. While much of the focus has been on Joey Gallo and Kris Bryant, who rank first and second with 38 and 37 homers, respectively, Olson is just off their pace with 34 home runs in 116 games this season. And while the 20-year old has struck out 116 times, he has also drawn 100 walks, helping him rank sixth in the California League with a .404 on-base percentage.
Dahl, ranked No. 43 on the Top 100, began the season with Class A Asheville and hit .305/.345/.501 with 10 home runs and 18 stolen bases in 88 games before he was promoted to Modesto last month. After a slow start at the new level, the Rockies' No. 3 prospect has settled into the California League and is hitting .262/.297/.443 in 15 games.
The Nuts also feature infielder Rosell Herrera, the Rockies' No. 6 prospect. He was named the South Atlantic League MVP last season, but has struggled to carry that momentum into this season. A wrist injury hampered him throughout the first half, eventually forcing him onto the disabled list for more than a month. He is hitting .249/.308/.342 with four home runs in 70 games and splitting time between shortstop and third base.
Saturday's Minor League slate is also highlighted by a few pitchers ranked in the Top 100 who are scheduled to start, including Robert Stephenson (No. 20) and Alex Meyer (No. 30). Stephenson and Double-A Pensacola will face Jackson at 7:30 p.m., while Meyer and Triple-A Rochester visit Indianapolis at 7:05 p.m. Both games can be seen on MiLB.TV.
Top prospect probables:
Matt Barnes (Red Sox No. 14), Pawtucket at Charlotte
Chris Beck (White Sox No. 11), Charlotte vs. Pawtucket
Clayton Blackburn (Giants' No. 7), Richmond vs. Portland
Tyler Danish (White Sox No. 7), Winston-Salem at Lynchburg
Zach Davies (Orioles' No. 8), Bowie at Trenton
Cody Dickson (Pirates' No. 20), West Virginia at Asheville
Jarlin Garcia (Marlins' No. 12), Greensboro at Hickory
Grayson Garvin (Rays' No. 19), Montgomery vs. Chattanooga
Foster Griffin (Royals' No. 9), Burlington at Johnson City
Matt Imhof (Phillies' No. 10), Lakewood vs. Delmarva
Pierce Johnson (Cubs' No. 11), Tennessee at Mobile
Taylor Jungmann (Brewers' No. 11), Nashville vs. Round Rock
Nate Karns (Rays' No. 15), Durham vs. Buffalo
Mike Kickham (Giants' No. 19), Fresno at Tacoma
Cory Mazzoni (Mets' No. 14), Las Vegas vs. Albuquerque
Meyer (Twins' No. 4), Rochester at Indianapolis
Justin Nicolino (Marlins' No. 4), Jacksonville vs. Mississippi
Nick Petree (Cardinals' No. 18), Palm Beach vs. Fort Myers
Chris Reed (Dodgers' No. 8), Albuquerque at Las Vegas
Victor Sanchez (Mariners' No. 14), Jackson at Pensacola
Stephenson (Reds' No. 1), Pensacola vs. Jackson
Blake Taylor (Mets' No. 17), Kingsport vs. Bristol
Jake Thompson (Rangers' No. 6), Frisco vs. Tulsa
Lewis Thorpe (Twins' No. 9), Cedar Rapids vs. Kane County
Nick Travieso (Reds' No. 8), Dayton at Bowling Green
Joe Wieland (Padres' No. 18), San Antonio at Northwest Arkansas
Kevin Ziomek (Tigers' No. 5), West Michigan at Lansing
Teddy Cahill is a reporter for MLB.com. Follow him on Twitter at @tedcahill. This story was not subject to the approval of Major League Baseball or its clubs.