Early injury helps Sale feel stronger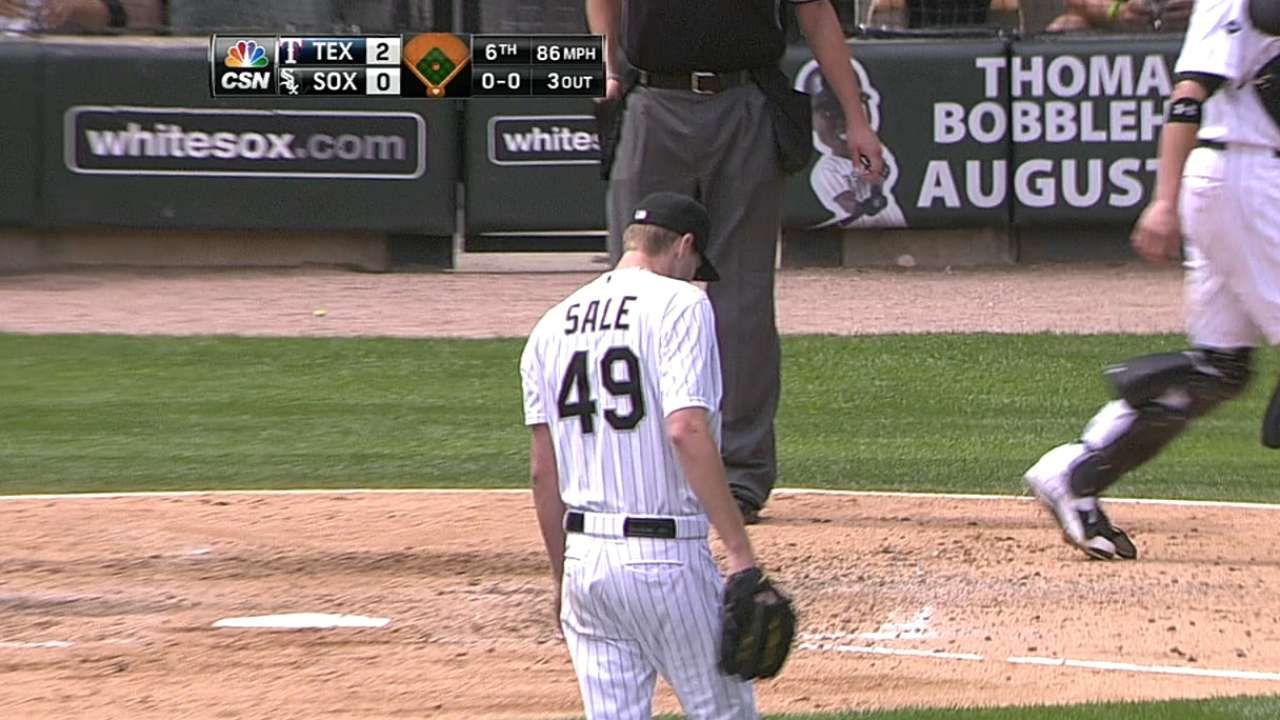 SEATTLE -- Chris Sale feels stronger at this point of the 2014 season than he has in the past two years as part of the White Sox starting rotation. And part of that strength comes from an April injury that the staff ace originally thought might cost him his current campaign.
Sale missed six starts due to a flexor muscle strain in his left arm, going without action from a 10-strikeout, one-hit performance against the Red Sox on April 17 until May 22, a 10-strikeout, one-hit performance against the Yankees. With Sale set to make start No. 19 Tuesday in San Francisco, he has benefited late from that prolonged absence.
"This time last year I was kind of starting to fade a little bit," said Sale, who is on target to make 27 starts and throw a career-low in innings as a starter. "I'm actually feeling strong now, but that's because of not quite the workload of what I'm used to having.
"That's the key. Finishing strong and hopefully making a good push at the right time. We've had a few bad games around here, but hopefully trying to turn it around and get a good stretch going."
With somewhat extended absences in each of his three years as a starter, some pundits believe that Tommy John surgery is inevitable for Sale. That sort of negative thinking never crosses the mind of the upbeat Sale, who sits fourth in all of baseball with a 2.14 ERA, third with a 0.89 WHIP, fourth with a .199 average against and fourth at 10.18 strikeouts per nine innings.
"I don't put a lot of emphasis on it, if that's what you mean," said Sale of the potential for more serious arm problems down the line. "I try to prevent it as much as I can by doing work with shoulder and elbow stuff, but I don't ever pitch with that on my mind.
"It was scary," added Sale of his flexor muscle strain. "You go from worst-case scenario to getting back on the field. It took a little bit longer than we expected but definitely better than most cases."
Scott Merkin is a reporter for MLB.com. Read his blog, Merk's Works, and follow him on Twitter @scottmerkin. This story was not subject to the approval of Major League Baseball or its clubs.