Beckham's defense proving vital to White Sox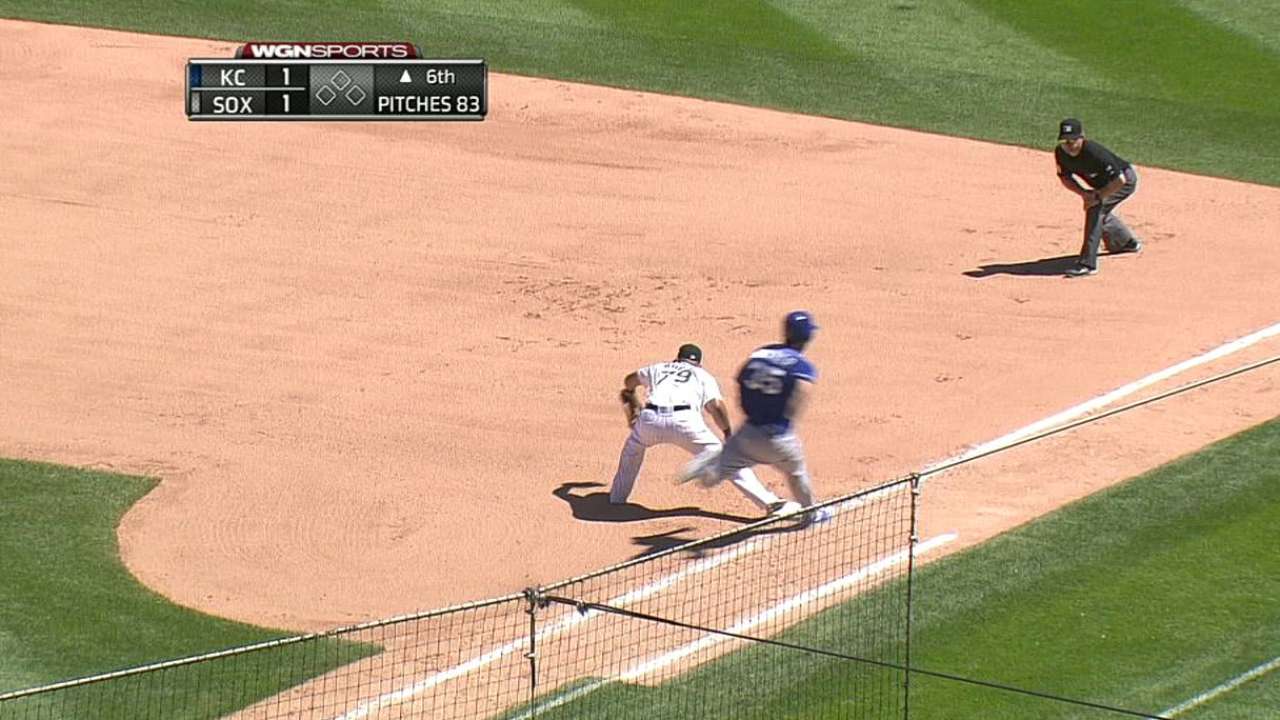 CHICAGO -- General manager Rick Hahn has a good problem at second base.
Micah Johnson, Carlos Sanchez and Marcus Semien, rising prospects in the White Sox system, all sit behind incumbent Gordon Beckham, who ranks as one of the more solid defensive players at his position in the American League. This depth seems to indicate that Beckham, entering his last year of arbitration in 2015, will become a prime trade candidate in August or during the offseason. But Hahn focused on said depth more than any sort of turnover at the position.
"There certainly is the assumption that that depth means there's going to be promotions to Chicago and change over here. It's not always the case," Hahn told MLB.com. "Premium middle-of-the-diamond guys have value to other organizations, too, which conceivably could be used to address our needs.
"In terms of Gordon, we view him as one of the best defensive second basemen in the AL. He's had a tough offensive stretch here, but for the first six or eight weeks of the season, he looked as if he had regained the form seen earlier in his career, and we all know it's in there. It's a matter of him getting back to that peak level of performance on both sides of the ball."
Beckham hit .306 in May and had seven homers and 22 RBIs through June, after missing time at the season's outset due to a strained left oblique. But his July was extremely rough, as he had just 13 hits in 94 at-bats. He entered Sunday with 26 hits in his last 166 at-bats over the past 42 games, although he did knock out two hits in Saturday's loss.
To Beckham's credit, his admitted offensive struggles have not affected his play in the field. Beckham forms one of the game's top double-play tandems with shortstop Alexei Ramirez, a key to the White Sox and their plethora of ground-ball pitchers. Manager Robin Ventura said his team is able to turn some of their double plays because of Beckham's strong arm, which profiles more as that of a third baseman playing second.
"He understands that's a big part of his game," said Ventura of Beckham's defense. "For as much as people want to focus on the offensive stuff, there's a lot of defensive things that he does, and nobody turns it and gets a lot of the double plays just because his arm is so strong. He's very good at the pivot and stays in there.
"He'll take a beating at second base. It's a very important aspect of what we have to work with. We've got a lot of guys that are ground-ball pitchers, and you are going to need that to stay in games."
Scott Merkin is a reporter for MLB.com. Read his blog, Merk's Works, and follow him on Twitter @scottmerkin. This story was not subject to the approval of Major League Baseball or its clubs.