Routine biggest part of Abreu's rookie success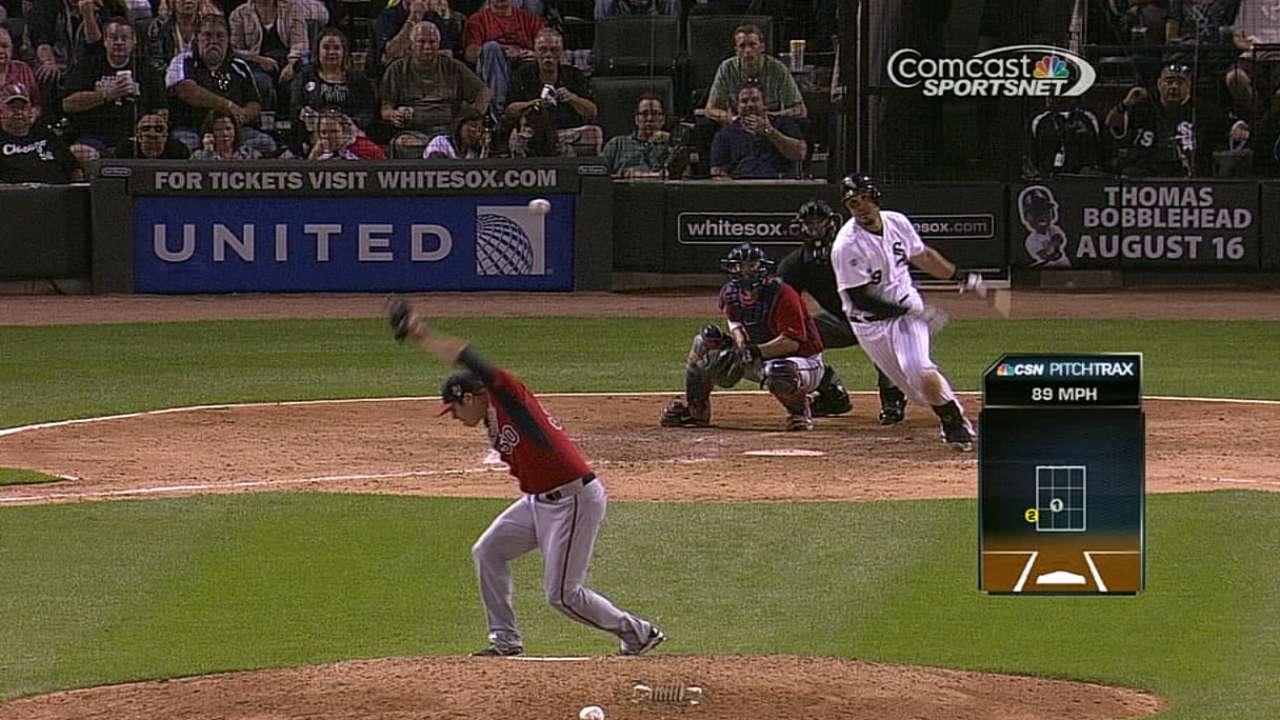 CHICAGO -- The word routine constantly has been provided as an explanation for Jose Abreu's immense first-year success with the White Sox. It's a strange description because there is nothing routine concerning Abreu's on-field excellence.
But the routine being talked about in this instance centers on how Abreu, whose 21-game hitting streak ended with an 0-for-3 (two walks) showing in Saturday night's 8-6 loss to the Twins, prepares for a game. As Abreu, who has hit safely in 39 of his last 41 games, explained through interpreter and White Sox director of public relations Lou Hernandez on Saturday, that important routine is all encompassing.
"Everything in general. Everything from when I wake up in my apartment to when I get here to my routine after a game," Abreu said. "All those things are important.
"There are several routines I have. Understanding going into this season that it was going to be a long season, we've had some great moments and some not so great moments. The important thing is understanding that you have to keep to your routines and mentally stay focused for a long season."
White Sox hitting coach Todd Steverson brought up an example of Abreu's routine and how he has been able to adjust it throughout the course of the longest season of his professional baseball career. Abreu used to hit in the first group during batting practice but came to Steverson somewhere around mid-June and asked if he could hit in the third group.
Abreu's reasoning was that he wanted to take his swings closer to the game. Staying steady with this routine has helped Abreu combat the unknown of many opposing pitchers, as well as the peaks and valleys of his rookie campaign.
"His whole world is wrapped up in a solid, good thought process," Steverson said. "He comes out, he walks the field, I've watched him walk the field before he comes in. Sometimes I'll come in, I'll walk down to the cage and he's already hitting off a tee, which is great -- whatever your mind needs to get prepared to go to competition, I'm all in.
"You look at where he came from in Cuba, and they don't play every day, but they practice a lot. You can get a pretty good regimen or develop a very good routine where you don't particularly play 100 some odd games every year down there. I'm pretty sure that's where the work ethic came from on the get-go, and as a hitting guy, you're happy the guy's got one, a good one that makes him be where he needs to be."
Scott Merkin is a reporter for MLB.com. Read his blog, Merk's Works, and follow him on Twitter @scottmerkin. This story was not subject to the approval of Major League Baseball or its clubs.