Eaton relieved miscue didn't cost Noesi no-no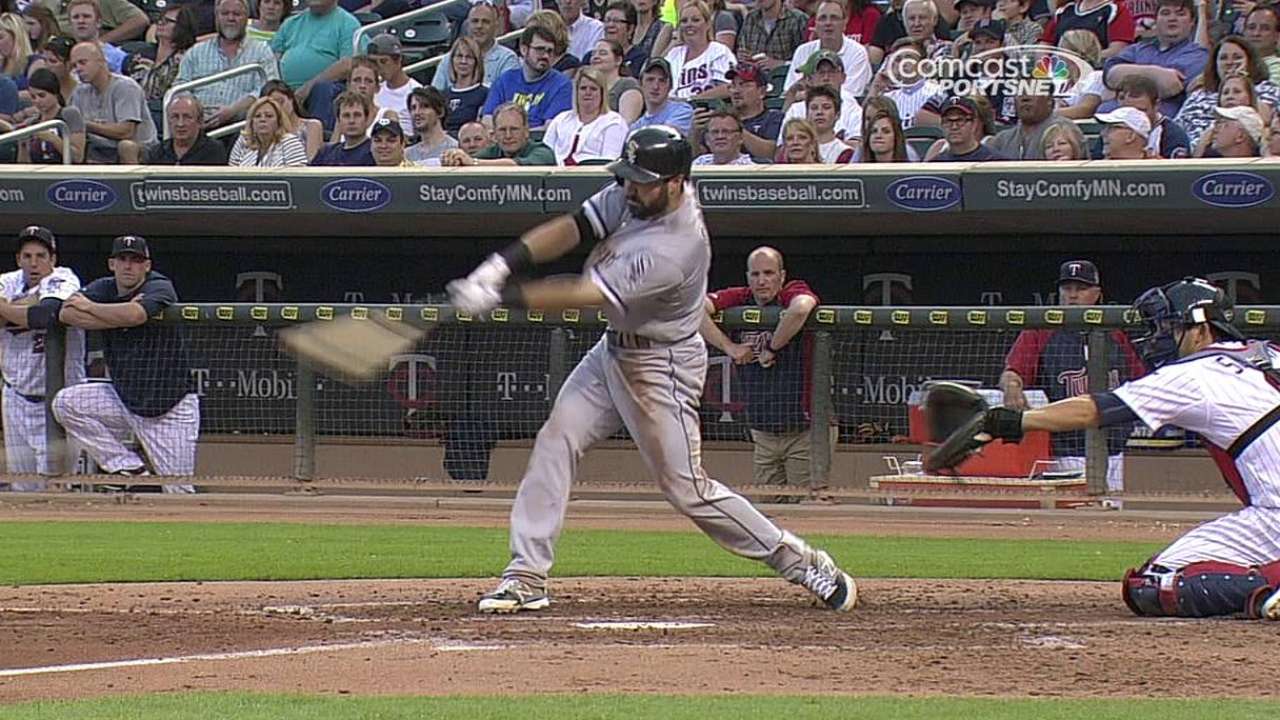 MINNEAPOLIS -- When the Twins rallied for two hits and a couple of runs in the eighth inning Thursday night, you couldn't blame Adam Eaton for breathing a little sigh of relief.
Through seven innings on Thursday night, Hector Noesi was cruising. The Twins had only one hit, and even that was in dispute. With two outs in the fourth, Trevor Plouffe hit a blooper to short left field.
Shortstop Alexei Ramirez ran back. Eaton charged in from center. Alejandro De Aza raced in from left. And the ball, after glancing off De Aza's glove, dropped to the outfield grass.
The official scorer immediately ruled it a hit, and after a thorough postgame review he said he felt even more confident it was the only way it could have been called. It became a moot point in the eighth when Chris Parmelee singled and Danny Santana hit a two-run homer.
But …
"But if that was the only hit of the game and he went a complete game …" Eaton said.
He didn't finish the thought, and he didn't need to. That play would have stuck with him a long time if it had cost Noesi a no-hitter.
"It was a tough play," Eaton said. "We actually discussed it afterwards like we do normally with any play that's in question. De Aza said he had a good read on it. It was kind of bouncing on him a little bit. When you run for an extended period of time, especially when you're looking that high up, you have a tendency to go heel-to-foot and the ball will start bouncing, and he said it started bouncing on him.
"From my standpoint I told [De Aza] I didn't think I could catch it. I didn't want to be the one to call it and have the ball just drop and these guys are just standing around like, 'We could have caught it.'"
When asked about the play on Friday, manager Robin Ventura said -- tongue in cheek -- that if the play had cost Noesi a spot in the record books, "one of them wouldn't have been playing tonight. I would say most of the time they're going all out trying to catch it. They're not trying to miss it. But could they have caught it with a better route? Yeah, they could have."
For what it's worth, Noesi entered the eighth inning having thrown 91 pitches, so he would have needed to get through the Twins quickly in the eighth to have a shot at the ninth. It didn't work out that way, but Noesi was just happy with the win and backed his teammates in the process.
"They were trying to get it, but that's part of the game," Noesi said. "Sometimes you don't get it and it's a base hit. I was not thinking about the no-hitter. I just wanted to go longer, and that happened."
Patrick Donnelly is a contributor to MLB.com. This story was not subject to the approval of Major League Baseball or its clubs.