Thompson, a 44th-rounder in '09, makes debut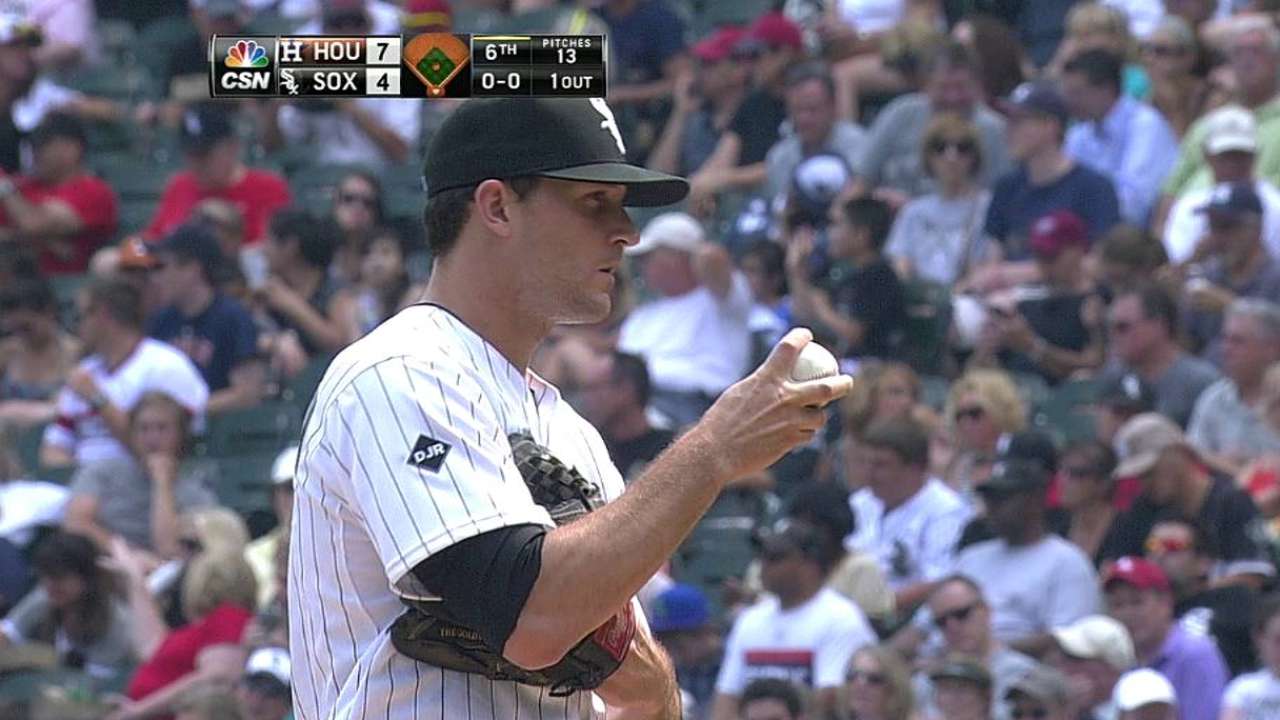 CHICAGO -- It took parts of six Minor League seasons, but Taylor Thompson's perseverance paid off Sunday in making his Major League debut during an 11-7 White Sox loss to the Astros at U.S. Cellular Field.
Thompson, pick No. 1,333 overall in the 44th round of the 2009 First-Year Player Draft, whose contract was purchased from Triple-A Charlotte before the contest, hurled 1 2/3 scoreless innings of relief for starter John Danks and struck out two.
Once the nerves settled down, Thompson got into a groove over 19 pitches in the fifth and sixth innings.
"Of course I was nervous," Thompson said. "I didn't really feel how my body was in those two innings. But it was good to get it out of the way, get those first-outing jitters. So, now I can go out the next whenever I go in and just feel normal again. It was awesome. I can't complain. I've been waiting my whole life to do that right there.
"When I got out there in the warmup pitches and the first couple of pitches I threw, it was like, 'OK, this is a little different.' But I got it under control, got out of that first inning and I was able to settle down a little bit. Still nerve wracking, but fun."
The White Sox had been going one bullpen arm short for the first two games of the second half, with Carlos Sanchez serving as an extra utility infielder. They had Scott Carroll in relief in an emergency, but with Carroll's start coming up Tuesday, the White Sox needed reinforcements.
"He throws a lot of strikes," said White Sox manager Robin Ventura of Thompson, who moved to the 40-man when Felipe Paulino was placed on the 60-day disabled list. "You are kind of getting guys that when we send a guy out, he's the best guy pitching down there right now."
"Just a quality guy," said White Sox Minor League field coordinator Kirk Champion of Thompson. "Player development is pulling for him because of the person he is, let alone that he has thrown well."
Thompson, 27, posted a 2.61 ERA and six saves for the Knights, with 53 strikeouts over 48 1/3 innings. Much like Zach Putnam, Thompson has reintroduced a split-finger into his repertoire this season that has paid dividends.
"I hadn't thrown it for the last few years, and I brought it back this year to try to give me another edge," said Thompson of the split-finger. "It's really helped me out. I'm glad I brought it back for sure.
"I've been waiting for this for a long time," added Thompson, who got the good news from Buddy Bell. "I pitched well down there and I was just waiting on my call, so when it came, I was pretty much speechless, nervous. It was all good, all fun."
Scott Merkin is a reporter for MLB.com. Read his blog, Merk's Works, and follow him on Twitter @scottmerkin. This story was not subject to the approval of Major League Baseball or its clubs.