Ventura explains reasoning for pulling Sale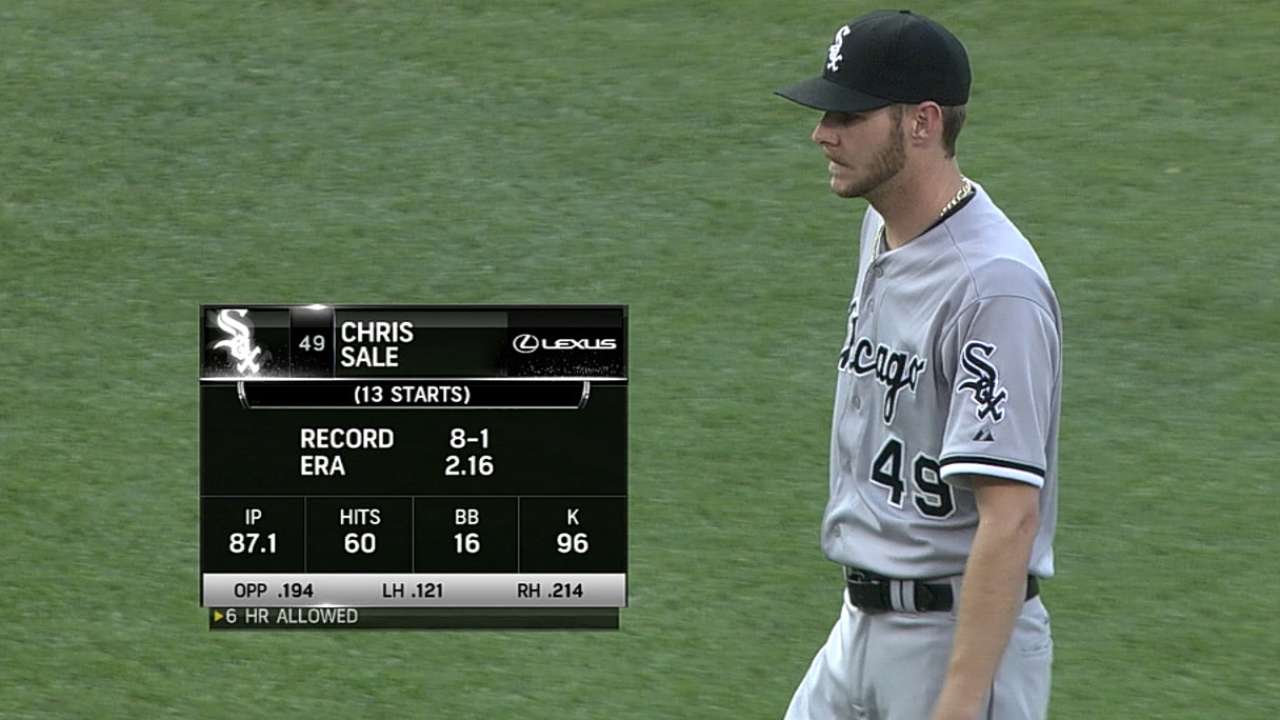 BOSTON -- Chris Sale took a 5-0 shutout into the eighth inning at Angel Stadium on June 7, only to give up five runs in five batters, culminating with Mike Trout's game-tying grand slam. White Sox manager Robin Ventura was criticized for leaving Sale in the game too long.
On Wednesday night, Ventura pulled Sale at 107 pitches with the White Sox leading, 4-0, with two outs in the eighth and Mookie Betts on third base. The bullpen couldn't hold the lead, and once again Ventura was criticized -- only this time for taking out Sale too early.
Two different scenarios, but the same basic target of Ventura. It seems to be a natural progression when the bullpen struggles.
"You know what?" White Sox pitching coach Don Cooper said. "You are damned if you do and damned if you don't."
"That's just part of the job," said Ventura of the criticism. "But we're trying to find a way to get these guys in good situations and compete, all the learning stuff that goes with it. You want them to do well and you're trying to put them in spots that are the best fit for them."
Ventura added that his young guys will get used to pitching in these big spots, because this is the bullpen the White Sox have. But more of the pregame focus for Ventura's media session centered on the reasoning for pulling Sale at that point in his final first-half start.
Ventura's explanation was that if Sale was going to get Dustin Pedroia, who was the first batter faced by Jake Petricka, then Sale also was going to get left-handed-hitting David Ortiz. And the plan for the evening was 110 pitches for Sale, who both Ventura and catcher Tyler Flowers said wasn't quite as sharp as usual.
"We are going to take care of his health. Chris Sale is our crown jewel," Cooper said. "I remember when all hell was raised when he threw [127] pitches [against Boston on April 17]. With that being said, Chris Sale is a very, very good pitcher that if he keeps doing what he's doing, he's on the way to greatness.
"Chris did his job last night. We should be able to expect to get four more outs, and obviously those have been elusive outs for us."
Scott Merkin is a reporter for MLB.com. Read his blog, Merk's Works, and follow him on Twitter @scottmerkin. This story was not subject to the approval of Major League Baseball or its clubs.