Viciedo's inconsistency sparks debate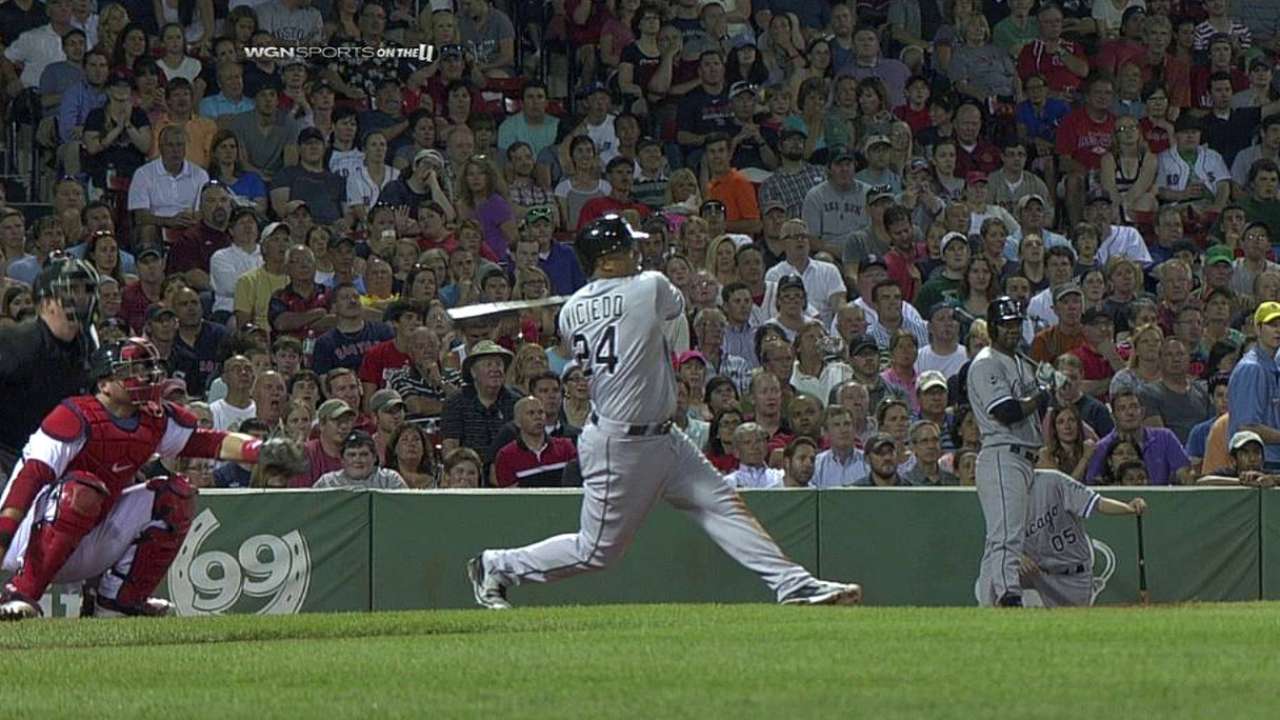 BOSTON -- The debate concerning Dayan Viciedo and his immense but sometimes untapped offensive ability goes something like this:
Those in support of Viciedo point to his youth at 25 years old and his lack of experience before joining the White Sox prior to 2009, with just 801 at-bats total over three years for Villa Clara in Cuba, as reasons for optimism. They also look at his ability to carry a team for weeks at a time when he gets hot, with Viciedo entering Tuesday featuring a .333 average with five homers and 11 RBIs over his last 10 games.
Detractors point to Viciedo's overall inconsistency, despite working with three hitting coaches since joining the White Sox, not to mention being an outfielder who could end up more as a designated hitter. It's a division of opinion that exists to some extent within the White Sox organization and could end up leading to Viciedo being moved before the July 31 non-waiver Trade Deadline or in the upcoming offseason.
There are plenty within the organization, though, who believe Viciedo has much more to offer. Maybe not 50 homers and 120 RBIs, but certainly closer to the 25 homers and 78 RBIs he posted in 2012.
"There is no doubt there is way more in there," said White Sox first baseman Jose Abreu of Viciedo, through interpreter and White Sox manager of cultural development Lino Diaz. "If he continues to work as hard as he has, he'll get what he wants to get."
"Oh, absolutely," White Sox manager Robin Ventura said. "I think there's more there."
Ventura termed Viciedo as streaky, and pointed out that once he goes into these hot streaks, he starts to pull too much instead of letting his talent take over. Venture also used David Ortiz as an example as to how good numbers can become great over time.
"Nowadays, if you see a guy come up like [Mike] Trout and does what he does, everybody is judged by that," Ventura said. "You look at David on the other side, with the Twins, it didn't click in the first go around. He had decent seasons, but you see what happens when you see the maturity process happen as a baseball player. Just because it doesn't happen immediately doesn't mean it's not there."
Scott Merkin is a reporter for MLB.com. Read his blog, Merk's Works, and follow him on Twitter @scottmerkin. This story was not subject to the approval of Major League Baseball or its clubs.