Avisail making progress toward '14 return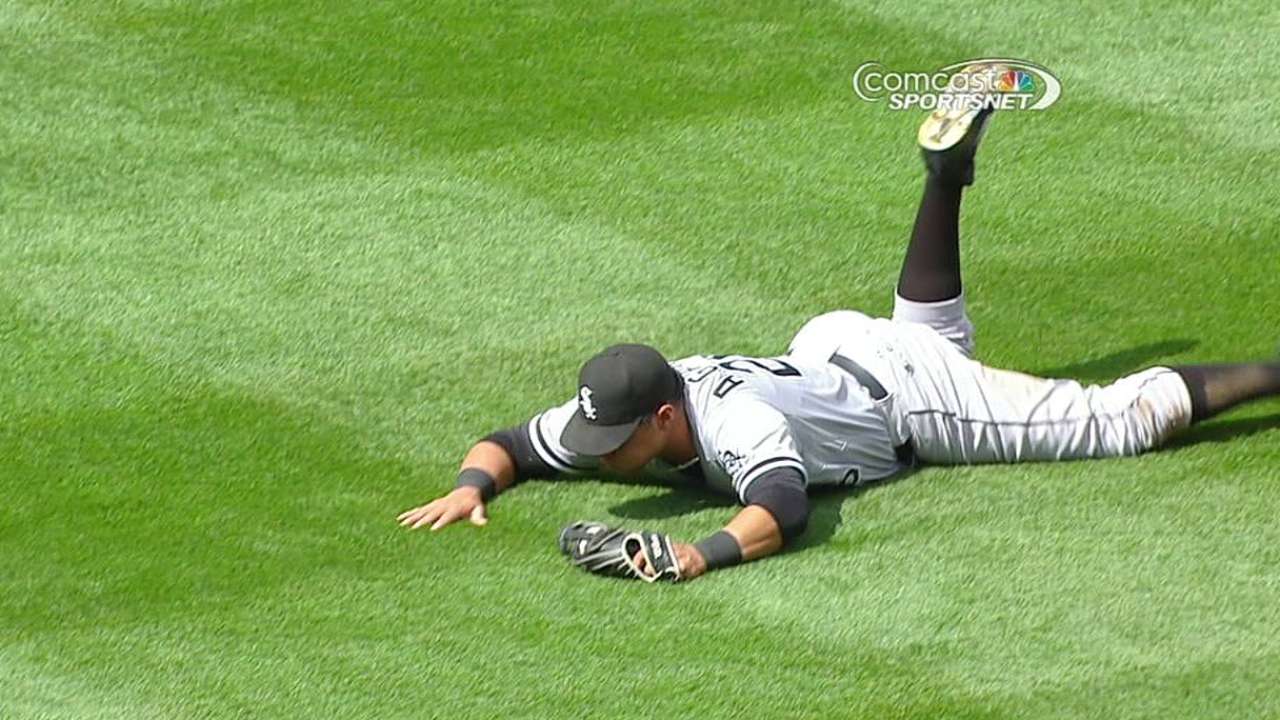 BOSTON -- Avisail Garcia took batting practice on the field Monday for the first time in his extended rehab program from the torn labrum and avulsion fracture in his left shoulder sustained while diving for a fly ball in right on April 9 at Colorado.
While White Sox general manager Rick Hahn won't change the original timeframe that had the powerful right fielder being sidelined for the season, he did present a glimmer of real hope that Garcia could play again this season.
"Is it possible he returns to Major League play this year? Yes, it is possible. However, we are still many steps in the rehabilitation away from that," Hahn said Monday at Fenway Park. "Ultimately, the decision about whether Avi plays at the big league level this year will be dictated primarily by his health and secondarily by what's best for his development.
"The club's performance, the club's won-loss record, the situation of the club later in the season once he has progressed to that level, will not be relevant in deciding whether or not he's going to play. It's going to be decided by his health and what's best for his development going forward.
"He has obviously done a tremendous job in his rehabilitation," Hahn said. "Our doctors feel very good 12 weeks post-op that physiologically the fracture and the repair have healed, so now it's just a matter of slowly progressing him back into baseball activities and see what timeline that leads to in terms of a potential return."
At the very least, Garcia looks more certain for playing winter baseball or even in the Arizona Fall League. Garcia told MLB.com at the end of May that he had not given up hope for coming back this season, and that hope might produce a September callup of sorts.
"Putting aside the physical issue, which we seem to be slowly getting to the other side of, which is obviously quite good, the biggest problem with Avi's injury is missing that development time at the big league level," Hahn said. "He's still a young kid. Getting him those repetitions at the big league level, those plate appearances are very important.
"So yes, there is, from a developmental standpoint, a benefit to getting late decent ABs if, again, his health and prudence dictates that makes sense. We do see benefit in that."
Hahn quipped that the White Sox will have to teach Garcia the outfield slide when going for fly balls, avoiding the headfirst attempt that cost him much of the '14 season. While any player with an injury is at a heightened risk of re-injury, Hahn said that risk for Garcia is no greater today than it will be five years from now.
Scott Merkin is a reporter for MLB.com. Read his blog, Merk's Works, and follow him on Twitter @scottmerkin. This story was not subject to the approval of Major League Baseball or its clubs.