Struggling Johnson remains in White Sox plans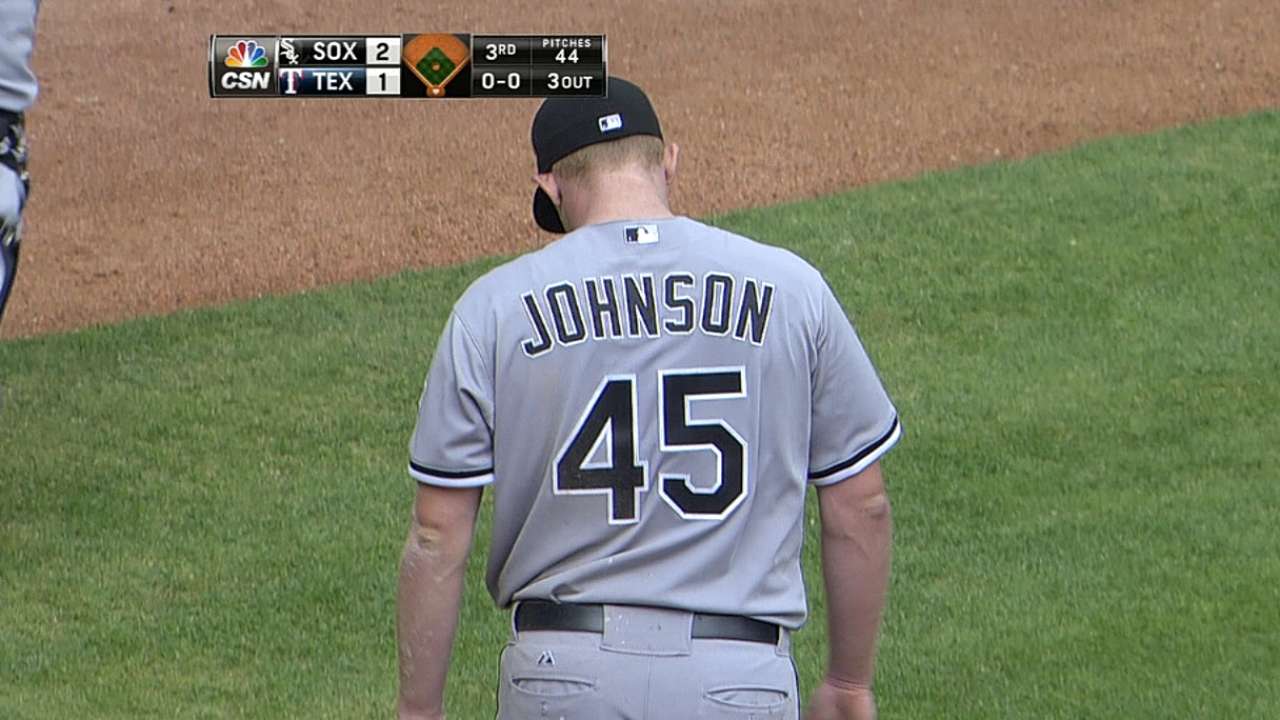 CHICAGO -- Erik Johnson was considered an important right-handed component of the White Sox rotation going into Spring Training, albeit a young one with just five September 2013 starts of Major League experience behind him. But the good raw stuff Johnson exhibited in those starts, not to mention his impressive climb through the Minors, make it even harder to understand why one of the organization's top prospects has struggled so much this season.
Johnson has told the White Sox and reporters covering Triple-A Charlotte that he feels fine despite sustaining a small, but noticeable velocity drop since Spring Training. He posted a 6.46 ERA over five starts for the White Sox, with 15 walks and 27 hits allowed over 23 2/3 innings. Johnson has a 6.70 ERA in nine starts since being optioned to Charlotte from the big leagues on April 26, with 29 walks and 54 hits over 47 innings.
General manager Rick Hahn has pointed out on numerous occasions that Johnson still figures prominently in the team's future plans, adding that franchise stalwarts such as Joe Crede and Aaron Rowand experienced their own early struggles and return to the Minors, before returning on the path to success. Right now, the struggles might be as much about confidence as they are related to the physical side for Johnson.
"Everybody goes through that at some point," White Sox manager Robin Ventura said. "How long it happens and how you deal with it, everybody's different. He went through the system pretty quick. Sometimes you get up here and ... . Every time you go out there, it becomes tough."
Ventura hasn't watched Johnson pitch for the Knights, but the manager does get reports on his continued trouble.
"You have people that are watching and you get reports on him, but when you just see the numbers, it does make you scratch your head, because you know he has talent," Ventura said. "We've seen it. We've seen it up here, so to get that combination back where he has the confidence, the location, the ability to do it, that's when you get that call back up.
"With guys stepping in and doing what Hector [Noesi has] done, it's tough to crack. You don't just bring him up just to bring him up."
Scott Merkin is a reporter for MLB.com. Read his blog, Merk's Works, and follow him on Twitter @scottmerkin. This story was not subject to the approval of Major League Baseball or its clubs.