White Sox open Day 2 with college lefty Fry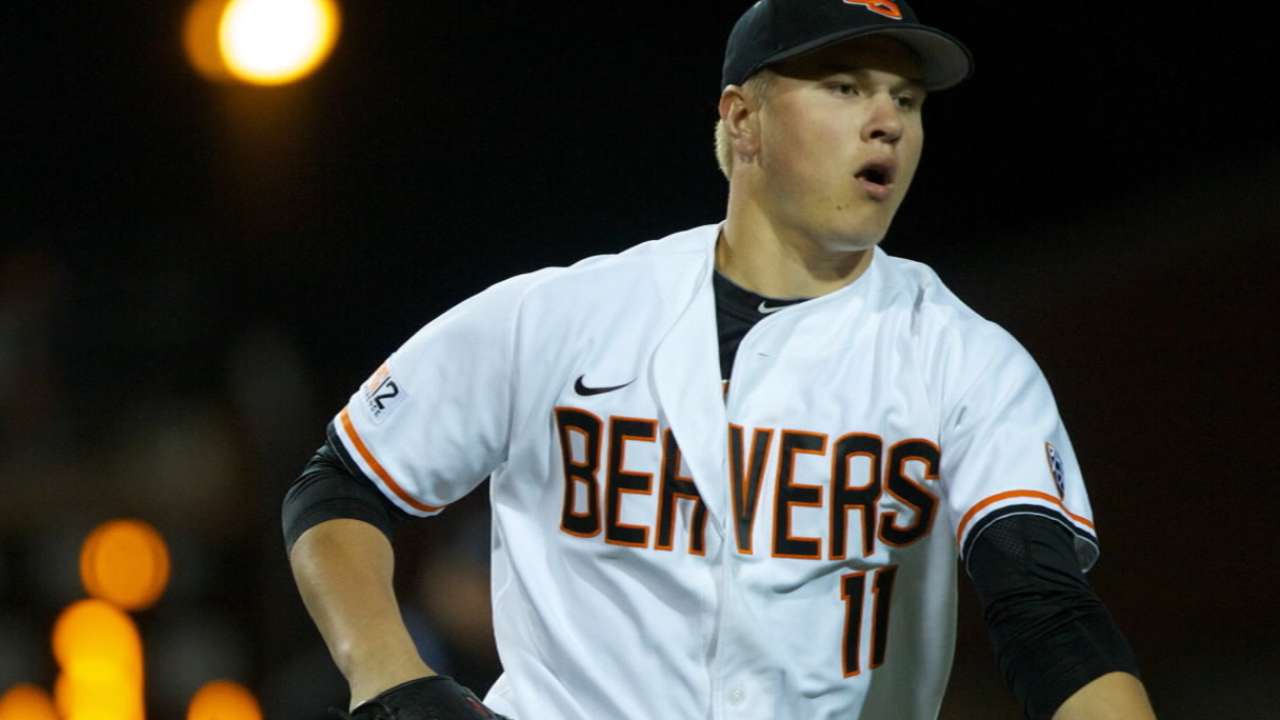 Three picks into the 2014 First Year Player Draft, it's three pitchers for the White Sox.
Director of amateur scouting Doug Laumann was asked before the Draft about the epidemic of pitchers needing Tommy John surgery and whether the organization would shy away from selecting pitchers who have had the procedure. He said that for the most part it wouldn't, and he remained true to his word on Day 2 of the Draft.
With their third-round pick in the Draft (77th overall) on Friday, the White Sox selected Oregon State left-handed starter Jace Fry, who underwent Tommy John surgery following his freshman season. He becomes the second college lefty added to Chicago's 2014 Draft pool after the team selected Carlos Rodon with the third overall pick on Thursday.
"It means a lot that I had people there with me, supporting me through every step," Fry said. "It was a big factor of how I was able to come back so healthy, and it's just like almost an overwhelming feeling that I'm finally back at this spot. Being drafted out of high school, but now I kind of know what I'm going to do with my life. I'm just excited that I'm going to Chicago."
The Draft concludes on Saturday, with exclusive coverage of Rounds 11-40 beginning on MLB.com at 12 p.m. CT.
Fry had the operation performed in June 2012, following a successful freshman season in which he was named to several Freshman All-American teams and went 5-3 with a 2.45 ERA in 13 starts.
Laumann used the example of Chris Sale, whom the White Sox drafted 13th overall in the 2010 Draft, as a player some teams passed on because of concerns over his delivery that could lead to arm injuries. Sale did miss time this season with an elbow injury, but he has nonetheless developed into one of the game's best starters.
"There were a lot of people that felt like with his body type and his arm action that perhaps he was going to get hurt, and who knows down the road what's going to happen," Laumann said of Sale. "But at the same time, if you don't take the guys with best ability, you end up passing on guys that can potentially be No. 1 starters, so we need to just go ahead and evaluate people on their ability and try not to worry too much about the arm injuries."
Fry said his arm slot dipped following surgery, but that as he rebuilt his arm strength post-operation, it returned to normal. He won't overpower batters -- his fastball tops out in the low 90s -- but he uses movement on his fastball and offspeed pitches to keep hitters off-balance. The best comparison to a Major League starter Laumann could think of was Angels lefty C.J. Wilson, who also features a low-90s fastball with a "lot of run and tail or tail and sink."
After appearing in just six games as a reliever in 2013 -- more than 11 months post-surgery -- Fry came back better than ever in '14. He posted a 1.80 ERA in 16 starts (120 1/3 innings), allowing just 83 hits with 98 strikeouts and just 30 walks. One of those appearances of the 2013 season came against Mississippi State in the College World Series, despite not fully returning to his pre-surgery form.
"Well, it definitely teaches you how to control your emotions," said Fry, who tossed 3 1/3 innings of two-hit ball in that game. "Pitching on that kind of stage and especially last year for me, because I wasn't the most comfortable on the mound, I didn't really have the best stuff in the world last year. So I kind of had to pitch off mentality, if that makes any sense, and just try to realize the things you need to do to calm yourself down and really stay locked in and try not to do too much."
A 6-foot-1, 200-pound junior, Fry was selected out of Southridge High School in the ninth round of the 2011 Draft by Oakland before committing to the Beavers.
Joe Popely is an associate reporter for MLB.com. This story was not subject to the approval of Major League Baseball or its clubs.