Right-hander Adams selected in second round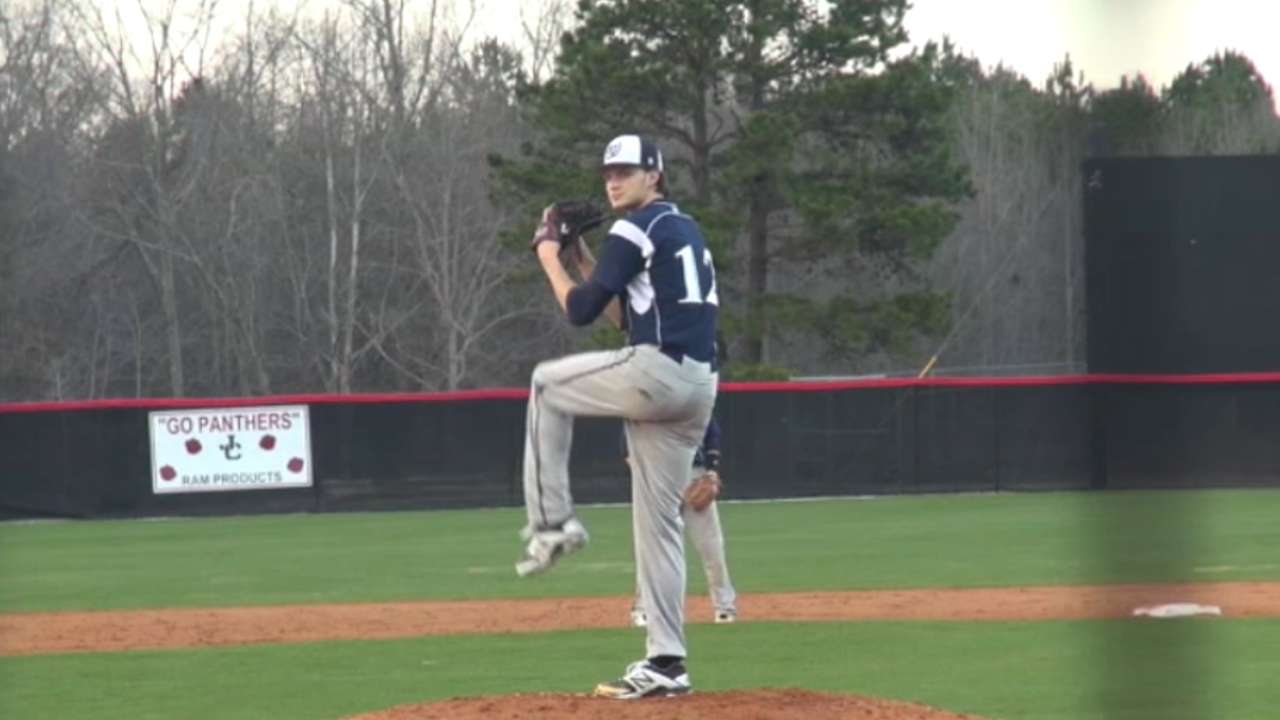 LOS ANGELES -- The White Sox had three really good names they were focusing upon when the 44th overall pick in the 2014 First-Year Player Draft arrived late Thursday night.
Spencer Adams, a right-handed pitcher out of White County High School in Georgia was the top name in that group.
"He's a real athletic kid," said White Sox assistant scouting director Nick Hostetler of the White Sox's second-round pick. "He's an exciting player: projectable but also shows now stuff."
After selecting Carlos Rodon, a left-handed hurler from North Carolina State who might be the most Major League-ready of any pitcher in the Draft, at No. 3 in the first round, Adams gave the White Sox a pretty good Day 1 pitching haul with just two selections. As an example, the final Mock Draft from MLB.com's Jim Callis Thursday had Adams projected as a first-rounder, going at No. 22 to the Dodgers.
MLB.com's Prospect Watch ranked Adams at No. 27 overall, with the three-sport athlete showing enough athleticism to be able to dunk on the basketball court. With a fastball sitting in the low 90s and topping out at 96 mph with excellent life, Adams finished this past season with a 4-2 record and 0.72 ERA over 58 1/3 innings. He struck out 90, walked 11 and allowed 27 hits.
Adams played deep into the basketball season, so it took him a little while to get his legs. But Hostetler and White Sox director of amateur scouting Doug Laumann saw Adams pitch impressively during a rivalry game late in the season.
"His makeup is off the charts," Hostetler said.
Where Rodon could push for Major League time out of the bullpen as soon as this season -- much like Chris Sale in 2010 after he signed -- don't look for Adams in Chicago any time soon.
"We're happy he got to us," Hostetler said. "It's a very, very exciting addition based off adding as many quality arms as we possibly can.
"There are some mechanical things we can fix and give him help. But he's so athletic and made adjustments in-game. His breaking ball is plus, his fastball velocity is 92 to 96, with life and he has a definite feel for the change. He's got the overall package of stuff with projection."
The Draft continues on Friday with Rounds 3-10. The MLB.com pregame show begins at 11:30 a.m. CT, with exclusive coverage of Rounds 3-10 beginning at noon.
White Sox planning resumed for second-day picks after the team received immediate rave reviews for their selections of Adams and Rodon. Adams is a Georgia recruit, but the White Sox are confident they will sign him just as they are with Rodon.
They are equally as confident that the White Sox exceptional track record of developing pitchers, from the Minor Leagues to pitching coach Don Cooper, will work wonders with these latest high-talent additions.
"He was excited, his whole crew was excited," said Hostetler of Adams' reaction when the White Sox took him in the second round, with a projected slot bonus of $1,282,700. "Our scout was extremely excited. We aren't used to drafting this high, but we feel like we got a first-round talent in the second round."
Scott Merkin is a reporter for MLB.com. Read his blog, Merk's Works, and follow him on Twitter @scottmerkin. This story was not subject to the approval of Major League Baseball or its clubs.