Picking third, White Sox likely to take pitcher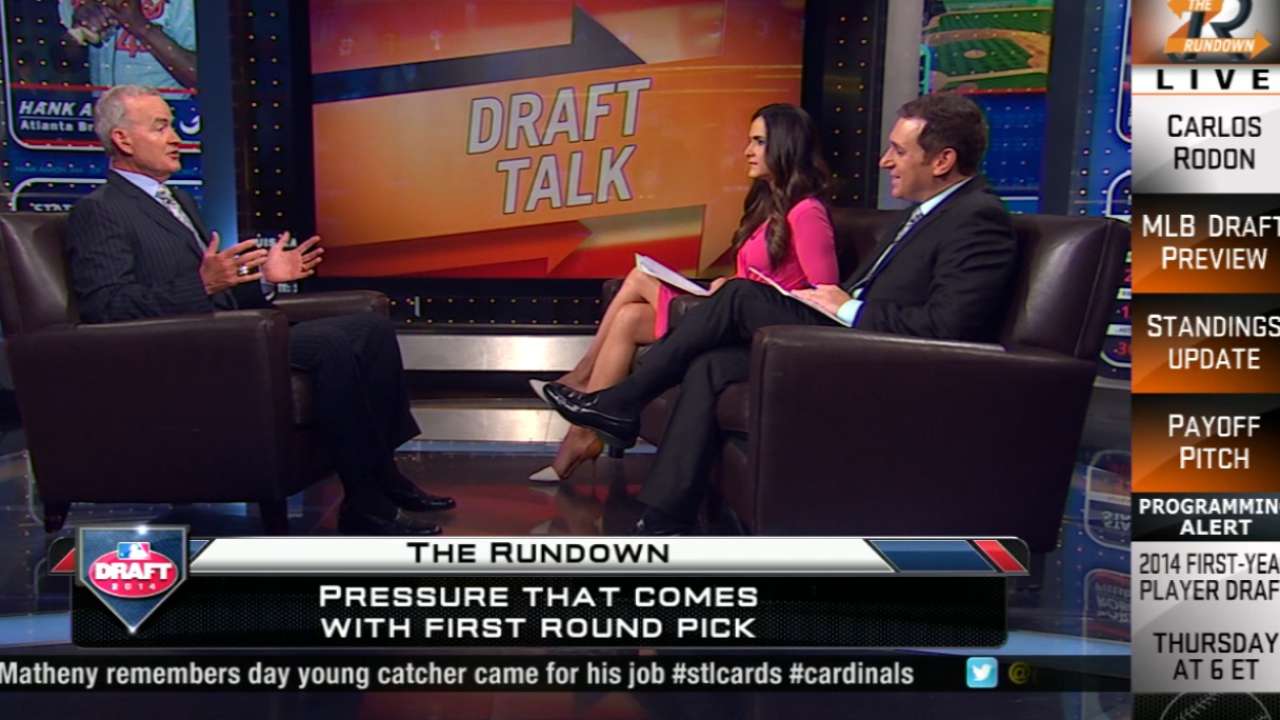 LOS ANGELES -- The only matter close to certain concerning the White Sox No. 3 pick in the 2014 First-Year Player Draft, beginning Thursday night, is that the club will take a pitcher.
High school sensations Brady Aiken and Tyler Kolek have been frequently mentioned as targets of interest for the South Siders, as have collegiate standouts Carlos Rodon and Aaron Nola. Here's a quick synopsis of each hurler, provided by assistant scouting director Nick Hostetler.
Rodon: "He's an aggressive kid," said Hostetler. "He's a tough-nosed kid. I don't know if bulldog is the right word, but he's in charge. When he's on the mound, he takes the ball and he controls the game. He's like that on the field, off the field. He's got a makeup that a manager is going to love running out there every fifth day."
Kolek: "I don't know if we've ever seen anything like it, and there's no database for it," said Hostetler. "You can't find a body comparison. He's one-of-a-kind. The upside is unlimited. People say Nolan Ryan or Roger Clemens. He might be better. His stuff is electric. To walk away from a high school game and say, "Wow," very rarely does that happen. But he's a wow type of guy."
Nola: "This guy just pounds the strike zone to both sides of the plate -- fastball, curveball, changeup is plus," said Hostetler. "Just pitch, pitch, pitch. He has upside. This kid has frontline-starter upside."
Aiken: "He's done a really good job of pitching and commanding his fastball, both sides of the plate," said Hostetler. "His secondary stuff is second to none. It's some of the best in the Draft."
Having both Kolek and Rodon available at No. 3 would present an interesting dilemma for the White Sox. Rodon's family advisor is Scott Boras, but the White Sox have committed to taking the best player available regardless of advisor or experience.
Executive vice president Ken Williams has told the story of selecting Chris Sale 13th overall in 2010 and talking to him about the quicker he got on board with the White Sox, the quicker he could get to the Majors. Sale was working in relief for the White Sox two months later, making his big league debut on Aug. 6, 2010, which is a scenario that could fit Rodon.
Scott Merkin is a reporter for MLB.com. Read his blog, Merk's Works, and follow him on Twitter @scottmerkin. This story was not subject to the approval of Major League Baseball or its clubs.