Abreu willing to make small tweaks to stay healthy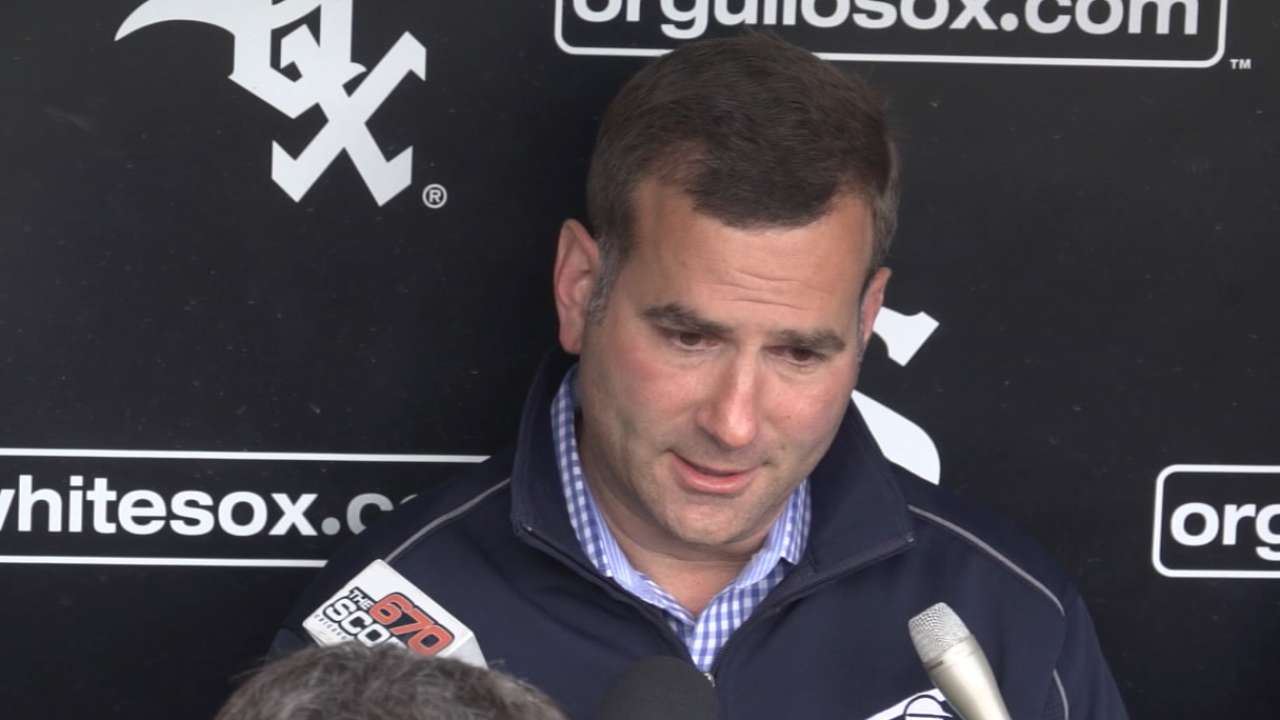 CHICAGO -- Like the top decision-makers in the White Sox organization, rookie slugger Jose Abreu is confident he'll be able to return from his ankle injury when he's eligible to come off the 15-day disabled list on June 2.
Abreu, who is in a walking boot for the next three days, checks in with doctors every day and seems to be progressing well. To keep himself occupied and in shape, Abreu has been doing strength-and-conditioning workouts for his upper body, but that doesn't make it any easier for the Cuban transplant to sit out.
"For me, it's very hard. I don't deal well being off the field," Abreu said through White Sox manager of cultural development Lino Diaz. "I like to be on the field. It's so hard it's even hard to watch the games at home. We have a saying in Spanish: 'It's hard to see the bulls from far away.' You want to be down there with them.
"It's very difficult, but we're dealing with it the best we can. We're just trying to do everything we can to get back to the field as soon as possible."
"He's not happy, I know that," manager Robin Ventura said. "When you talk to him, you just try to keep it light-hearted and know that for him, he knows we miss him and we'd like him to play as soon as he can. But he needs to be 100 percent. In talking to him, he understands that for him to do what we need to, for him to enjoy it, he needs to be healthy."
Abreu said he is open to making some adjustments to preserve his long-term health, though he didn't offer many details. It won't include being a regular designated hitter, which he did in the eight consecutive games prior to hitting the DL.
"The first thing I assume we're going to do is my hitting routine is going to be adjusted a little bit. That's first and foremost," he said. "The other adjustments would have to do with being on the field and all that stuff, but we can make that happen. Probably the hitting routine, the amount of swings and things like that.
"DH is something I don't really like doing. We're going to do this the right way so when I'm out there, when I'm playing, I'm able to play on the field. Obviously, those decisions are meant for the manager, but me personally, I don't like DH-ing."
Abreu said he doesn't see a reason why he wouldn't be back by June 2, but the he is open to more rehab if need be. The good news is that it doesn't appear as though the White Sox will have to be over-cautious with their hard-swinging first baseman.
"I don't know if it's cautious. I mean, if we see the same thing, we're going to take care of it," Ventura said. "But I don't think that's anything like [Adam] Eaton's [hamstring injury], where you're going to pull a muscle or do anything like that. He definitely has issues that if you see if again then we'll take care of it. It's not something we'll tell him, 'Don't use your ankle.'"
Joe Popely is an associate reporter for MLB.com. This story was not subject to the approval of Major League Baseball or its clubs.