White Sox admire Jeter on and off the field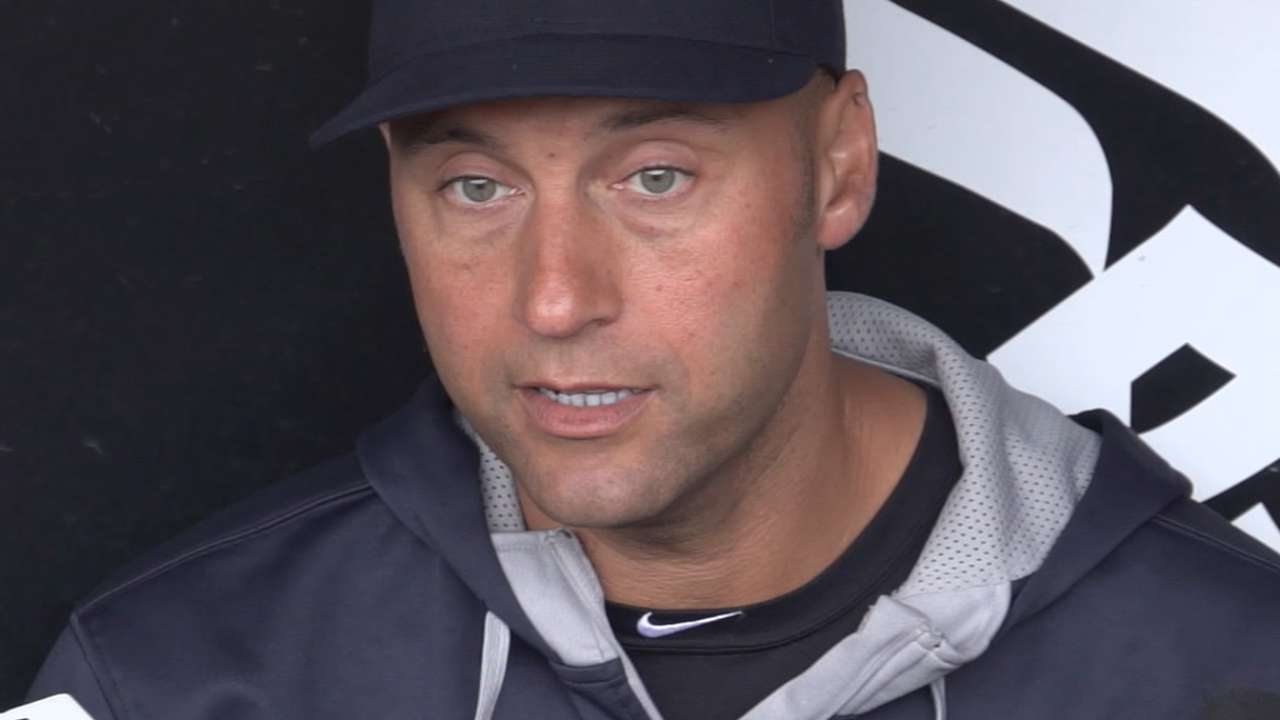 CHICAGO -- The unofficial meeting of the White Sox/Derek Jeter mutual admiration society came to order Thursday afternoon at U.S. Cellular Field, with Jeter beginning his last four games played at the home of the White Sox.
Everyone from Paul Konerko to Gordon Beckham to manager Robin Ventura to general manager Rick Hahn heaped pregame praise upon Jeter, who entered Thursday with 3,356 hits over his 20-year-career with the Yankees.
But it was Jeter, the person, leader and professional who impressed the White Sox as much as what he accomplished between the white lines.
"Obviously, numbers-wise, he's done a lot of stuff," said Beckham. "I just look at the kind of aura and the kind of guy he is. Playing against him, you can kind of tell this is a great guy that plays the game the right way. That means more to me as a guy that wants to emulate what he does, much more than any hit that he got."
"I've always had a lot of respect for him," said Ventura. "You get more when you play with him and see what he goes through on a daily basis, the pressures and also how successful he's been. It's just how he interacts with his teammates or the fans. Just his presence has been the most impressive. I have the utmost respect for what he's done. He's always been a class guy."
Ventura and Jeter played together on the same infield in parts of the 2002-03 seasons. As a high school student in Kalamazoo, Michigan, Jeter would make the 148-mile trip to Chicago and see Ventura in action.
His connection to Ventura as a manager is solely as an opponent. But Jeter believes Ventura is a good fit for the job.
"He was never too high, never too low. He doesn't seem to panic. He understands the daily grind," Jeter said. "He was a great teammate. I enjoyed getting to know him. I played against him with the Mets, the White Sox, and then got an opportunity to play with him. I think you'd ask all those guys over there, they'd tell you how much they like playing for him."
Jeter also had high praise for Konerko, who is making a final lap of the American League in his 16th season with the White Sox. The two are the longest-tenured active players with their present teams and very similar in regard to being captains and how they comport themselves. But Konerko knows Jeter plays the toughest position in the toughest city to play.
"So I don't think anybody has had a tougher road to hoe as far as all the stuff you have to deal with on and off the field, and he's done it for 20 years as good as you could possibly do it, and won and done well personally, statistically," Konerko said. "Every player knows the stuff you have to deal with and has an insight -- not to his level -- you kind of know what different guys have to deal with.
"And he's had to do deal with the most and done it the best, with the most class. It's definitely appreciated by myself and the players in the game. When a guy like that, as good as he is, and has everybody staring at him and looking at him for 20 years, you hope it falls into someone's lap like his, who handles it right and does right by it, and he's never let anybody down. It's really amazing. He might be the best ever when it comes to that."
Scott Merkin is a reporter for MLB.com. Read his blog, Merk's Works, and follow him on Twitter @scottmerkin. Adam Berry is a reporter for MLB.com. Follow him on Twitter at @adamdberry. This story was not subject to the approval of Major League Baseball or its clubs.