Sale throws off mound for first time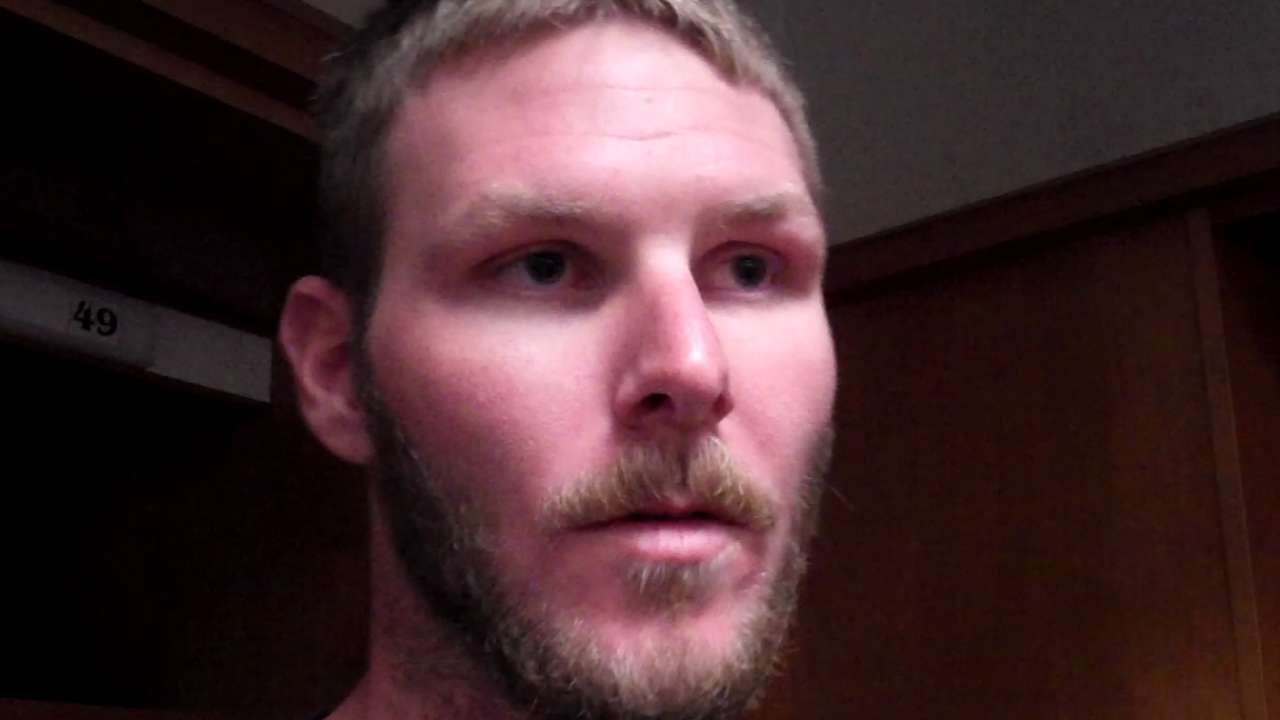 CHICAGO -- Chris Sale threw a 40-pitch bullpen session prior to Monday's contest with the Cubs, marking his first time pitching off the mound since he was placed on the disabled list retroactive to April 18 with a flexor muscle strain in his left arm.
The solid reviews from Sale to pitching coach Don Cooper to manager Robin Ventura to general manager Rick Hahn might be the last words spoken on Sale until he embarks on a rehab assignment 10 days to two weeks down the line per Hahn's guess. The White Sox have a plan, a plan that is day to day based on how Sale feels, but that plan will be more on a need-to-know basis as far as the public is concerned.
"It's weird because I think quite frankly that we have been extraordinarily transparent about all these injuries and what has transpired, but still there has been daily speculation about where he's at and what it means," said Hahn of Sale, who will miss his fourth scheduled start as of Wednesday. "Not just with Chris but with some of the other injured guys. Frankly it makes me, at least personally, preferring to go to an NHL style and just tell you it's an upper-body injury and see you in the morning skate.
"This is more art than science when you are starting to rebuild a guy back. Right now, clinically he feels great and he's progressing, but I don't want to put a marker in the sand saying he's going to do this on Day 4 because if for some reason he doesn't do this on Day 4, it creates panic. In reality, it's just a natural process of rebuilding a guy's arm strength."
Sale said that he got after it "pretty good" during the 40-pitch effort, but was reluctant to go into any sort of detail at first despite being surrounded by media in the cramped visitors' clubhouse at Wrigley Field. The affable White Sox ace has become a go-to quote, but he doesn't want his comeback to take away from the everyday action on the field, so he has stayed quiet since addressing the injury in Detroit.
"I deserve a certain level of privacy in terms of myself and my teammates and my coaches and training staff and general manager, manager," Sale said. "The more we keep to ourselves the less people can speculate, and that's helped the process a little bit in terms of hecticness coming with what's involved. We're trying to keep this at bay as much as we can and try not to leak too much information out as much as what it is and what it isn't.
"I'm not going to sit here and lie to you -- I feel much better than when we started this process. There's nothing there today that made me think there should be any steps back or any setbacks."
If Sale responds well Tuesday, he'll probably throw again Wednesday. A return date to the Majors still is a guess the White Sox aren't willing to make at this point.
"That's not my decision," Sale said. "I go out there and throw and relay to them how I feel and then we'll assess it from there."
"Today, the big thing was how do you feel before, during and after, meaning tomorrow, too," Cooper said. "We are not anticipating anything because it went really good."
Scott Merkin is a reporter for MLB.com. Read his blog, Merk's Works, and follow him on Twitter @scottmerkin. This story was not subject to the approval of Major League Baseball or its clubs.