Alexei sets Sox mark for hits in April/March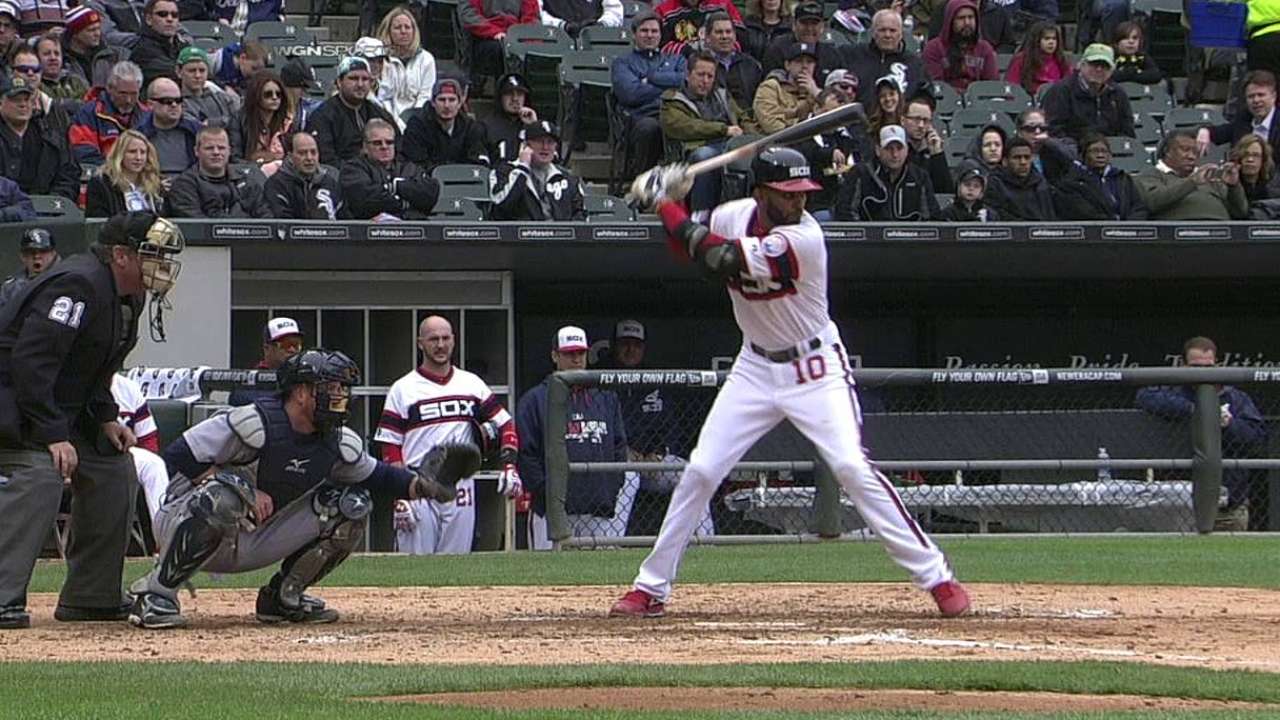 CHICAGO -- Alexei Ramirez hit in a franchise-record 17 straight games to start the 2014 season. And on Wednesday, he added another not in the record books, breaking Paul Konerko's franchise record for most hits in March/April with a fourth-inning single in a 5-1 loss to the Tigers to give him 40 overall. Ramirez has hit in 27 of his first 29 games this season to join Buck Weaver (1920) as the only player in White Sox history to accomplish such a feat.
The shortstop exited Wednesday's contest leading the American League in hitting at .351 and with yet another record in tow.
"I didn't know anything about it until yesterday," said Ramirez, through interpreter and White Sox manager of cultural development Lino Diaz. "Paul Konerko told me about it, and I just kept going the same way I've been going."
Konerko, who has played alongside Ramirez since the latter was a rookie in '08, believes that the durable White Sox shortstop should get 200 hits this season for the first time in his career. Manager Robin Ventura feels Ramirez's changed hitting style gives him a chance to stay in that American League batting race all season.
"This year, more than anything, because his hits are different," Ventura said. "Last year, everything was really in a pull mode for him. Then he started hitting second, started a little higher up in the lineup and started moving the ball the other way, then wanted to hit some homers and started pulling it.
"Right now, I don't think he really has a thought of what he's trying to do. He's just really trying to put it on the barrel, I think he's balanced. He's just in a better position to hit this year than he was at any point last year."
Ramirez, 32, had a career-high 181 hits and 30 stolen bases last season, while hitting .284. The career .277 hitter has a chance to race past that number this season.
"Any time you're talking about winning a batting title or getting 200 hits, you gotta hit the ball in April," Ventura said. "Your months have to be consistent."
"He always has hot months. They usually come later in the year," said Konerko of Ramirez. "There's no telling what he can do this year if he's off to the start he's off to, because it has always taken him a couple months to heat up and he's already clicking."
Scott Merkin is a reporter for MLB.com. Read his blog, Merk's Works, and follow him on Twitter @scottmerkin. This story was not subject to the approval of Major League Baseball or its clubs.