Hahn recognizes opportunities to win 'are sacred'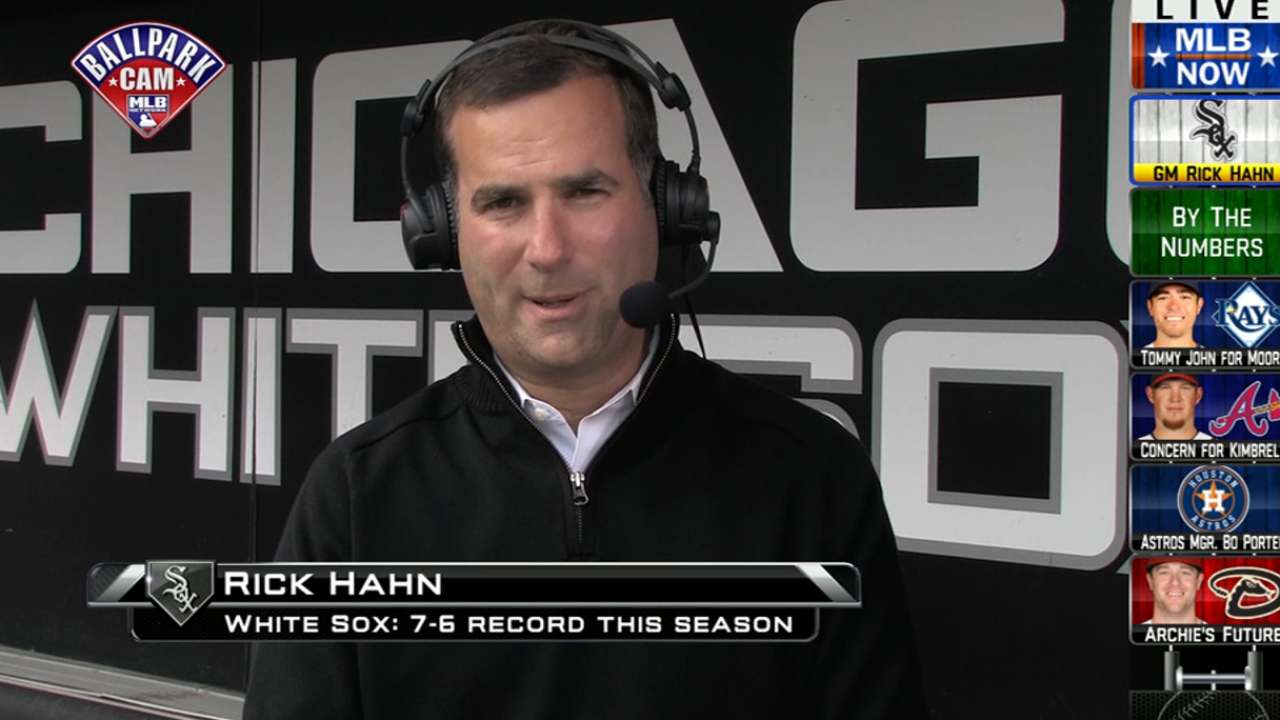 CHICAGO -- If the White Sox continue to play impressive baseball as they have over the first 27 games this season, general manager Rick Hahn and the White Sox front office will have an important decision to make.
Their reshaping program that began last season was aimed at sustaining long-term success and winning multiple championships, not just providing a quick fix. But if Hahn's '14 squad proves to be a viable contender, not fool's gold with a hot start as Hahn discussed as a barometer during Spring Training, then the White Sox might have to part with some of that young nucleus to supplement a current playoff push.
It's a balancing act, according to Hahn, who truly appreciates how sacred the chances are to win World Series titles along with White Sox chairman Jerry Reinsdorf and executive vice president Ken Williams.
"We are still very early in the season. We are still getting to know our own club," Hahn told MLB.com on Tuesday. "We are still dealing with some health issues, both ones we already have dealt with and others that inevitably will spring up. We are still getting to know the rest of the division and the league and what they will look like.
"Should we get to the point one month, two months from now, where we are in this thing and we are forcing the issue in terms of a chance to win, where we feel like we have a legitimate chance to win, we absolutely will look at ways to improve those chances in '14. Would we mortgage the future to do that? Probably not.
"It really is a balancing act," Hahn said. "You don't want to pass on a chance to win. They are sacred. At the same time, this is a long-term proposition we are trying to build here, sustain over an extended period, and we don't want to hamper our ability to do that."
Hahn believes that if the White Sox are in a position to conceivably win sooner than others expect, it will be because of the performance of players who will be with the White Sox for an extended period. He also believes the organization has positions of depth, where even if they aren't looking to move young players, those needed to bring back veteran commodities in return, they have the depth in those areas to fill in if the move is necessary.
As for having money to spend in July, the White Sox haven't gotten to that point yet.
"Let's put it this way," Hahn said. "Over my now entering 14 years here, when we've had a chance to win, there have been resources available to augment and improve those chances. We haven't had the conversation yet in terms of how much we would need economically much less where exactly we would spend it."
Scott Merkin is a reporter for MLB.com. Read his blog, Merk's Works, and follow him on Twitter @scottmerkin. This story was not subject to the approval of Major League Baseball or its clubs.