MLB.com Columnist
Roger Schlueter
MLB Notebook: Abreu enjoying monstrous month
Rookie slugger stringing together record-setting numbers in first big league action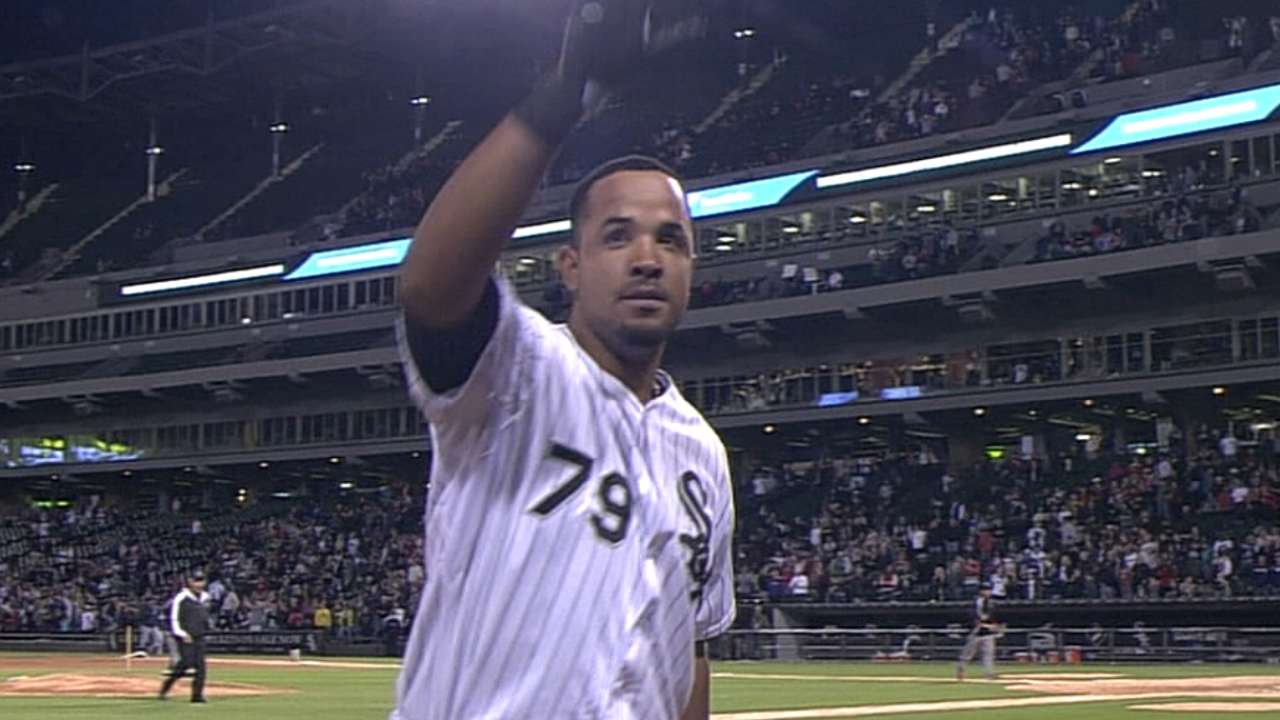 Five years before Joe DiMaggio made a splash in his debut season and eight years before Ted Williams took the baseball world by storm in his first go-around in the big leagues, a 23-year-old Cubs outfielder named Vince Barton had an August worth recalling.
Playing in a whopping 34 games that month, Barton -- who entered August with a grand total of 14 contests in his career -- clouted 10 home runs and collected 31 RBIs. Through 2013, no other player besides Barton -- not DiMaggio, not Williams, not Orlando Cepeda, Frank Robinson, Eddie Murray, Wally Berger, Albert Pujols or anyone else -- had ever had a single month in their first season in which they had at least 10 home runs and at least 30 RBIs. But now Barton has company: White Sox first baseman Jose Abreu.
Abreu keeps slugging
The White Sox -- behind Abreu's homer and four RBIs -- defeated the Rays, 9-2, on Sunday.
After Sunday's power display, Abreu has 10 home runs and 31 RBIs. Both marks are the most for any rookie ever through the end of April.
• Abreu has 65 total bases -- the second most since 1914 for any first-year player in March/April. Pujols had 68 in 2001.
• Abreu has 17 extra-base hits -- tied with Pujols in 2001 for the most for any first-year player since 1914 in March/April.
• Abreu has four games with at least four RBIs. For any player since 1914, those four through a player's first 26 games are the most, with only former White Sox first baseman Zeke Bonura having as many as three. Bonura broke into the big leagues in 1934.
Lowest hits/nine innings
5+ starts in March/April (1914-2014)
Hammel's excellent month
Cubs right-hander Jason Hammel allowed three hits in seven innings and improved to 4-1 as the Cubs blanked the Brewers. Hammel -- not slated to start again before the calendar flips to May -- has allowed 17 hits in 34 2/3 innings, for a remarkable 4.41 hits per nine innings.
Cueto off to dominant start
Johnny Cueto is having a notable start to his 2014 -- a start that had its latest example on Sunday, as the right-hander took a no-decision in the Reds' 10-inning, 1-0 loss to the Braves. Cueto allowed three hits in eight scoreless innings, fanned 11 (giving him 50 strikeouts -- the most for any Reds pitcher in a March/April since 1914), and walked three.
For all pitchers since 1914 with at least six starts in a March/April (there are 778 of them):
• Cueto's 1.15 ERA is the seventh lowest
• Cueto's 0.77 WHIP is the fifth lowest
• Cueto's 9.57 strikeouts per nine innings stands as the 48th highest
• Cueto's 4.21 hits per nine innings is the second lowest (to Josh Johnson's mark in 2011
Teheran, Braves keep dealing
Cueto's brilliant effort was nearly matched by Braves right-hander Julio Teheran, who allowed three hits in his eight scoreless innings, and fanned five with two walks.
Atlanta's starters own a 1.57 ERA. No team's starters since 1914 with at least 20 combined starts in a March/April have collectively entered May with an ERA this low, with the 1978 A's owning a 1.75 ERA in 21 games for the existing low mark.
Teheran, Aaron Harang and Alex Wood all place among the top 10 in ERA for all Braves pitchers with at least five starts in a March/April, since 1914. Harang ranks first, and is followed by Tom Glavine in a pair of seasons (2002 and 1998). Greg Maddux ('94, '97) owns the next two lowest ERA's, and then Phil Niekro's mark from 1969 and Tim Hudson's from '07 follow.
Braves starters this March/April
| Pitcher | ERA | IP |
| --- | --- | --- |
| Teheran | 1.47 | 43 |
| Wood | 1.54 | 35 |
| Santana | 1.95 | 27 2/3 |
| Hale | 2.31 | 23 1/3 |
Teheran slots in eighth, John Smoltz (1999) comes in ninth, and then Wood occupies the No. 10 spot. Both Harang and Wood are scheduled for one more start before May arrives.
With Cueto and Teheran posting the lines they did, this Cincinnati-Atlanta contest is the 30th since 1914 to see both starting pitchers hold outings that featured eight-or-more scoreless frames and no more than three hits allowed. The last game to see this happen took place at Tropicana Field on August 21, 2012, when the Royals' Luke Hochevar threw eight innings of one-hit ball and the Rays' David Price hurled an eight-inning, three-hit gem.
Sunday's slew of shutouts
Outside of the Cubs and Braves shutouts, three other teams blanked their respective opponents on Sunday: the Mets (behind Dillon Gee's eight shutout frames), the Cardinals (behind Adam Wainwright's eight scoreless) and the Phillies (A.J. Burnett hurled eight shutout innings). There have been 57 team shutouts in 2014. Between 1998 and 2013, the most (331) in a full season came last year. In '13, there were 65 by the end of April.
Starters with five wins, ERA 1.20 or less in March/April
Wainwright -- with his eight scoreless innings -- improved to 5-1 on the season and lowered his ERA to 1.20. Wainwright is the 10th pitcher since 1914 to have at least five wins and an ERA no higher than 1.20 in a March/April.
Tanaka keeps posting K's
Masahiro Tanaka fanned 11 in a no-decision on Sunday, as the Yankees came from behind to defeat the Angels. Tanaka has three double-digit strikeout games in five starts, and has 46 strikeouts for the season.
• Tanaka is the second pitcher since 1914 to have three double-digit strikeout games within his first five career appearances. Mark Prior had three in 2002 -- in his first, fourth and fifth games.
• Tanaka's 46 strikeouts tie him for the most for a first-year pitcher in any March/April since 1914. In 2013, Hyun-Jin Ryu had 46. The most in any monthly split for a first-year hurler since 1914 is Dwight Gooden's 62 in September/October of 1984.
• Tanaka's 46 strikeouts are the second most for any Yankees pitcher since 1914 for a March/April, with David Cone holding the top number -- 49 in 1997.
Infante's big day
In Kansas City's 9-3 victory over Baltimore, Omar Infante matched a career high with six RBIs. Infante is the third Royals second baseman with a six-RBI day, joining Frank White (August 19, 1986) and Alberto Callaspo (April 18, 2010).
Infante's other six-RBI game came last year in a win against the Royals, when he was with the Tigers and facing starter James Shields. Shields was on the mound for Kansas City on Sunday.
Roger Schlueter is senior researcher for MLB Productions. This story was not subject to the approval of Major League Baseball or its clubs.