Competition pushing Beckham to succeed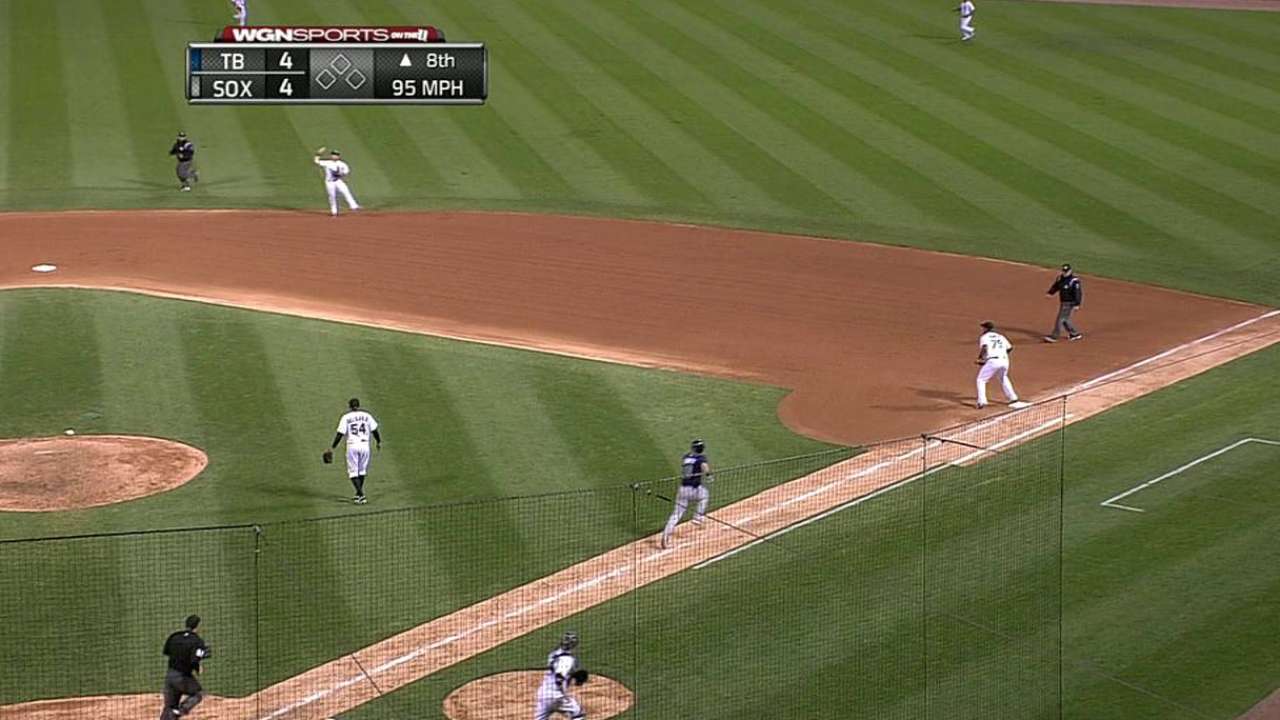 CHICAGO -- Gordon Beckham has been rather unlucky with injuries the past couple of years, which has made it difficult for him to find any sort of consistency at the plate.
Beckham returned Friday from a left oblique strain that shelved him for the better part of Spring Training and the start of the regular season. For the first time, however, Beckham is coming off an injury with prospects breathing down his neck.
Marcus Semien has shown good defense at second and third and has flashed timely power. Utility man Leury Garcia is highly regarded within the organization, while second baseman Micah Johnson continues to impress at Double-AA Birmingham. Johnson, who led all of Minor League Baseball with 84 stolen bases in 2013, is hitting .360 with with seven steals, three home runs and 10 RBIs in 23 games for Birmingham.
"If anything, it's probably a good thing," Beckham said of the organization depth at second base. "I mean, honestly, I am glad that the guys who filled in for me did well. We want the team to win. I don't want people to do bad and come back into a situation where we're struggling. That is definitely not what we want.
"I guess Marcus did most of the work there. He had a good start. That's great. But I am going to go out and play my game and let that fall into place."
Beckham, a career .248 hitter, is still trying to rediscover his form from 2009, when he burst onto the scene to hit .270 with 14 homers and 63 RBIs in 103 games. He looked to be back on track last season before injuries limited him to 103 games.
Consistently driving the ball to right and right-center seems to be the key to success for Beckham. At the same time, Beckham has to show he can barrel up inside pitches, so pitchers can't just jam him inside while he tries to shoot a ball the other way, hitting coach Todd Steverson said.
"He came in here with a lot of fanfare and that's tough on a guy that didn't have a gazillion, over 1,000-plus Minor League at-bats to really develop, and has been really learning how to hit at the big league level, which ain't easy," Steverson said. "And you've got to kind of tip your hat to him that he at least has a decent amount of success to this point. He's probably starting to come into what he and who he is as a hitter, based on now having X-amount of at-bats under his belt as a professional."
That said, the sixth-year pro might be on a tighter leash this season. Should he flounder, there are several players ready to take his spot.
"It's good to have him back and have that stabilization on the defense and see if he is able to pick up on some of the improvements he's made mechanically in the offseason and translate that into success at the big league level," White Sox general manager Rick Hahn said. "It's nice to have depth. We've talked about that for a while as a goal -- to get to the point where we have alternatives, where we have young players pushing us to have either the established ones get better or make room for what's bubbling up from the Minors."
"Certainly that's not simply about Gordon, it's about all our positions. We'd love to be in a position where we do have alternatives to insulate ourselves against injury or under-performance."
Joe Popely is an associate reporter for MLB.com. This story was not subject to the approval of Major League Baseball or its clubs.