Left hand contusion forces Gillaspie to DL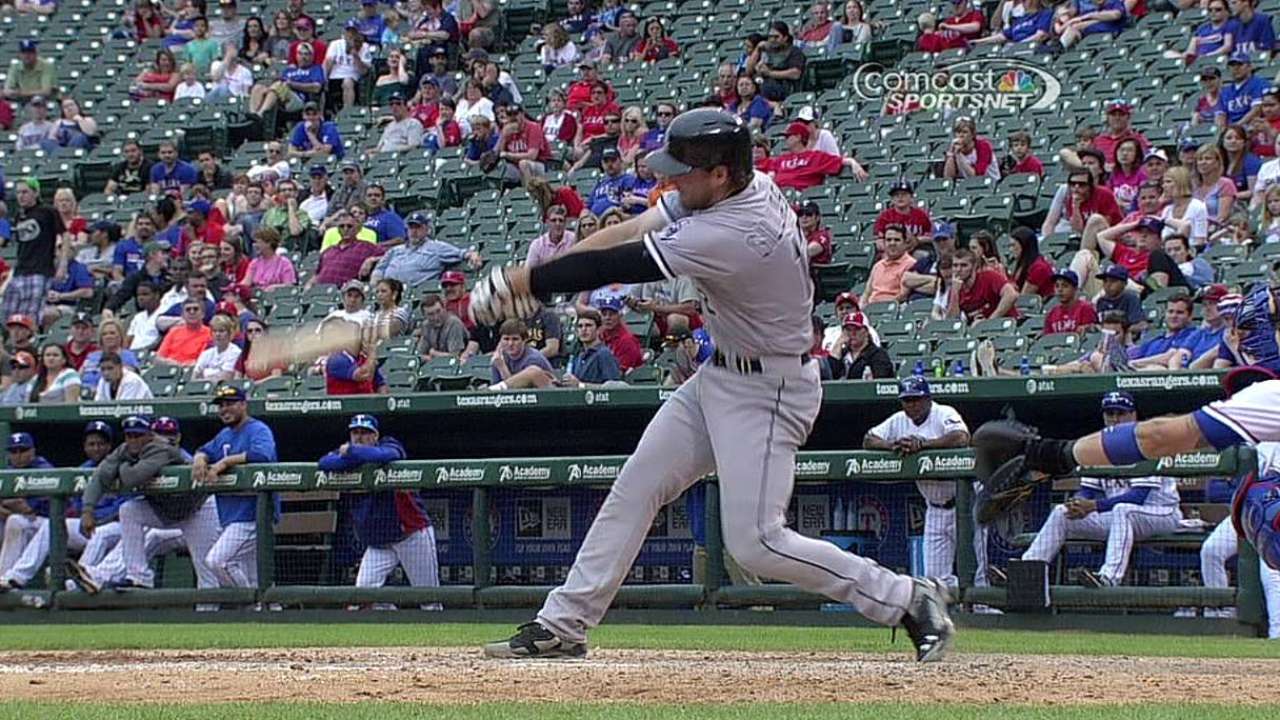 CHICAGO -- White Sox third baseman Conor Gillaspie was placed on the 15-day disabled list with a left hand contusion, the team announced Saturday. Right-hander Hector Noesi, who was claimed off waivers on Friday, took Gillaspie's spot on the active roster.
Gillaspie had missed the previous four games with soreness in his left hand. White Sox manager Robin Ventura said before Friday's game that Gillaspie was being held out in the hope his hand would improve enough by Saturday's contest against the Rays, but it did not.
"Well, I can't swing a bat," Gillaspie said. "It's unfortunate. It's definitely frustrating, but I don't have very many other options. I can't keep putting guys on our team in the situation where it's you never know if I can play or not. That's just the way it is."
Gillaspie had been battling the contusion, on the inside of his left hand, for the past 2-3 weeks. When it lingered longer than expected, he realized it was unwise to keep trying to play through it.
"It's in one of those spots where the bat presses against your hand," Gillaspie said. "Any time I hit a ball it's a no-go right now. I can do other things, but if you can't hit up here, you're kind of [stuck]."
Gillaspie said he won't swing a bat again until the contusion is completely gone, which he hopes is within a week.
"I'm not good enough to go through a whole season fighting my hand," said Gillaspie, who has a slash line of .302/.347/.413 in 16 games this season. "I'm just not that good. I think it's the best decision and I think down the road you look back and say hopefully we've got enough hitters now and we have guys playing well, so hopefully it's not a burden on anybody and we can move on come [May 7]."
One of those guys playing well is rookie Marcus Semien, who started at third in Gillaspie's absence and has played in 23 games overall.
Semien is hitting just .225, but has played good defense and shown the ability to work the count and hit for power -- especially when it counts. All three of his home runs have come in the seventh inning or later and have given the Sox the lead, making him the only Major Leaguer to hit three go-ahead homers in the seventh inning or later this season, per Stats LLC.
"The situation that we're in really allowed that to happen, instead of forcing the issue and just making him kind of fight through it and be miserable the whole time and having it there the whole year," Sox manager Robin Ventura said of placing Gillaspie on the DL. "So the way Marcus is playing, it becomes and easier decision to have him go on the DL and get him healthy."
Noesi, 27, was claimed off waivers from Texas after posting a 14.21 ERA (10 earned runs in 6 1/3 innings pitched) and six strikeouts in five relief appearances this season between Seattle and the Rangers. He will wear uniform No. 48.
Joe Popely is an associate reporter for MLB.com. This story was not subject to the approval of Major League Baseball or its clubs.