Eaton returns after five-game absence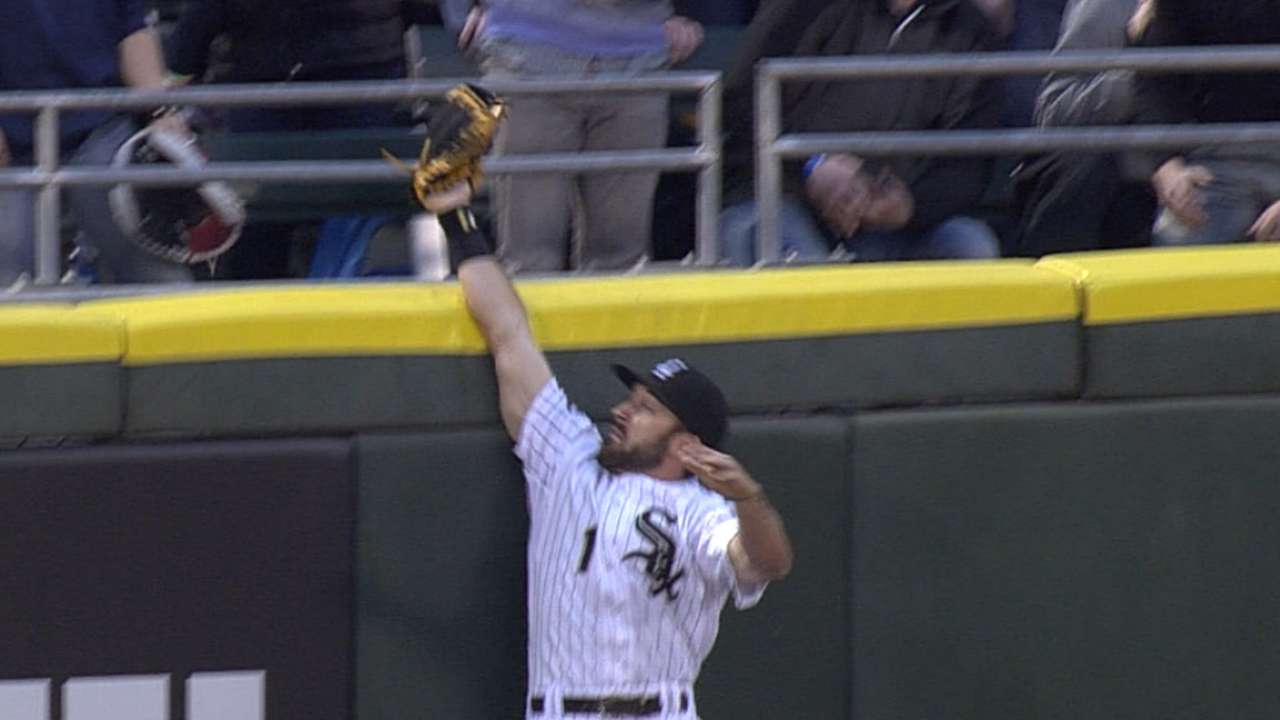 CHICAGO -- The White Sox have their leadoff man back. Adam Eaton returned to the top of the lineup card and center field on Friday after sitting out the past five games with a strained left knee.
"He's ready to go," White Sox manager Robin Ventura said. "Held him out yesterday just as a precaution. Probably could have been pushing the envelope to go yesterday. He feels good enough to go today and without any restrictions."
Eaton would have gladly pushed the envelope by playing Thursday. In fact, he was practically begging Ventura and head trainer Herm Schneider to be given the green light. But because Eaton plays so hard and with reckless abandon, it was better to play it safe.
For that matter, is it even possible for a guy like Eaton to play it safe? Can he dial back his style of play?
"For some. Not for him," Ventura said. "He just plays hard. It's not a knock, it's a compliment. There's some guys you've got to protect them from themselves and he's one of them."
Eaton singled, stole second and scored in the first inning of Friday's series opener against the Rays.
"You'll notice he's very likely not going to be sliding head-first into first base anymore, so there are some adjustments to his game that I think he's open to making," general manager Rick Hahn said. "But in terms of speed and aggressiveness, that's who he is and that's why we got him and that's why we like him.
"Yes, there's an element of potential risk of injury I suppose with that type of player, but we think the good far outweighs the bad."
Eaton said he'll play with some sort of brace on his knee but that he could probably play without it. Wearing the brace is an order from the training staff, and as he quickly learned, there's no arguing with head athletic trainer Herm Schneider.
"Guys were joking with me, saying if you wanted to be in the lineup you'd be in the lineup," Eaton said. "That's not how it works. You gotta respect Herm, he knows what's best for you and your body. Like I said, [I'm on] Herm's Terms. We stick with those, and he'll point me in the right direction."
Eaton said he'd play at "99 percent" for the next couple of days, just to make sure everything is okay before he tacks on the final 1 percent. Don't worry, that still means he'll make highlight-reel plays.
"I have to play for my pitchers out there, I have to play for Chicago -- [I'm] definitely diving," Eaton said. "You gotta leave it all out there. Ninety-nine percent still includes diving."
Joe Popely is an associate reporter for MLB.com. This story was not subject to the approval of Major League Baseball or its clubs.