Konerko passes Big Hurt in total bases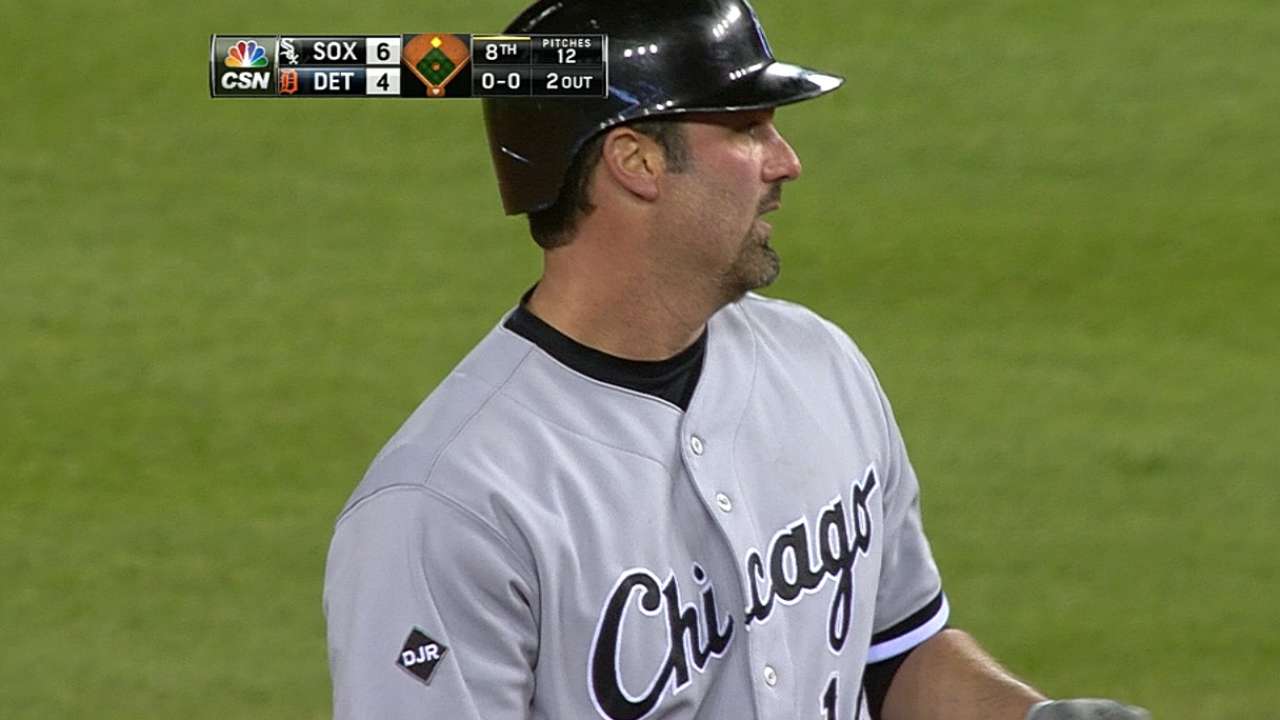 DETROIT -- Paul Konerko's eighth-inning double off of Justin Miller during the White Sox 6-4 victory over the Tigers on Wednesday set the new franchise record for total bases. Konerko sits at 3,950, while Hall of Famer Frank Thomas is No. 2 at 3,949.
Konerko had three hits Wednesday and has four hits in his last five at-bats, giving him 2,302 for his career.
"Listen, any time you hear franchise lead or something like that, that's cool," said Konerko. "I mean, you know, again it's always something you enjoy.
"I think I'll look back and enjoy it more seven months from now and beyond. But it's, I think it shows I got out there and played, and you have to do well, but more than anything you have to be on the field to do it. I always took pride in that."
A ninth-inning single Tuesday night ended Konerko's 0-for-17 funk. He now sits at 5-for-23 on the season with two RBIs in his part-time role.
"It's hard for anybody. It's the hardest thing to do, sit around and then come in and get one at-bat a night, mostly, unless he has a run of facing lefties," said White Sox manager Robin Ventura. "He knew that coming in. We all knew that.
"Having done it myself, it's not easy, and you can't look at the board as far as what numbers are because every time you go in, you have one chance to help your team win usually and do something. It's a difficult thing to do."
Ventura believes Konerko is doing OK with the role. But he knows that being the person that Konerko is, coupled with his great accomplishments, there's a certain amount he wants to do better.
"When you get four at-bats, you can take one and think, 'Well, eventually I'll get another one like that.' Or setting somebody up," Ventura said. "You can't set somebody up when you're pinch-hitting. You're just trying to find the best thing close enough to be able to get it. It's not always easy. It's tough."
Scott Merkin is a reporter for MLB.com. Read his blog, Merk's Works, and follow him on Twitter @scottmerkin. This story was not subject to the approval of Major League Baseball or its clubs.