Beckham out at least one week with strained oblique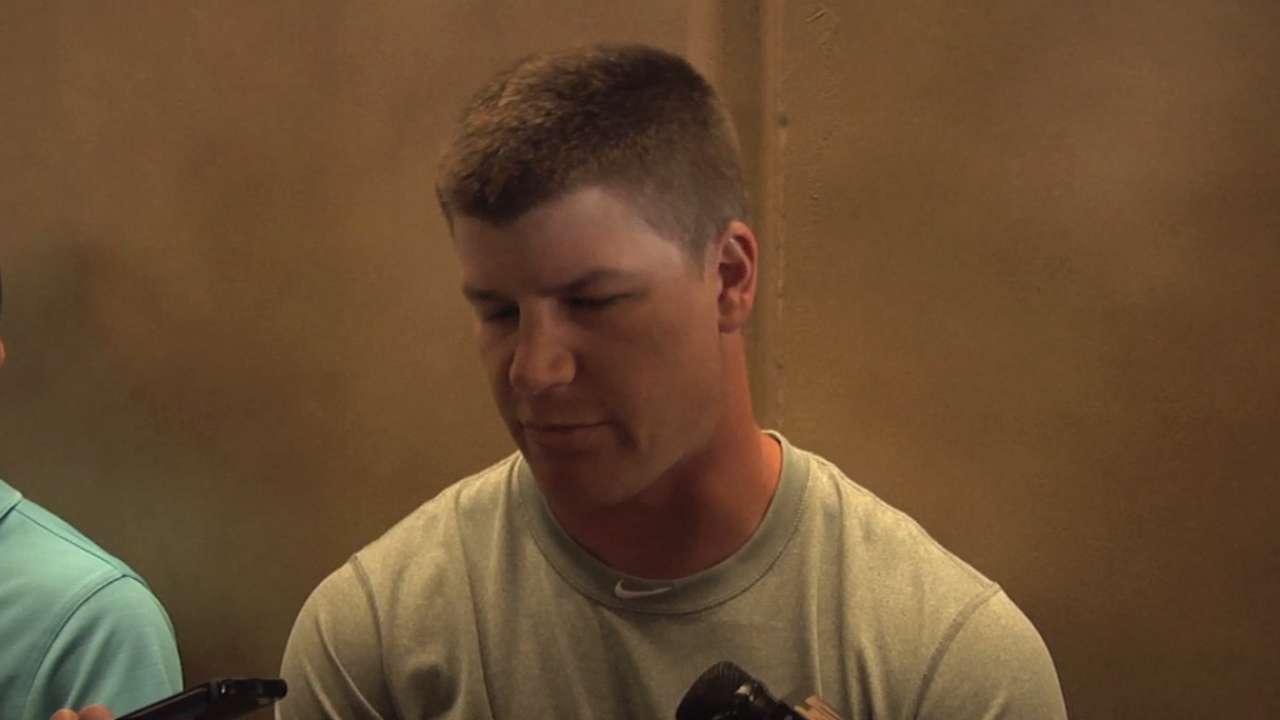 GLENDALE, Ariz. - Gordon Beckham was taking some light swings in the White Sox batting cage following Friday's 2-2 deadlock with the Indians.
On one of those swings, the White Sox second baseman felt something grab in his left oblique area.
"I could tell once I took the swing, something was wrong," said Beckham before Saturday night's game with the Dodgers. "So I picked up the balls, came in and started getting treatment."
Beckham was diagnosed with a strained left oblique and will have no baseball or weightlifting activity for seven days. The strain is termed a mild one, but Beckham and the White Sox understand how tough and ongoing this injury can become.
Relief pitcher Matt Lindstrom mildly strained his left oblique a few days before he was scheduled to make a Cactus League debut in the White Sox Feb. 28 opener, and he could be appearing in a game for the first time next week. The White Sox feel as if they caught the injury early enough with Beckham but certainly won't force anything with his return.
"It's going to be how he feels in eight to 10 days and then we'll reevaluate where we are at," said White Sox general manager Rick Hahn of Beckham. "At this point, just shutting him down is the most conservative route and the best one to getting him back to 100 percent.
"If you try to fight through these things, they can really grab you and linger for an extended period. We feel we caught it soon enough that hopefully if it does drift into the season, it hopefully won't be too long into the season."
Marcus Semien and Leury Garcia will receive more playing time over the final two weeks of Spring Training with Beckham out for at least one of those. One of those two already was in line to make the Opening Day roster as a utility player, with Jeff Keppinger still unable to throw due to a tight and sore shoulder and quite possibly headed to the disabled list.
Ironically, Keppinger might have been the one to step in for Beckham at second when this injury took place. Micah Johnson, who topped the Minor Leagues with 84 stolen bases in 2013, also will get a slightly more extended look.
"He's continuing to improve and he's getting better as you see him up here," said manager Robin Ventura of Johnson. "It's good to see him get introduced to this, but making the team right now is probably a longshot."
"This is an opportunity to see some young kids over the next 10 days or so," Hahn said. "Then we will reevaluate where we are at."
Beckham, 27, is set to begin his sixth big league season and fifth as the White Sox second baseman. He hit .267 last season, with 22 doubles, five homers and 24 RBIs, but was plagued by injuries from start to finish.
On April 9, Beckham fractured the hamate bone in his left hand on a swing against the Nationals and was out from April 10 to June 2 after having surgery to remove the bone. He was hampered by another left wrist injury after the All-Star break, although in a different area, and left the game on Aug. 15 at Minnesota with a strained right quad that pretty much bothered him for the rest of the season.
Despite five hits in 30 at-bats this spring, Beckham has felt in a good place offensively since early last season. He hopes this injury stands as only a temporary setback.
"The beginning of the season will come a lot quicker now. You hate to get hurt, but I'd rather it happen this week than next," Beckham said. "That's why we're taking seven days off.
"Matt Lindstrom just had something very similar, and from the looks of it, it's the exact same spot. Talking to him and telling him what my plan was, he felt confident. He's like, 'You should be fine.'
"Everybody's different, but I usually respond pretty well to this kind of stuff," Beckham said. "So I think if we're giving seven days off, I really feel like it will be gone. We won't know until it happens."
Scott Merkin is a reporter for MLB.com. Read his blog, Merk's Works, and follow him on Twitter @scottmerkin. This story was not subject to the approval of Major League Baseball or its clubs.