Thompson feels no baseball pressure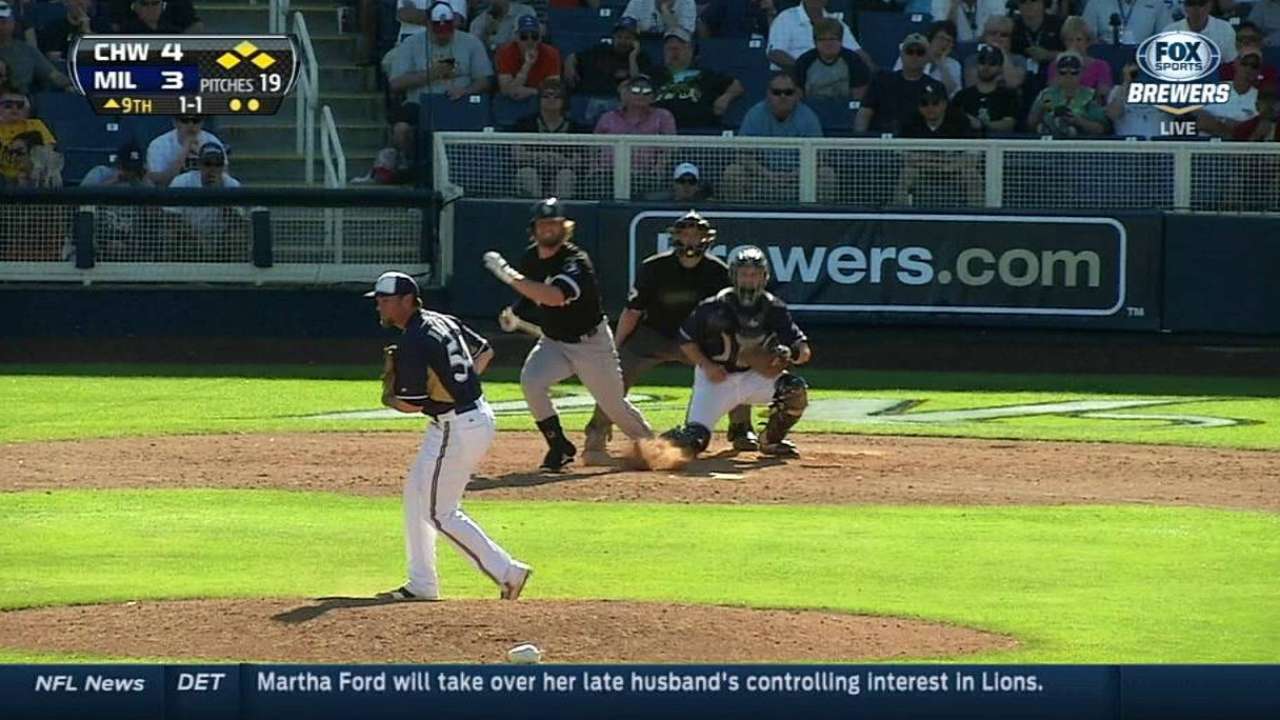 GLENDALE, Ariz. -- Trayce Thompson comes from a famous athletic family … made of basketball players.
His father, Mychal, won two NBA championships as part of the Lakers. His brother, Klay, forms a high-powered one-two punch with Stephen Curry on the Warriors, and his oldest brother, Mychel, plays in the NBA D-League. Luckily for Trayce, he chose to carve out his own professional niche with the White Sox in the world of baseball.
"The fact that I play baseball in a basketball family, I feel like people think of me as a sidenote now," said Trayce with a smile. "I was drafted before them, I was a professional before them. But now Klay is in the spotlight and everything. It almost sheds a little light off of me.
"I don't feel any pressure whatsoever. When I go see them play, it's more motivating to me to get on his level but no pressure at all."
Thompson is taking part in his third big league camp and readily admits that this has been the most comfortable. Everyone knows who he is and he has no problem going up and picking the brain of long established veterans such as Paul Konerko or Adam Dunn.
MLB.com rates Thompson as the No. 5 White Sox prospect, and the White Sox hold him in the same high esteem. That confidence remains elevated despite a somewhat uneven 2013 showing with Double-A Birmingham, where Thompson hit .229 with 131 strikeouts, but had a .329 on-base percentage, 15 homers, 23 doubles and 25 stolen bases.
It's that confidence from the organization driving Thompson toward greater accomplishments.
"[First base coach] Daryl Boston has been one of my biggest supporters since I was drafted," Thompson said. "[White Sox minor league director Nick Capra] Cappy and [assistant general manager] Buddy [Bell] have always been in my corner. I appreciate that a whole lot. I know I haven't had the easiest road so far.
"Every year has ups and downs. The fact that they believe in me gives me a whole lot of confidence and I just try to go out there and play my game. If that's good enough for them, it's good enough for me."
As for basketball, Thompson played through his junior year in high school. He was a good defender, talking about how he held Jrue Holiday and DeMar DeRozan in-check. But his self-admitted subpar shooting reinforced the point he picked the right sport.
Scott Merkin is a reporter for MLB.com. Read his blog, Merk's Works, and follow him on Twitter @scottmerkin. This story was not subject to the approval of Major League Baseball or its clubs.