Mound prospect Beck charting path to big leagues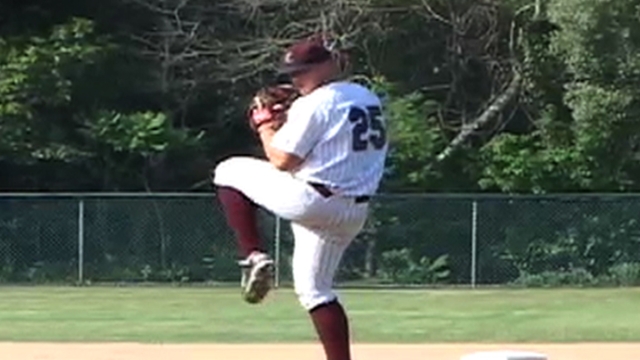 GLENDALE, Ariz. -- White Sox pitching prospect Chris Beck saw what Erik Johnson accomplished in 2013, beginning the season at Double-A Birmingham before earning a promotion to the big leagues in September, when he laid the foundation to likely start 2014 in the club's rotation.
Beck, in his first Major League camp this spring as a non-roster invitee, will likely open the year as Johnson did a season ago in Birmingham, providing the 23-year-old with the hope that if he continues his rapid development, he'll find himself in Chicago at some point this season.
"It's very reassuring to know that the work you put in can pay off no matter how long you've been in the system or what your contract is," Beck said. "Just watching Erik Johnson last year, I think in a lot of ways we have some similarities. Hopefully, I can make that same step because that's one of the great things about the White Sox -- they focus on talent. Whoever is able to get the job done is going to be up."
After finishing 2012 with a 4.69 ERA in 15 games (six starts) for Advanced Rookie Great Falls, Beck took a sizable step forward in 2013, his first full professional season. He began the year starting 21 games for Class A Advanced Winston-Salem, compiling an 11-8 record with a 3.11 ERA before the White Sox promoted him to Birmingham. There, Beck's numbers were even better, as he struck out 22 batters in 28 innings and ended the stint with a 2.89 ERA in five starts.
"Last year, I made a lot of strides, and now I know what I need to do," Beck, who along with Johnson ranked as the top two mound prospects in the organization in 2013, said. "Confidence is a big thing in baseball because it's a game of failure. I had an awesome year, but I'm still learning every day. If you stop learning, you're going to get passed up, so you have to be willing to evolve and put the work in and not get complacent."
Beck's fastball sits in the low- to mid-90s, and he believes his secondary stuff is coming along smoothly.
"The breaking stuff has kind of always been behind, so that's really been the key," he said. "Last year at Double-A, I had some success with the curveball, and now just since camp started, I feel like I've added some depth to my slider. I'm making strides and making progress, that's most important thing."
Tyler Emerick is an associate reporter for MLB.com. This story was not subject to the approval of Major League Baseball or its clubs.