Dunn eyeing trip to Oscars on Sunday night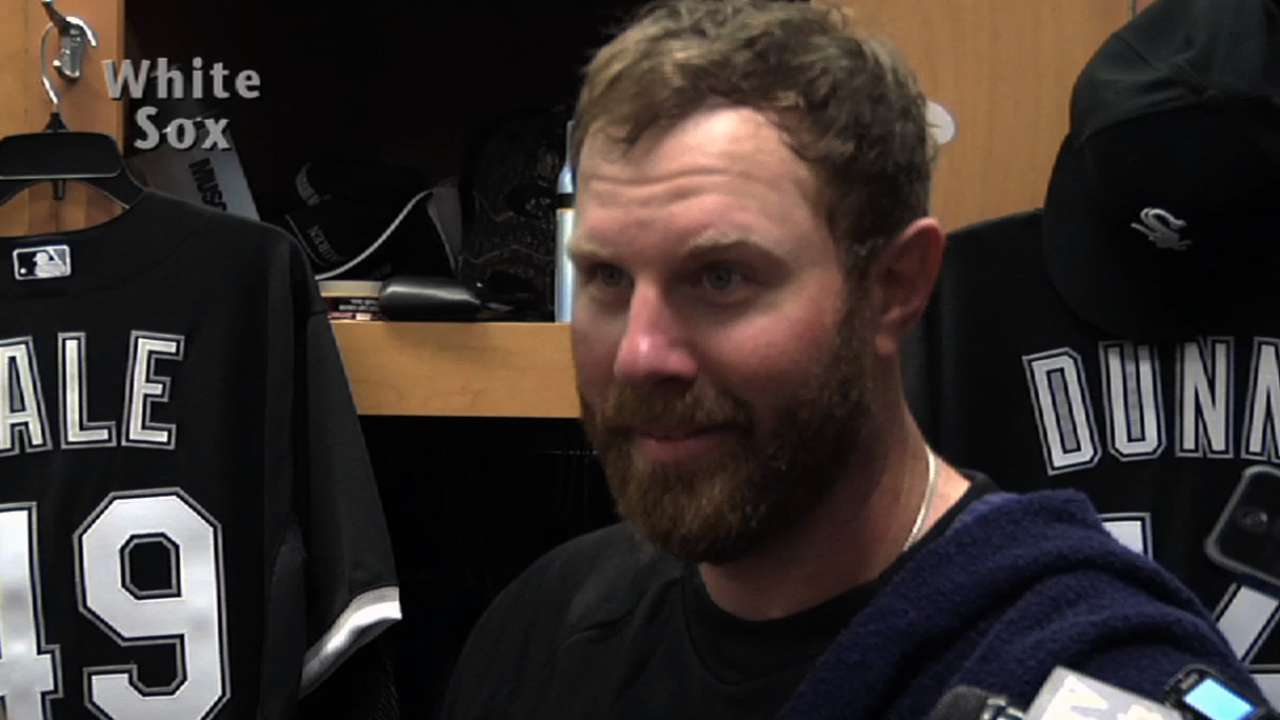 GLENDALE, Ariz. -- The path has been cleared for Adam Dunn to attend the Oscars Sunday night at the Dolby Theater in Los Angeles.
Dunn is an investor in his friend Joe Newcomb's company, which produced Dallas Buyers Club, the movie that ended up with six Oscar nominations, including one of the nine Best Picture nominees, Matthew McConaughey for Best Actor in a Leading Role and Jared Leto for Best Actor in a Supporting Role. Dunn also had a small part as bartender Neddie Jay and has joked since SoxFest about being overlooked in the 2014 Academy Awards.
Prior to Monday's workouts at Camelback Ranch, Dunn said that he's "got a ride" from Arizona and has tickets to attend, but he still has to figure out the logistics. Manager Robin Ventura didn't hesitate to help with those logistics by offering up his blessing for the short trip.
"Absolutely. I think he should go. I don't know how many opportunities people in baseball would have to do that, but I'm telling him to go," Ventura said. "You're looking first at how many people get a chance to do that and actually be a part of it, not just go just to go, but be a part of something that has a chance to do something special.
"I'd rather have him not even worry about the next day and have him catch up after that," Ventura said.
Sunday's scheduled Cactus League contest features the White Sox in Surprise against Texas with a 2:05 p.m. CT first pitch. The Oscars start around 7 p.m. CT, although Dunn would be able to fly out of nearby Glendale Airport.
Ventura added that Dunn would probably play in that Sunday game, although he would talk to him about the particulars. As Ventura mentioned above, he doesn't mind Dunn missing Monday's action on the return from California.
"I'm not worried about precedence either because the next time somebody has something to do with the Oscars, we'll deal with it," said a smiling Ventura. "It's a cool thing and he should be able to go enjoy it.
"He has to invite me, but other than that, he can go. He deserves to go. That movie would not have been as good without him."
This White Sox support was appreciated by Dunn, but he has to decide if it's worth taking his lone Spring Training day off so early. Dunn also doesn't want to create any issues within the clubhouse related to his work.
"Again, I appreciate them considering it. Obviously, I'm not here to go to the Academy Awards," Dunn said after Monday's workouts. "I'm here to get better for Opening Day. I'm going to think about it and see if it works time-wise.
"Realistically, how many times do you get to do something like this?" said Dunn earlier in the day. "I think I've got to do some pretty cool stuff in my life, but this would be one of them. I don't even think it's a big deal. If it's remotely an issue at all, then it's not worth it to me. I care about these 25 guys here and the coaches."
Scott Merkin is a reporter for MLB.com. Read his blog, Merk's Works, and follow him on Twitter @scottmerkin. This story was not subject to the approval of Major League Baseball or its clubs.