Ventura wants to handle issues directly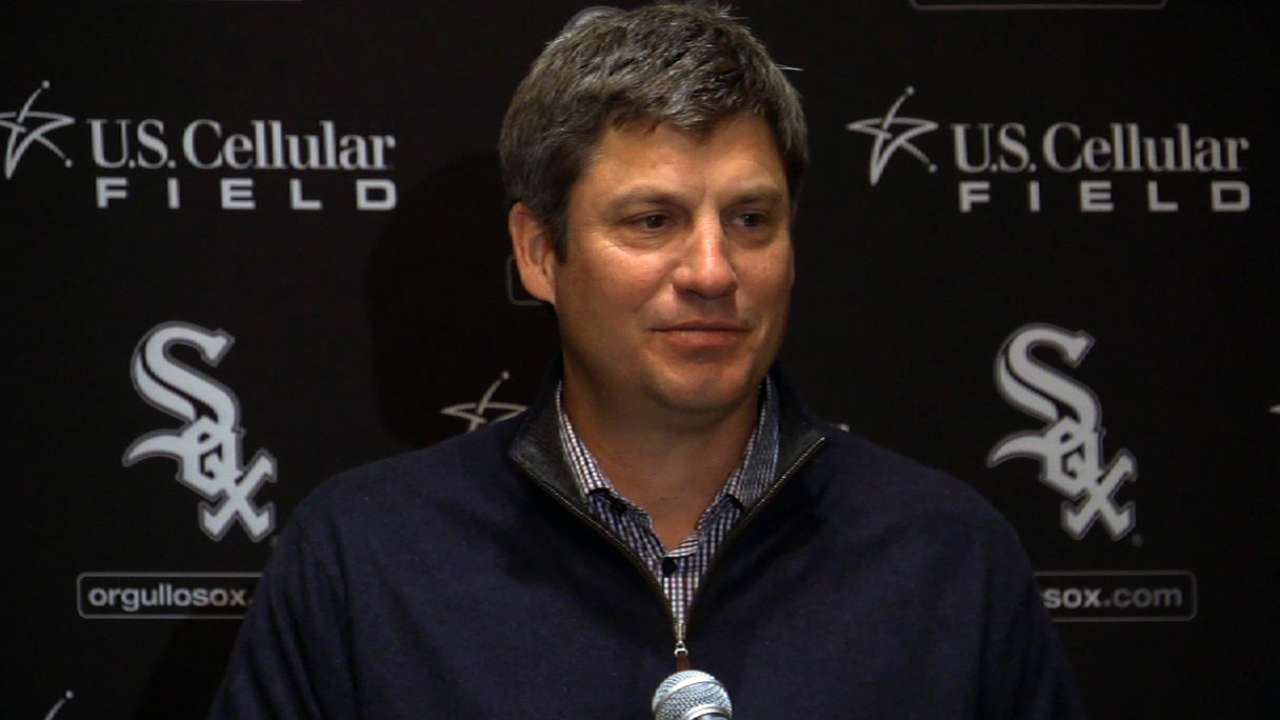 CHICAGO -- White Sox fans want Robin Ventura to be as fiery during this upcoming 2014 season as they were during Saturday morning's SoxFest Town Hall Meeting.
That particular criticism stood as one aimed at Ventura during a 45-minute session at the Palmer House Hilton's Red Lacquer Room, with a much feistier crowd in attendance compared to Friday's representation. While Ventura and general manager Rick Hahn understand the fans' desire to see him become more openly critical of his team during underachieving times, airing out his group publicly just doesn't fit Ventura's style.
"It's just better to be direct, and I would rather not have you guys do my dirty work. I'd rather do it myself," said Ventura about choosing not to use the media to call out his players. "It doesn't mean I don't care or I'm not mad. You realize that you are on TV and it's stuff you can't take back. I prefer to do it inside."
"When things aren't going well, it makes you feel better if you see people caring as much in uniform as you care when you are watching it at home or at the ballpark," Hahn said. "I just think it's important for people to understand that what he does behind closed doors displays that level of passion, fire and discipline that you want to see."
One fan asked Ventura about having credibility in the 2014 clubhouse after losing 99 games in 2013, a question that doesn't really go along with Ventura's strong connection to the players expressed by the players themselves. Another fan brought up Ventura's low-key demeanor, explaining how he was trying to figure out if Ventura was the right man for the job.
"I feel I am," Ventura responded.
Based on the multi-year extension announced on Friday, the White Sox agree. Hahn jumped in to defend Ventura when his passion was questioned -- not that Ventura was offended by the inquiry. The White Sox clearly like Ventura's demeanor and process.
"Quite frankly, although it's not satisfying, perhaps from a fan standpoint, we want that handled behind closed doors," Hahn said. "It's more effective when you have that conversation one on one with a player, as opposed to airing it out in public. The [players appreciate] it and they tend to respond better to it."
Don't take Hahn's assessment as a subtle dig at previous manager Ozzie Guillen, who had a more in-your-face style. Hahn pointed out that Guillen found great managerial success, but just traveled a different road than Ventura.
"Not everybody likes every tactic or every style. Everybody will have an opinion about it," Ventura said. "I get what they're saying. You would feel probably more satisfaction if you saw somebody do it rather than hear about it. Nobody is being thrown under the bus. I'd rather do it myself and not have other people do it."
Scott Merkin is a reporter for MLB.com. Read his blog, Merk's Works, and follow him on Twitter @scottmerkin. This story was not subject to the approval of Major League Baseball or its clubs.