Hahn, Ventura field fan questions in Q&A session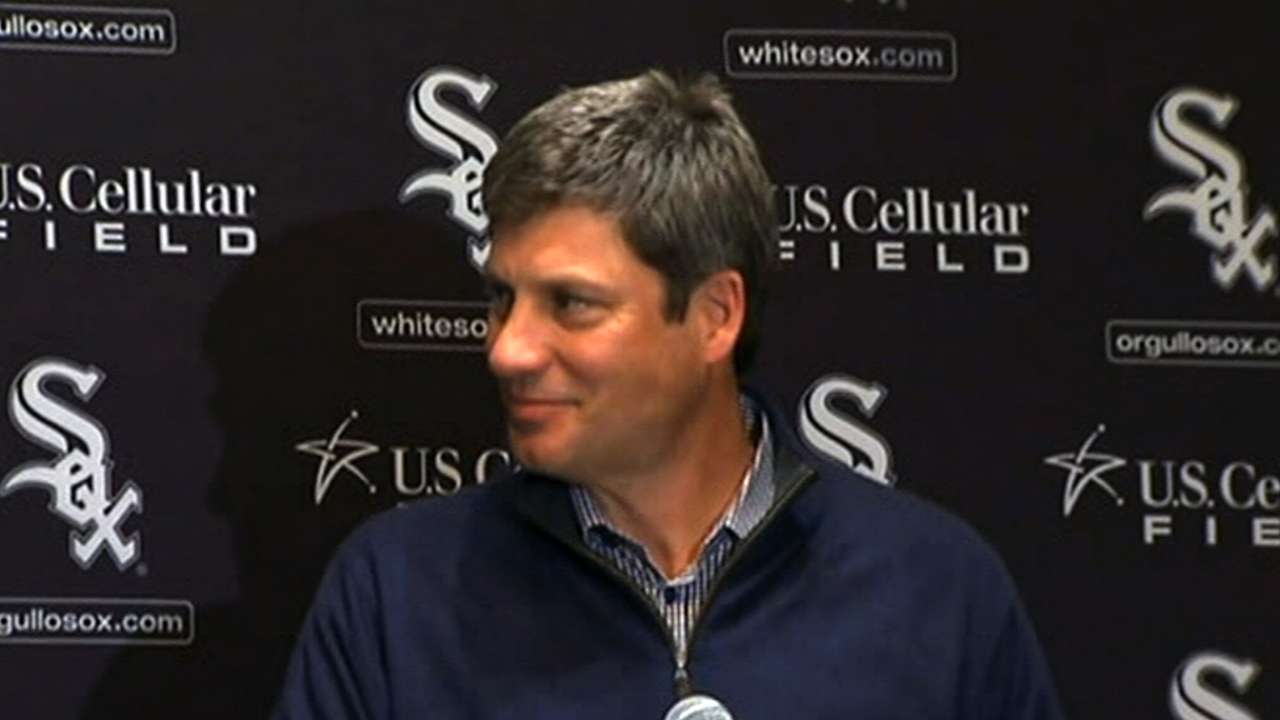 CHICAGO -- As SoxFest Town Hall meetings go, Friday's opening session with general manager Rick Hahn and manager Robin Ventura was far more humorous than controversial in terms of entertainment value.
The 45-minute question-and-answer period officially was titled, "Recharged & Remade: Your 2014 White Sox," and featured a variety of topics, with White Sox television analyst Steve Stone serving as the moderator.
A sampling:
• Without naming him by name, Hahn pointed to Brian McCann as the only catcher on the open market who could have been a long-term solution and better serve the White Sox than Tyler Flowers, Josh Phegley and Adrian Nieto. He praised A.J. Pierzynski for his work in Chicago when a question arose about letting him go, but pointed out that his return wouldn't fit into long-term solutions.
• Hahn expressed great pride in the aggressive manner with which the White Sox pursued free agent Masahiro Tanaka. Not only did the club make a competitive offer, years- and dollars-wise, to what Tanaka received from the Yankees, but it also sold the organization's family atmosphere and its ability to take care of starting pitchers and keep them healthy.
"We made him say no," said Ventura, reinforcing the White Sox as a viable option.
• Jared Mitchell, the team's top pick in the 2009 First-Year Player Draft and a frequent SoxFest topic, is in a good place mentally, according to Hahn, following a .304 showing in the Arizona Fall League. The pressure is off Mitchell, as he no longer is the next man in for the outfield.
• It was tough to trade Hector Santiago, who not only was a talented, versatile pitcher, but also a good all-around person. Hahn received a Happy New Year's text from Santiago shortly after the clock struck midnight at the beginning of 2014.
"You have to break some eggs to make an omelet," said Hahn, who picked up Adam Eaton as part of the three-team deal involving Santiago.
• The funniest moment came when a female fan complained about Alex Rios' departure, in part, because she considered him good looking. Ventura had the perfect response.
"When we are making moves, we don't look at how attractive [a player] is," said a smiling Ventura.
Scott Merkin is a reporter for MLB.com. Read his blog, Merk's Works, and follow him on Twitter @scottmerkin. This story was not subject to the approval of Major League Baseball or its clubs.