Flowers not making excuses for rocky season
Flowers not making excuses for rocky season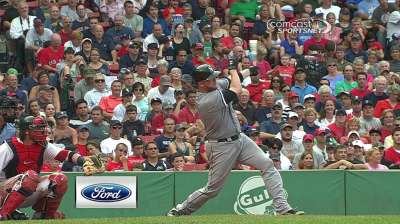 CHICAGO -- Tyler Flowers made an appearance in the White Sox clubhouse Thursday and reported that he's a little bit ahead of schedule after undergoing shoulder surgery on Sept. 5. Flowers can begin light toss in a couple of weeks to get everything moving.
"Range of motion is ahead of schedule," Flowers said. "We're not going to push it too much because we obviously have a fair bit of time, but everything looks good."
What Flowers won't do is blame this shoulder soreness that plagued him since the end of last year for a .195 average in his first year as an everyday catcher. He explained that the injury was easy to maintain and keep strong last year, under the watchful eye of White Sox head athletic trainer Herm Schneider, and his thought was that rest and time off would make an injury that didn't seem too serious disappear before the start of the '13 campaign.
Unfortunately for Flowers, the injury wasn't gone when he started ramping things up in December and hung around throughout the year.
"I did a couple of things to try and help it feel better. It came and went throughout the whole season," Flowers said. "In spring, I was dealing with it a little bit, and we continued to do the exercises and treatment on it to try and stop anything from happening or anything worse happening.
"I'm not going to use that as an excuse. Everyone has pain when they play. I don't look at this season and say, 'I was in pain. That's why I didn't do well.' I'm sure that didn't help, but it's not like I'm magically a .350 hitter all of the sudden [with no pain].
"It wasn't there every day or anything like that," Flowers said. "There were definitely bad days. There were a number of good days too. It's no excuse. It was a lack of performance, not a lack of physical ability."
Scott Merkin is a reporter for MLB.com. Read his blog, Merk's Works, and follow him on Twitter @scottmerkin. This story was not subject to the approval of Major League Baseball or its clubs.