Danks focused on living up to own expectations
Danks focused on living up to own expectations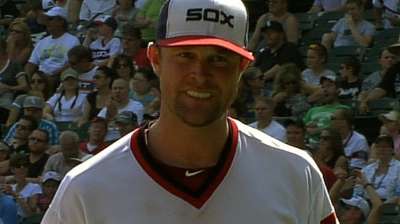 CHICAGO -- John Danks doesn't need to look at his pay stub twice per month to be reminded of the five-year, $65-million extension agreed to with the White Sox prior to the 2012 season.
He doesn't need to listen to talk radio or look at message boards to understand fans' questioning of his overall value after these past two seasons.
Nobody can be a harsher critic on Danks than himself.
"I'd be lying to you if I said I wasn't embarrassed getting what I'm getting and doing what I'm doing," Danks told MLB.com in brutally honest terms. "There's a lot more expected of me. Nobody expects more than me."
Danks was plagued by shoulder soreness for most of the 2012 season, producing a 3-4 record with a 5.70 ERA over nine starts, before having his season come to an end with arthroscopic surgery on Aug. 6. He came back this year to make 22 starts, and while the results weren't ideal, he pitched pain-free and quickly made the injury an after-thought.
The hope is to return in 2014 stronger than he was even before the surgery.
"I have three years to prove it," said Danks, referring back to the five-year deal. "The goal is always to throw 200-plus innings, take the ball every day and give us a chance to win. I've got three years to make everyone believe it was worth it.
"That's part of my motivating factor. I want to be the productive player I'm expected to be."
Scott Merkin is a reporter for MLB.com. Read his blog, Merk's Works, and follow him on Twitter @scottmerkin. This story was not subject to the approval of Major League Baseball or its clubs.