Semien makes good first impression at third
Semien makes good first impression at third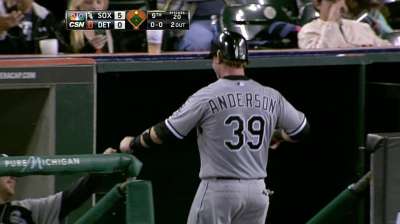 DETROIT -- Marcus Semien made his first Major League start at shortstop on Saturday, and proved it's a position that he will be able to play in the big leagues.
Semien was able to field six ground balls without an error, while also making three putouts. He moved back to third base for Sunday's game.
"He was good," White Sox manager Robin Ventura said. "Even late in the game, he had some tough plays. He looked fine. He looked comfortable enough that you trust him being out there."
At the plate, Semien went 1-for-6 with a double on Saturday, but he is batting .293 with four RBIs in 13 games this season. Ventura said Semien has a simple approach at the plate, which leads to his success.
"He's not a wild swinger, he's pretty controlled," Ventura said. "It looks the same all the time, whether he's going to right field or left field. It's simple, not a lot of movement. That's the stuff that's easier to maintain than somebody that has a lot of movement as far as getting ready to hit and things like that."
Bobby Nightengale is an associate reporter for MLB.com. This story was not subject to the approval of Major League Baseball or its clubs.