Left-hander Danks looks to start '14 even stronger
Left-hander Danks looks to start '14 even stronger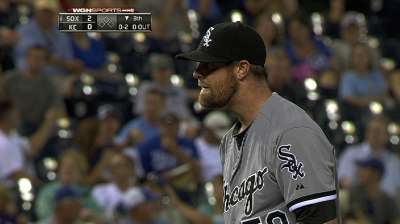 DETROIT -- While John Danks didn't have the successful season he hoped for, he will enter the offseason with a healthy shoulder and big goals for the 2014 season.
Manager Robin Ventura said Danks probably won't pitch in the last week of the season after throwing 138 1/3 innings.
"It is what it is," Danks said. "It's been a lot of throwing over the last year, so it makes sense given where we are obviously. You want to play but at the same time, you understand it. I'm looking forward to having a normal offseason."
Danks said he started throwing before Halloween last year in an attempt to be ready by Opening Day following season-ending shoulder surgery on Aug. 6. However, he wasn't quite ready and was forced to begin in the Minor Leagues before joining the club in May. He then went 4-14 with a 4.75 ERA and 89 strikeouts over 22 starts with the White Sox.
"He's going to get better and stronger the further he is away from his surgery," Ventura said. "You hope he can get that feel back that he had before. That's something I think will get better."
After showing flashes of his former self throughout the year, he went 0-4 with an 8.02 ERA in his last four outings, giving up 19 earned runs in 21 1/3 innings.
"I felt fine. For whatever reason, I just wasn't able to consistently keep the ball down and make it do what I wanted," Danks said. "Maybe that is a part of fatigue or whatever, but it's hard to say it was a successful season. But I'm back, and definitely looking to build on the positives and work on the things I need to work on, and I fully anticipate having a good year next year."
Danks will continue working out with the team for the last week of the season before taking a few weeks off. His goal for next season is to pitch 200 innings, a mark he's topped twice in his career (2009 and '10).
"I think part of the problem was at times I was making myself throw 90-92 mph, whereas when I was healthy, it just came out and the ball had a little more life on it, and I was able to keep the ball down a little more consistently," Danks said. "It's part of it. I know it's still in there, and I'm able to do it. With a full offseason and the right throwing programs and stuff, I think I can get back to where I was, if not better."
Bobby Nightengale is an associate reporter for MLB.com. This story was not subject to the approval of Major League Baseball or its clubs.