Semien makes first start at shortstop
Semien makes first start at shortstop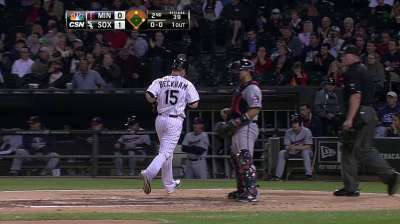 DETROIT -- After playing 73 games at shortstop in the Minor Leagues this season, Marcus Semien made his first Major League start at the position on Saturday.
"I don't know if it's his natural spot but again, you're trying to see how flexible guys can be, where they can play and how comfortable they are there," White Sox manager Robin Ventura said. "He has played a little bit in the Minor Leagues, but we're kind of looking how it's going for next year and being able to slip him in there."
It's a chance for Semien to prove himself as the White Sox have both their middle infielders (second baseman Gordon Beckham and shortstop Alexei Ramirez ) under contract for 2014, but Ramirez was a part of trade speculation throughout the summer. Entering Saturday, Semien was 11-for-35 (.314) with two doubles and three RBIs.
The White Sox had five rookies in Saturday's starting lineup against the Tigers: Leury Garcia, Conor Gillaspie, Avisail Garcia, Bryan Anderson and Semien. According to STATS, the last time the White Sox used five rookies in a starting lineup was Sept. 5, 2007, which was also against the Tigers.
"I think where we're at right now, we're being able to put some guys out there and see how they perform," Ventura said. "That's part of the situation we put ourselves in, but having these guys up here, putting them around in different spots and seeing how they perform, that's something going into next year."
Bobby Nightengale is an associate reporter for MLB.com. This story was not subject to the approval of Major League Baseball or its clubs.