Dunn: 'Character test' to finish tough season
Dunn: 'Character test' to finish tough season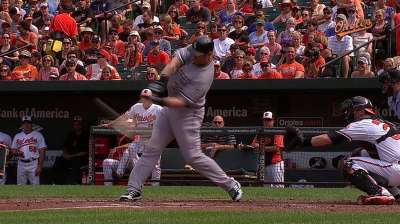 CHICAGO -- Adam Dunn said that when a team has a season as difficult as the White Sox have had in 2013, the last month of the campaign is a test of character.
"Now is more of a character test," Dunn said. "It's been a long, tough season. It would be really easy to go out there and hit a ground ball and not run it out and things like that, but now is the time where you might put 112 percent into it as opposed to 110.
"Anybody can do that stuff when you're winning, but when you're having years like this, I think that shows a lot about your character."
Dunn also said that if a team isn't able to make the postseason, what happened throughout the year is irrelevant.
"It's another wasted season," he said. "I couldn't care less what happens if you don't make the playoffs, and we're in the same boat as we were last year and the year before and the year before and the year before. So that's how I feel.
"I wouldn't be playing if I didn't [want to win a championship]. That's what my goal is, and I think that's what everyone's should be. It doesn't matter what you do, if you don't put yourself in the position to win a ring, then you've got to look forward and go get them next year."
Manager Robin Ventura said he understands how Dunn feels, having been a player himself.
"Where he's coming from as a player, at the end of the year, when you go home, that's what you feel like," Ventura said. "So I totally understand what he's trying to say."
Manny Randhawa is an associate reporter for MLB.com. This story was not subject to the approval of Major League Baseball or its clubs.