Slumping Dunn gets mental break
Slumping Dunn gets mental break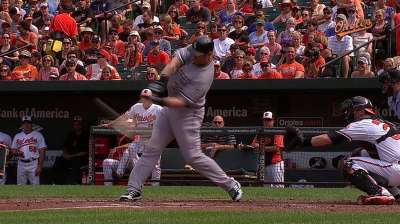 CHICAGO -- Mired in a 9-for-84 slump over his last 23 games and a 2-for-30 drought over his last nine, designated hitter Adam Dunn got the night off Saturday. It was about resting a veteran, as much as giving the struggling Dunn a mental break.
"Over the course of the end of the season, you're going to see a couple more," White Sox manager Robin Ventura said. "I'll probably give Paulie [Konerko] a day tomorrow with it being a day game. With them, they could probably use a break. [Dunn] looks tired right now."
Dunn hit .148 and .165 over the first two months, only to bounce back and hit .272 with 18 homers and 51 RBIs from June through August as he used left field more with his hitting approach. That resurgence has dipped to a .105 average in September with one homer and three RBIs.
"This year has really been streaky for him," Ventura said. "He looks really good for a long period of time and then there are periods where he's swinging and missing. He could be another one that toward the end of the year, he's tired."
Scott Merkin is a reporter for MLB.com. Read his blog, Merk's Works, and follow him on Twitter @scottmerkin. This story was not subject to the approval of Major League Baseball or its clubs.