Axelrod trying to maintain starter's endurance
Axelrod trying to maintain starter's endurance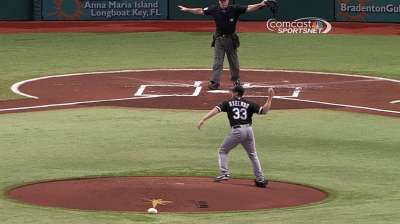 CHICAGO -- Dylan Axelrod reported no abnormal soreness after throwing 90 pitches over five scoreless innings of relief during Thursday's 14-3 loss to the Indians. That total is certainly not overly extended for a hurler who began the season as a starter, but Axelrod has also pitched just four times since Aug. 11.
"I was OK; if I wasn't, I would have said something," said Axelrod, who joked that he was getting "a spa day" for at least Friday's contest. "That last inning, I was feeling a little fatigued."
Of that 29-pitch ninth inning, Axelrod said he "managed to get through it, but it was definitely taxing physically. It's something you have to do, be a professional, and that's my job. Just get through it, and I look forward to the next time out."
After making 18 starts as part of the rotation, Axelrod has tried to compensate for his lack of recent work in the bullpen. He will take one day off out of three, and then throw lightly on the next day and follow with a side session. It has helped him keep his feel on the mound, especially with his breaking stuff.
Axelrod's long-term hope is to be a starter. He also knows that struggles near the end of his run this year have so far cost him that opportunity.
"Yeah. I mean that's my goal," Axelrod said. "I feel most comfortable with that role. It's not going to be handed to me. I'm going to have to keep trying to earn it. I had my opportunity, and I kind of let it slip away there. I'm going to have to go to Spring Training and do what I've always done. Nothing has changed really. I just need to battle and work my tail off."
"A guy like him is [better suited as a starter], because he goes every five days and has a better feel for his pitches," White Sox manager Robin Ventura said. "But sometimes you don't always get to do that."
Scott Merkin is a reporter for MLB.com. Read his blog, Merk's Works, and follow him on Twitter @scottmerkin. This story was not subject to the approval of Major League Baseball or its clubs.