Versatility key for some younger players
Versatility key for some younger players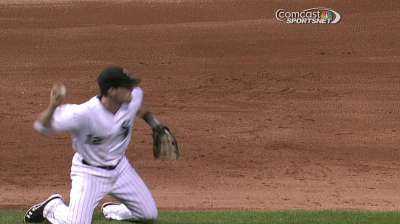 BALTIMORE -- White Sox manager Robin Ventura likes the versatility of his team, especially with some of the younger players that have been promoted with the expanded rosters this month.
Leury Garcia is one of those players, because he is capable of playing all three outfield positions. Conor Gillaspie spent time at both first and third base in the Minors. Marcus Semien can also play multiple spots in the infield, which gives Ventura several options with the lineup.
"You can be more flexible," Ventura said. "We've had some injuries where we haven't had that flexibility to move guys around. When you have guys who can play multiple positions, it just becomes easier to give a guy a day off or if an injury hits, you can fill that with a guy whose been here at the big league level."
Ventura said it works to the players' advantage when they can play multiple positions.
"It gives them an opportunity to be on the team if you're not a starter," Ventura said. "It increases your value."
In Saturday's 4-3 loss to the Orioles in 10 innings, Garcia was in center and Semien at third while Gillaspie sat. Garcia made is second error of the year, while Gillaspie pinch-hit for Semien in the 10th inning and hit a go-ahead home run.
Todd Karpovich is a contributor to MLB.com. This story was not subject to the approval of Major League Baseball or its clubs.