White Sox not fond of spoiler role
White Sox not fond of spoiler role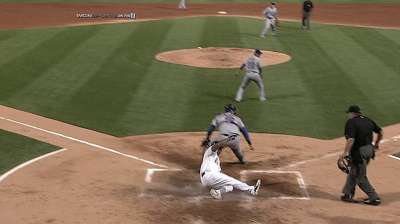 BALTIMORE -- After the long weekend in Baltimore with Wild Card implications for the Orioles, the White Sox still have six games with first-place Detroit and another two series against the Indians, who are also aiming for the playoffs.
So inevitably, Chicago will play some role in the shape of the postseason.
Those playoff implications, however, have not changed the mindset of many of the players. Second baseman Gordon Beckham said he would much rather be competing for a playoff spot rather than spoiling the opportunity for other teams. He said the goal is to finish strong and improve every day.
"We're just trying to get better as a team," Beckham said. "If we win some games we're not supposed to, then that's a plus. It's not something we relish. It is what it is. Hopefully, we just play our best and make it fair for other teams trying to get into the playoffs."
After going through a stretch where they won 10 of 12 games, the White Sox were swept by Boston and New York to begin their current 10-game road trip. Beckham said the key is to get back on track in this series against Baltimore and carry the momentum into next year.
White Sox manager Robin Ventura agreed with Beckham in that a lot of players are trying to finish strong as a catalyst for next season.
"There's no extra incentive that you're a spoiler," Ventura said before his club's seventh straight loss, a 3-1 decision to the Orioles on Thursday. "I think we do have some guys that are looking toward next year, trying to do something just to either get noticed or end on a positive note out there for next year.
Todd Karpovich is a contributor to MLB.com. This story was not subject to the approval of Major League Baseball or its clubs.