Flowers to undergo shoulder surgery on Thursday
Flowers to undergo shoulder surgery on Thursday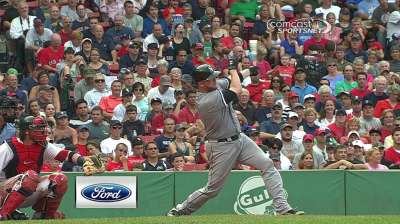 NEW YORK -- Tyler Flowers' last at-bat of the 2013 season stands as a mammoth home run hit in the eighth inning off of Boston reliever Craig Breslow on Sunday.
This trying campaign for the first-year starter came to a premature end on Monday, when it was announced that the catcher will have exploratory surgery Thursday morning on a sore right shoulder that has bothered him for quite some time. Flowers is expected to miss three to six months, with fraying existing in his shoulder and the condition of the labrum dictating the length of absence.
The problem was discovered one year ago to the day Monday, according to Flowers. After consulting with White Sox head athletic trainer Herm Schneider, he has been doing the pitchers' shoulder program since.
"But there were a number of days in [Spring Training] where the pain was extreme," Flowers told a pool reporter by phone from Chicago. "It was a really tough [decision]. I've known I had to have surgery for a couple of months now. With the work I've put in to rehab, it was a good indicator. There was no way I could have continued with the pain level."
Flowers has seen three doctors over the past year, and had a recent MRI with contrast dye to pinpoint the issue.
"It solidified what I thought was going on," Flowers said. "As a ballplayer and an athlete, you know yourself better than everybody else. Initially when it happened, I thought it was more like a tweak. What got me was when I was getting ready for spring, it intensified, and that's when I started to question it.
"When [anti-inflammatories] wear off, you get the pain level and real feel. It was very extreme. It's something that has to be done. I could continue but couldn't perform at the level required by myself, my team or my teammates."
Getting the starting job with A.J. Pierzynski's departure via free agency was "definitely a driving force to exhaust every option I could," according to Flowers. Ultimately, Flowers finished the season with a .195 average, 10 homers and 24 RBIs, and will have to prove himself an everyday player once again next spring.
"You are looking at a guy that, defensively, he's been what you wanted and calls a great game," said manager Robin Ventura. "He does stuff around the plate that you like. Offensively, it's a down year. He's got to fight his way back offensively to be that guy. His potential is there to do it."
Scott Merkin is a reporter for MLB.com. Read his blog, Merk's Works, and follow him on Twitter @scottmerkin. This story was not subject to the approval of Major League Baseball or its clubs.